The Israeli-Palestinian conflict and the images of it broadcast on television screens cannot leave anyone indifferent. Even a Cambodian like me, who was born and lives far from the theater of this conflict, who observes the events in a completely disinterested manner, cannot contain my emotions. I cried at the images of the Hamas attack on Israel last October 7, just as I cried at the images of Israeli aerial bombardments on civilian populations in the Gaza Strip in the days that followed.
Perhaps the Cambodian that I am feels this new turn in the tragedy unfolding in the Middle East in a somewhat unique way. Maybe this ordinary Cambodian understands a little better than other foreigners what is happening in distant Palestine. Perhaps what is happening there stirs in him thoughts of what happened in Cambodia about fifty years ago.
In 1975, the Khmer Rouge, led by Pol Pot, seized power in Phnom Penh. It marked the beginning of what many consider the worst genocide in the second half of the 20th century. Between a quarter and a third of a population of 7 million inhabitants were slaughtered. Cambodians experienced their own version of the Holocaust.
The genocide began on April 17, 1975, when the Khmer Rouge gave the two million inhabitants of Phnom Penh 24 hours to evacuate the capital and take refuge in the countryside to escape aerial bombings which they claimed were coming from the Americans. This imperative and immediate evacuation order, with  a complete lack of preparation, meant a death sentence for countless sick, disabled, elderly, women in labor, and infants who succumbed along the roads.
The cruelty and barbarism of the Khmer Rouge were at least equal to that shown by the Hamas terrorists against the Israeli populations under their control on October 7. To highlight just one apocalyptic image, the Khmer Rouge executioners would grab infants by their feet and smash their skulls against a pole or a tree.
No one expected such cruelty and barbarism. No one would have imagined that in the mind and behavior of a human being, humanity could vanish in such darkness. Yet, such a transformation did occur, and we must try to understand what happened in the minds of the perpetrators.
Cambodians or Khmers are traditionally known for their hospitality, gentleness, and unwavering smiles. But the Khmer Rouge revolution can be explained, at least in part, by the decades of prior suffering, frustration, and humiliation endured in silence by a large part of the Cambodian population, especially the peasantry trapped and exploited in a feudal-like system.
Long-repressed hatred and anger exploded in the form of a "social revenge" on a national scale because all the rules that formed the political, economic, social, legal, judicial, moral and religious framework disappeared together due to Pol Pot's will to "completely wipe the past clean."
Under certain circumstances, a human being can suddenly cease to be human and unleash barbarity. Every human being must know that there is a Khmer Rouge within them.
When Hamas terrorists infiltrated Israeli territory on October 7, they were able to unleash their brutality because they believed they had no institutional framework to respect, much like the Khmer Rouge from 1975 to 1979, and that they could engage in all kinds of reprehensible actions with impunity to satisfy their hatred and thirst for revenge. But it is essential to understand that this hatred and thirst for revenge stem from the suffering, frustration, and humiliation endured by many Palestinians for decades.
Displaying mutual hatred and to also satisfy a desire for revenge, the leaders of Israel say they want to destroy Hamas. But to truly and definitively achieve this goal, Israel must put an end to the suffering, frustration, and humiliation endured by the Palestinians.
Hamas primarily relies on the desperation of these Palestinians, which drives them to try to escape their painful situation by using all means at their disposal, including the most reprehensible, such as terrorism.
The massive bombings carried out by the Israeli air force to "destroy Hamas" by destroying entire neighborhoods in urban centers in the Gaza Strip and inevitably causing countless civilian casualties may be effective in the short term. Still, they contribute to the perpetuation of an armed conflict constantly fueled by the hatred and thirst for revenge on both sides.
After an Israeli strike, one can see Palestinian children stunned and dazed next to the rubble under which their parents or the rest of their families are buried. We can fear that these Palestinian children will one day join the ranks of Hamas or a similar organization if we do not stop the vicious cycle of violence.
To ensure Israel's survival, which we must all support, we must help this country to avoid continually engaging in the elimination of large segments of the populations living on its borders.
I can only agree with the statement of French President Emmanuel Macron during his recent visit to the region: "A Palestinian life is worth a French life, which is worth an Israeli life."
[Photo by Wafa (Q2915969), via Wikimedia Commons]
The views and opinions expressed in this article are those of the author.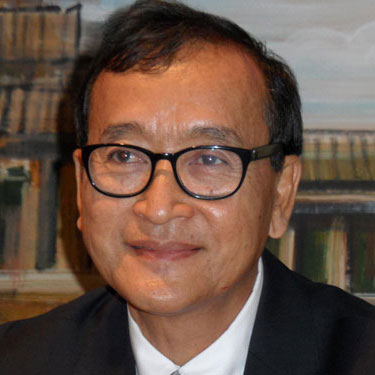 Sam Rainsy, Cambodia's finance minister from 1993 to 1994, is the co-founder and acting leader of the opposition Cambodia National Rescue Party (CNRP).