The fact that Cambodian Prime Minister Hun Sen, now 71 according to the latest official change to his date of birth, has been seeking to hand over power to his eldest son Hun Manet and so create a political dynasty, has been clear for some time.
Hun Sen, who has held power for 38 years, had previously suggested that the succession could take place "in a few years", maybe in 2028 at the end of the legislative term. He had also said he planned to remain in power until he was 90.
So the sudden announcement on 26 July of his resignation, which takes effect on 10 August, surprised a number of observers. To be sure, Hun Sen in recent months had become increasingly vague about his departure date. What is the explanation for the sudden rush?
Risk of implosion
Health reasons may be the answer. The late king Norodom Sihanouk was right to abdicate in favour of his son Norodom Sihamoni in 2004, rather than wait until closer to his death in 2012, which would have caused unnecessary problems.
But the timing of the handover to Hun Manet seems above all to be connected with the political situation immediately after the July 23 national elections. There has undeniably been a worsening of tensions within the ruling Cambodian People's Party (CPP) led by Hun Sen since the death of Chea Sim in 2015.
Chea Sim, who became president of the CPP in 1991, was seen by the democratic opposition as a wise figure who commanded respect. I met him several times in the presence of his brother in law, the current interior minister Sar Kheng.
Before he died, Chea Sim asked Hun Sen to choose between the post of prime minister and that of party president, and not to hold these two high positions together. Hun Sen ignored this advice from Chea Sim and maneuvered to concentrate all powers in his hands. The resulting frustration and anger from regime dignitaries such as Sar Kheng and Say Chhum, the current senate president, is easy to understand.
These and other figures consider that Hun Sen has abused his absolute power to impose his son Hun Manet as future prime minister.
Before the July 23 elections, the political calendar was still not very precise, notably concerning the date of the handover to Hun Manet. But the tensions associated with this dynastic change have become ever harder to resolve, creating the risk of an implosion of the CPP.
On Aug. 3, just a week before his resignation takes effect, Hun Sen lifted the veil on this risk of implosion: "I want to warn you that if my son is assassinated, I will be obliged to take up my post of prime minister again for a period and look for another successor." The circumstances under which Hun Sen might again resume his role as prime minister may of course be extended as needed.
The risk of assassination has always haunted Hun Sen, as it has haunted numerous other dictators. Nothing can make him angrier than to remind him of the killing of Libya's Muammar Gaddafi in 2011. One of Gaddafi's sons who could have succeeded him, Mutassim, was killed on the same day as his father, and two of his other sons also suffered violent deaths during the Arab Spring. The Cambodian summer of 2023 might yet turn out to be hotter than usual.
Hun Sen wants to blindside internal opponents
The election of 23 July were manipulated from start to finish by Hun Sen's supporters to deliver a large victory for the CPP. This was made even easier by the fact that the only real opposition party, the Candlelight Party, was eliminated a few weeks ahead of the contest on grotesque bureaucratic grounds.
Hun Sen wanted to present the vote as a plebiscite. His aim is to secure legitimacy to Hun Manet when he takes over as head of government "after a certain time, during the new 2023-2028 legislature." The surprise now comes from the fact that Hun Sen is seeking to impose his son as prime minister right away.
Hun Sen wants to blindside opponents within his own party who pay lip service to the succession but don't really support it. These internal opponents see the plan as too narrow and family-based, and may seek to overturn it. Hun Sen wants to deny them the chance to do so, as he needs his plan to ensure his continued impunity. He needs to strike while the iron is hot, while he still has enough physical strength to exercise absolute power, and while his opponents remain apparently disorganized and relatively weak.
Title inflation
But Hun Sen is embarking on a twisted game. He has deceived the whole electorate by suddenly announcing that Hun Manet will take over as prime minister straight away. It was Hun Sen who was the candidate for prime minister, and he was expected to remain as head of government for at least "a certain time."
The elections were in truth designed above all to solve the problem of the succession. He wanted to hand power to his son on a silver platter and to create an air of legitimacy, respectability and stability. The whole world understands the real nature of these elections, and rather than a silver platter, Hun Sen has handed his son poisoned chalice. The legitimate succession has become exactly the opposite of what Hun Sen intended.
The most serious result is the discontent which Hun Sen has created in the ranks of his own party. His family succession plan has created impossible problems in terms of ministerial and other appointments in Hun Manet's new government.
Old hands in the regime who have worked under Hun Sen's orders for decades now don't want to find themselves under the orders of Hun Manet, who is much younger and less experienced. They themselves must also be replaced by younger people just as suddenly as Hun Sen, but without getting the advantages which Hun Sen has secured.
The outgoing prime minister has come up with some crafty methods to keep the troops under control: replacement of frustrated fathers by their sons or sons in law, creation of honorific titles as consolation prizes, plans for switching posts so creating a game of musical chairs, promises of even more posts which nobody really believes in.
Title inflation, Hun Sen's coin in trade, has its limits. Those who want a share of power and its advantages far exceed the number of posts available. The game of musical chairs may degenerate into disorder, especially when Hun Sen is no longer there to protect his son. A sign of the existence of dangerous frustrations is Hun Sen's plea to party figures to show "understanding, abnegation and a sense of sacrifice." He said that he himself had made a sacrifice by standing down as prime minister, but his appeal to the higher sentiments of the ranks of the disappointed is likely to soon be looking threadbare. 
[Photo by Wikimedia Commons/UNCTAD]
The views and opinions expressed in this article are those of the author.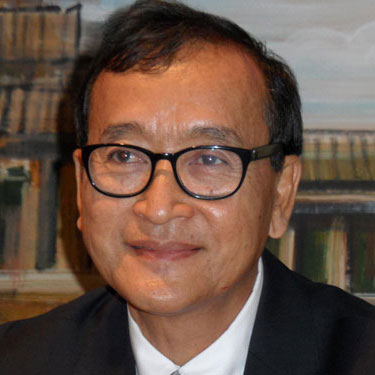 Sam Rainsy, Cambodia's finance minister from 1993 to 1994, is the co-founder and acting leader of the opposition Cambodia National Rescue Party (CNRP).