"A toast to our partnership, to our people, to the possibilities that lie ahead, to two great friends, two great nations, and two great powers. Cheers."—Joe Biden to PM Modi at State Dinner
The state visit that Indian Prime Minister Narendra Modi relished in the United States on June 21–23, 2023, was momentous in many ways. He was the third Indian leader to receive this honor after the erstwhile President Radhakrishnan and Prime Minister Manmohan Singh. The fact that Prime Minister Modi was President Joe Biden's third state guest demonstrates how much the relationship between India and the United States has undergone diverse shifts in the last 25 years, particularly during the Modi regime. However, in the midst of the ongoing Ukraine war and escalating tensions between Washington and Beijing, the visit took place that holds great significance for both the United States and India. This visit occurred at a time when both nations find themselves entangled in confrontations with Russia and China, respectively. The timing of this visit, however, could not be more crucial, as it sheds light on the complex dynamics at play in the global arena. In a recent statement, John Kirby, the esteemed Coordinator for "Strategic Communication, National Security Council" at the White House, regarded the visit as 'a matter of utmost importance.'
However, while acknowledging that China did indeed find its way onto the agenda during the course of discussions, Kirby also argued that the purpose of the visit itself was not centered around China. This clarification serves to dispel any misconceptions or misinterpretations that may have arisen regarding the true nature and focus of the visit. According to yet another White House official, the purpose of the visit was not to exploit India as a means to balance China's influence but rather to foster stronger rapport between the two largest democracies in the world. Experts and policy analysts have hailed the visit as an important turning point in ties between both nations. The visit was also an acknowledgment by Washington of India's crucial role in the wider global geopolitical framework. Besides Modi's second address to the US Congress and his reception in the Oval Office by Vice President Joe Biden, the two leaders unveiled a series of ambitious endeavors aimed at fostering collaboration in the realms of technology, energy, and military hardware.
Cooperation in Defense and Strategic Technologies: Military, Drones and Spaces
The United States avowed aim of assisting India in strengthening its domestic defense sector while enhancing military cooperation with India was one of the most crucial themes on Modi's agenda during his state visit. It might be considered an effort to reduce India's reliance on Russia as a source of military hardware. However, per some local news reports, the US military Secretary Lloyd J. Austin III and National Security Adviser Jake Sullivan visited New Delhi earlier in June in advance of the state visit in order to initiate plans for stronger military cooperation. In this respect,
After negotiating with Hindustan Aeronautics, Biden and Modi approved a contract that would enable General Electric (GE.N) to build jet engines in India with a view to enhancing the power of Indian military aircraft. The recent visit resulted in the announcement of a strategic plan to deepen collaboration between the two nations' military sectors, as well as an agreement for the joint production of engines for fighter aircraft. Also, earlier this month, media sources inferred that the Indian military ministry had authorized the purchase of armed MQ-9B SeaGuardian drones. For well over $3 billion, India will purchase 31 drones from General Atomics. According to the joint statement, India would be responsible for MQ-9B assembly, while American producer General Atomics will set up a shop in India.
The joint statement between the United States and India also underlined Biden and Modi's agreement that technology would play a key part in strengthening the relationship between the two countries. "The leaders recognized the launch of the Initiative on Critical and Emerging Technology (CET) in January 2023 as a watershed moment in bilateral ties between the United States and India," the statement states. In order to enhance cooperative research between the public and corporate sectors in both nations, India and the United States have formed the Joint Indo-US Quantum Coordination Mechanism on advanced computing interactions. Moreover, Reuters reported that India has agreed to collaborate with NASA on a combined trip to the International Space Station in 2024 and to join the United States-led Artemis Accords on space exploration.
Cooperation in Trade and Energy Sector
PM Modi said, "Today, India is the fifth largest economy. And India will be the third-largest economy soon. When India grows, the whole world grows." According to the joint statement, "The US-India trade and investment partnership is an engine for global growth, with bilateral trade exceeding USD 191 billion in 2022, nearly doubling from 2014." However, per U.S. Trade Representative Katherine Tai, the two countries have settled six pending WTO issues. In addition, India agreed to lift duties on a number of American exports, including chickpeas and apples, that it had levied in retaliation for U.S. Section 232 national security restrictions on steel and aluminum.
However, the United States (US) has been leading a collaboration to secure supply chains for essential minerals used in energy production. During the visit, India has also agreed to join a group of 13 other partners that includes the EU and 12 other nations. In this regard, over the course of five years, Epsilon Carbon Limited of India would spend $650 million on a greenfield facility to produce components for batteries used in electric vehicles. Moreover, interestingly, the Indian solar panel manufacturer Vikram Solar Ltd (VIKO.NS) is backing a new business that plans to spend up to $1.5 billion in the solar energy supply chain in the United States. The first step will be the construction of a facility in Colorado in 2019. VSK Energy LLC is a new firm that intends to assist the United States compete with China in the renewable energy manufacturing industry.
In the realm of nuclear energy, there is a shared enthusiasm among proponents on both sides for the heightened discussions between the US Department of Energy and India's Department of Atomic Energy. These consultations aim to pave the way for Westinghouse Electric Company to explore potential avenues for the development of a techno-commercial proposal for the Kovvada atomic power project in Andhra Pradesh. In the joint statement, both nations have expressed their commitment to establishing a groundbreaking investment platform. This platform, with a staggering multibillion-dollar investment, aims to provide crucial capital and de-risking support for renewable energy projects. In addition, Indian Railways and the United States Agency for International Development (USAID) have signed a memorandum of understanding (MoU) to work together toward the goal of achieving zero carbon emissions by 2030. The two parties agreed to pool their knowledge, resources, and creativity to speed up the implementation of clean energy, efficiency measures, and storage mechanisms that are all in line with the agreement's net-zero objective. In this regard, USAID and the Indian Railways exhibited eagerness and commitment to work together to create environmentally friendly train transportation systems of the future.
Cooperation in Critical Technologies: Semiconductor and Telecommunications
For many analysts, India-United States ties have entered a new era thanks to Prime Minister Narendra Modi's visit. Instead of just being trading partners, the two countries have pushed their relationship to the next level by committing to working together on the production of critical technology. While discussions of defense and strategic partnerships took up most of Modi's time, other significant accomplishments were made as well. For example, with the help of the Indian government, the leading US technology firm Micron Technology announced an investment of up to $825 million to build a semiconductor assemblage and test facility in India. To further advance business possibilities, scientific inquiry, and the generation of talent and expertise, Biden and Modi signed an MoU on the 'Semiconductor Supply Chain and Innovation Collaboration'. In this regard, in total, Micron targets to put forth $2.75 billion in India to build the facility with extra funding from the Indian government.
Moreover, in a notable display of bilateral cooperation, both countries have recently unveiled a groundbreaking initiative. Two joint taskforces, dedicated to advancing telecommunications, have been established, signaling a new era of collaboration in which the first task-force will concentrate on Open RAN, while the second will delve into the realm of cutting-edge research and development in 5G/6G technologies. As outlined in the joint statement, the responsibility of spearheading the crucial public-private cooperation between vendors and operators will be entrusted to two prominent alliances: India's Bharat 6G Alliance and the esteemed Next G Alliance of the United States. This strategic partnership holds immense potential for the advancement of cutting-edge technologies and the realization of a truly transformative 6G network. This strategic partnership holds immense promise for both nations, as they pool their expertise and resources to propel the telecommunications industry forward.
During their meetings, there has been increasing acknowledgment of the relevance of shared values and the existence of common interests, particularly in the Indo-Pacific. Amidst the present global flux and problems in the Indo-Pacific, there has been a recognition of the rising convergence of interests, notwithstanding some disparities. For example, the semiconductor cooperation choices and the GE plan to transfer technology and manufacture jet engines in India are both expected to significantly increase confidence in business and technical partnerships. Recently, there have been contrasting opinions on the state and future of ties between India and the United States. There are competing arguments as to whether the United States is going too far to bet on India, a power with a long tradition of maintaining non-aligned posture in global arena. But it is also obvious that both nations' top officials have been accelerating their wagers on one another. In this respect, the warm reception extended to Prime Minister Modi and the breakthrough agreements made during the visit are significant developments that will further elevate the growing bilateral ties between the two nations.
[Photo by Prime Minister's Office, India, via Wikimedia Commons]
The views and opinions expressed in this article are those of the author.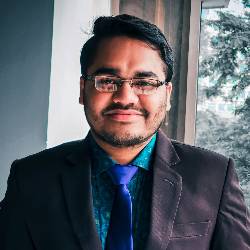 Kawsar Uddin Mahmud is a Research Intern at the KRF Center for Bangladesh and Global Affairs.