The latest leader to join the bandwagon in criticizing China's economic engagement with other countries, as well as the Belt and Road Initiative (BRI) is French President, Emmanuel Macron.
During his three-nation East Africa trip last week, which included visits to Kenya, Djibouti and Ethiopia, Macron was scathing in his criticism of China's approach towards Africa. While standing alongside Djibouti President, Ismail Omar Guelleh, the French President said: 'But what can look good in the short term … can often end up being bad over the medium to long term.'
A number of important steps were taken to enhance ties with Eastern Africa during Macron's trip. France made a number of important announcements, such as financial and technical support of an estimated 2.8 billion USD for up to a 10,000 Start-ups and Small and Medium Enterprises through the Choose Africa program.
In Kenya, French firms signed deals of over 2 Billion USD. Private sector companies signed some important agreements for upgradation of infrastructure including highway projects, rail projects and setting up of a solar plant.
In Djibouti and Ethiopia too, important economic deals were signed. Macron also signed crucial security agreements during his East Africa trip. During his visit to Kenya, the French President spoke about the need for France and Kenya to further beef up security cooperation.
With the French military in Djibouti, where France has its largest naval base with 1400 French personnel and where China has set up its largest overseas military base in 2013. A military agreement was signed for greater cooperation between French and Ethiopian navy and air force. French personnel will train Ethiopian air force and navy personnel with a view to enhancing Ethiopia's role in providing security in the region.
China Factor in Africa
One of the significant points which the French President made was the need for 'respectful partnerships', and the need for overseas investments to create opportunities for locals. China has often been accused of running roughshod over domestic concerns in intended countries while making investments in them. This is clearly evident from the rising level of external debts of eight countries — Djibouti, Tajikistan, Kyrgyzstan, Lao, Maldives, Mongolia, Pakistan and Montenegro – which according to a report published by the Centre for Global Development have fallen into a 'Debt Trap'. The Malaysian Prime Minister, Mahathir Mohamad too, has flagged the point of China's ties with certain countries being exploitative. The Malaysian PM has gone to the extent of dubbing this skewed engagement favoring Beijing as 'Neo-Colonialism'. If one were to look at the specific case of Africa, well over 75 percent of Djibouti's debt was owed to China as of 2017. Djibouti's total debt was 6.6 billion USD, while debt owed to China was 4.9 billion USD.
First, while it is understandable to criticize the BRI project, there is no cogent narrative being provided by countries which have expressed legitimate concerns with regard to the political and economic implications of the project. While France has presence in Africa, it has not paid enough attention to many African countries. Macron was the first French President to visit Kenya after its independence in 1963, and was also the first French President to visit Djibouti, which is strategically and economically important after a period of 20 years.
The French President during his Kenya visit also agreed that France could do much more in the economic sphere.  As of 2017, France's exports to Kenya were estimated at between $170 million and $225.80 million, while China's exports are estimated at nearly 4 Billion USD.
Second, countries which are critical of China's method of engagement with African countries need to provide an alternative narrative. However, it is true that some countries are focusing on capacity building and adopting a different method of economic engagement. Macron did not miss out on the important component of 'Soft Power'. During his trip to Ethiopia, he focused on closer collaborations in education. The French President also assured technical and financial assistance for the restoration of the Rock-Hewn Churches of Lalibela.
It is also important for US, Japan, and the EU which have been trying to strengthen their ties with African countries to send out a clear signal that, while they will not interfere in domestic politics, they would be more transparent in their dealings, and that they would also support transition in these countries towards more democratic systems. France's commitment of 100 million Euro for initiating economic, political and social reforms is significant in this context.
Third, for a cohesive narrative, countries need to work jointly. The 'Free and Open Indo Pacific' is one such tool. Japan and India are already working for the 'Asia- Africa Growth Corridor', and during Macron's India visit in 2018, India and France had spoken about the need for greater cooperation in the Indo-Pacific. This will, of course, require greater economic commitment and clearer goals. In December 2018, John Bolton, US National Security Advisor had unveiled US' strategy with regard to Africa. It is also important for the US to synchronize its strategy for Africa with other countries trying to provide alternatives to China.
Fourth, it is not necessary for the Western world to adopt a zero-sum narrative towards participation in Africa. The Economist while making this point provides an interesting example: 'If China builds a bridge in Ghana, an American car can drive over it. If a British firm invests in a mobile-data network in Kenya, a Kenyan entrepreneur can use it to set up a cross-border start up'.
Fifth, African countries should try to make the most of this competition between China and other countries. They should not excessively depend upon China for Foreign Direct Investment (FDI). They should also try to make the most of the assistance they receive from other countries in areas like education, health, agriculture, skill development and capacity building of important institutions.
While Macron's Africa outreach is welcome, it is time that rather than creating paranoia about Chinese investments in Africa, countries trying to enhance their economic presence and overall linkages work in tandem and have a clear strategy. While Beijing's economic ties with Africa and 'debt trap' may be a genuine issue, until Africa does not have a serious alternative, Beijing's clout is likely to increase.
Image: Foundations World Economic Forum [CC BY 2.0], via Wikimedia Commons
The views and opinions expressed in this article are those of the author and do not necessarily reflect the official policy or position of The Geopolitics.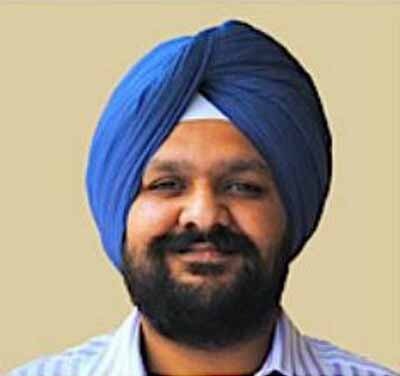 Tridivesh Singh Maini is a New Delhi based analyst interested in Punjab-Punjab linkages as well as Partition Studies. Maini co-authored 'Humanity Amidst Insanity: Hope During and After the Indo-Pak Partition' (New Delhi: UBSPD, 2008) with Tahir Malik and Ali Farooq Malik. He can be reached at [email protected]