The Japan-based LINE messaging app has the chance to strengthen the protection of its users and prevent unjust government punishment. It can do so by providing crucial evidence in a legal dispute in Cambodia and confirming the veracity of messages sent using the tool.
LINE is used by Cambodian Prime Minister Hun Sen. He sued me in January 2017 for defamation. I said and maintain that he paid a bribe of $1 million to Thy Sovantha, then an attractive 21-year-old female supporter of the opposition Cambodia National Rescue Party (CNRP) and social media "celebrity", to switch sides and attack the opposition. In November 2017, Hun Sen used the courts to dissolve the CNRP of which I am the co-founder.
More than 400 messages between Hun Sen and Thy Sovantha have been leaked, evidence which Cambodia's courts have naturally ignored. The prime minister, who has also boasted that he has often secretly listened in to CNRP opposition conference calls, clearly has difficulty in filling his time. I posted the messages on my Facebook page, so Cambodia's politically controlled supreme court, used in 2017 to rubberstamp the dissolution of the CNRP ordered by Hun Sen, ordered me to pay $1 million in damages.
Hun Sen is claiming damages and interest of $1 million, which is astronomical in Cambodia. This is just a cynical attempt to match the sum he really did pay to Thy Sovantha. This decision was confirmed in December. My house in Phnom Penh has been seized by force to be auctioned to pay off Hun Sen.
The house is the only property which I have in Cambodia and I plan to return to live there when my forced exile is ended by the government. The court has deliberately ignored the fact that the house is half-owned by my wife Tioulong Saumura, who is unconnected with this story of "defamation" and who is not the object of any financial punishment.
I believe that the messages exchanged between Hun Sen and Thy Sovantha are genuine. Nobody but the two people involved would have known so many details about their respective lives, many of which can be proven by referring to the schedule and activities of Hun Sen. Most of the messages are strictly private or even intimate. It would have been impossible and senseless of me to have made up 400 messages of this kind as Hun Sen accuses me of doing. For reasons unknown to me, these messages were leaked, posted and shared among Facebook users over the following two years. Hun Sen had never made a convincing denial over that time that the messages were his.
The financial penalty which the Cambodian Kangaroo Court has imposed on me is just another part of Hun Sen's relentless campaign to eradicate every trace of the peaceful CNRP opposition. Supporters of the party have been threatened, beaten up, imprisoned, exiled and killed.  The court's decision to order the seizure and sale of my property in Phnom Penh which was partly used as the opposition party's headquarters, is clearly intended to deprive the CNRP and its leaders of any means of existence.
Technology and Transparency
The issue here is not money, but transparency. The Cambodian public is entitled to believe, and does believe, that the messages represent a genuine exchange, where their prime minister Hun Sen bribes a young woman for her political support.
But Hun Sen accused me of forging those messages in order to "defame" him and he got the court under his orders to sentence me to a heavy penalty which also affects my credibility and my honor. I beg the LINE company not to turn a blind eye to the unjust condemnation of an innocent person, which it can prevent by just technically confirming the authenticity of Hun Sen's messages.
New technology brings new responsibilities for those who provide it. There is a long way to go before those responsibilities are met. In the US, the FBI has said that apps such as Signal provide only the most basic info in response to its requests, such as when a user signed up and was last active.
WhatsApp, the FBI says, is the only secure messaging app which provides data in near real-time in response to law enforcement requests. But WhatsApp's owner Facebook has failed to address the fact that users of its platform have been routinely intimidated and arrested by the Hun Sen regime, simply for disagreeing with him.
LINE, which is jointly owned  by Japan's SoftBank and Naver Corporation of South Korea, now has the chance to do better. To stay silent in this case would do a disservice to all of LINE's users. Any of them could be drawn into an unexpected legal dispute. What if they are smeared by fake messages? Confirmation would also serve as a deterrent to politicians or other public figures engaged in corrupt activities via such apps everywhere.
Japanese public opinion has its part to play. The company has everything to gain in terms of reputation by maximizing transparency and confirming the veracity of information which has long been publicly available. More broadly, modern communications technology means that there is no place to hide for those who misuse their power. As is usually the case for dictators, Hun Sen's day of accountability will come.
The views and opinions expressed in this article are those of the author.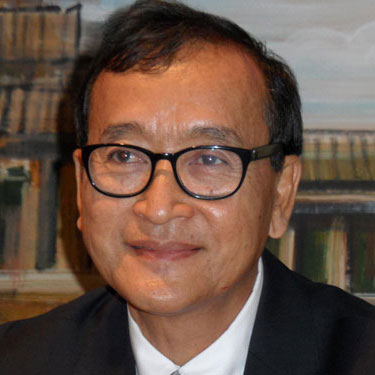 Sam Rainsy, Cambodia's finance minister from 1993 to 1994, is the co-founder and acting leader of the opposition Cambodia National Rescue Party (CNRP).