In the dynamic landscape of global economics, Kazakhstan stands as a beacon of growth and resilience, solidifying its role as a regional leader in attracting foreign investments. The Astana International Financial Centre (AIFC), a hub of innovation and collaboration, has fostered strong ties with global partners, including the United States.
Economic growth and resilience
Central Asia, with a population of nearly 78 million people, is emerging as a region of economic significance marked by dynamic population growth and a sizable youth demographic. Abundant natural resources, strategic geographic position and trade opportunities further underline its potential. The total nominal GDP of the Central Asian countries is estimated at $405 billion in 2022, with Kazakhstan accounting for more than half.
Kazakhstan plays a pivotal economic role in Central Asia, registering a remarkable growth rate of 3.3% in 2022. Several factors contribute to its economic strength, including enduring stability, abundant natural resources, robust commodity market fundamentals, ongoing political and economic reforms and 13 Special Economic Zones with attractive tax incentives. Despite the complexities of the global geopolitical landscape, Kazakhstan's economy continues to thrive, with the IMF projecting a GDP growth rate of 4.8% for 2023.
Kazakhstan-US bilateral trade and investment
Kazakhstan and the United States have enjoyed a substantial growth in bilateral trade, with a 37% increase in total trade volume from 2021 to 2022. Exports from Kazakhstan to the U.S. reached $1.15 billion in 2022, while imports from the U.S. to Kazakhstan totaled $1.90 billion. The primary exports to the U.S. are minerals and metals, accounting for 60.2% and 20.3% respectively, while vehicles and machinery are the primary imports, making up 30% and 26.7%, respectively.
This growth highlights the strength of the economic ties between Kazakhstan and the United States. The partnership is evident in the establishment of 166 joint ventures, the majority of which are small and medium-sized enterprises.
Since 2005, Kazakhstan has attracted a total of $105.4 billion in direct investments from the United States, underscoring Kazakhstan's economic resilience and its appeal as a foreign investment destination.
On Sept. 17 in New York, the President of Kazakhstan discussed the potential expansion of Citigroup's activities in Kazakhstan with its CEO, Jane Fraser.
AIFC: A unique investment destination
The AIFC stands as a unique jurisdiction in Kazakhstan and Central Asia, providing foreign investors with an attractive destination for investment. In light of the evolving global geopolitical landscape, investors are actively seeking fresh opportunities. AIFC is a trailblazer in the region, having established a comprehensive legal framework for attracting, facilitating and protecting investments. Operating in accordance with the principles of English and Welsh law and adhering to the standards of leading global financial centers, AIFC has made substantial progress since its inauguration in 2018. Over 2,000 companies from 78 countries operate within AIFC, and investments totaling $10 billion have been attracted to Kazakhstan's economy through this hub. Notably, AIFC has successfully attracted 43 companies from the United States, spanning various sectors, including asset management, fintech, application service providers (ASP), and the broader financial sector.
Complementing this endeavor, the Astana International Exchange (AIX) has been actively attracting foreign capital. Leading global custodian banks, including J.P. Morgan, Bank of New York, State Street, Citi, BNP Paribas and Northern Trust have become depositary clients of AIX and hold securities listed on the exchange. Utilizing the Nasdaq Matching Engine, AIX is also connected to Euroclear and uses the Avenir settlement system, seamlessly integrating with SWIFT's global network. These features enable AIX to provide state-of-the-art exchange services, on par with major financial hubs like London and Hong Kong. Together, AIFC and the AIX assist in promoting foreign investment in Kazakhstan and the broader Central Asian region.
Evolving economic and political landscape
Overall, Kazakhstan experienced significant political changes over the past two years, taking decisive steps to redistribute executive power and strengthen the role of parliament in the decision-making process. Alongside these political reforms, President Kassym-Jomart Tokayev has also initiated substantial economic initiatives to adapt to the rapidly evolving landscape and shifting patterns of trade and investment.
In his most recent address to the nation, the President outlined a series of bold and concrete proposals aimed at boosting the economic development of Kazakhstan. Although the country has historically relied on minerals as its economic cornerstone, the President emphasized the need to expand Kazakhstan's processing capacity in sectors such as oil and gas, mining, chemicals, uranium and fertilizers. Simultaneously, the President highlighted the necessity for additional investment to develop new gas fields and alternative energy, as well as rare earth and critical materials, which are taking on an increasingly important role in new technologies.
Promising areas for collaboration
Within the framework of AIFC, several sectors present promising opportunities for mutual collaboration between the U.S. and Kazakhstan. These sectors serve as gateways for investors interested in infrastructure projects, fintech innovations, technological hubs, green initiatives, and other investment ventures. AIFC is poised to become a leading platform for green projects, given its remarkable growth in the carbon market over the past two years, including a twentyfold increase in the total volume of green bonds.
As Kazakhstan strengthens its ties with global partners, including the United States, it remains a compelling destination for those seeking to engage with a dynamic and resilient economy in the heart of Central Asia.
[Photo by AIFC]
The views and opinions expressed in this article are those of the author.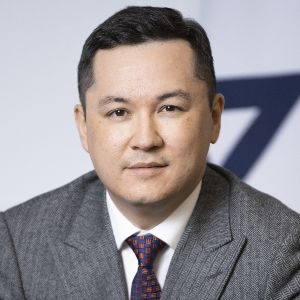 Renat Bekturov is the Governor of the Astana International Financial Centre.