The recent expansion of BRICS (Brazil, Russia, India, China and South Africa) to BRICS+6 has understandably drawn global attention and evoked diverse reactions. At the 15th BRICS Summit – from August 22,2023-August 24, 2023 — held at Johannesburg (South Africa), six countries – Iran, Saudi Arabia, UAE, Ethiopia, Egypt and Argentina — were invited to join BRICS. 
India has been cautious regarding the expansion of BRICS, and unambiguous in its stand that clear criteria should be established for bringing more countries on board BRICS. While India welcomed the entry of 6 countries, it has consistently opposed Pakistan's membership. While not being perceived as obstructionist, India does not want BRICS to become a tool for Chinese domination. 
It remains to be seen if the grouping remains unaffected in the imminent future, by the strains between China and India. Apart from this, not just India but even Brazil would not like BRICS to become an anti-West talk shop. 
New members 
The new entrants into BRICS share good ties not just with China, but India as well. Ties between India and the Gulf Countries – UAE and Saudi Arabia – have strengthened significantly in recent years and they have found common ground on crucial global issues and are even working closely even on multilateral forums. UAE has been invited as a guest country to G20 (2023), by India which holds presidency, and UAE President Sheikh Mohamed bin Zayed Al Nahyan will be participating in the G20 Leaders' Summit on Sept. 9-10, 2023 in New Delhi.
Similarly, while Iran may have moved closer to China and Russia, after the withdrawal of the US from the JCPOA/Iran nuclear deal, it has cordial ties with India. India has invested in the Chabahar Port Project, which is its gateway to Central Asia, Afghanistan and beyond, and the first phase of the Shahid Behesti Terminal is being jointly developed by India and Iran. India has also been pushing for Chabahar Port to be included in the International North South Transport Corridor (INSTC), so that it can get access to Central Asia, Russia and Europe.
Days before the BRICS Summit, Indian PM Narendra Modi had spoken to Iranian President, Ebrahim Raisi and discussed crucial issues pertaining to the bilateral relationship as well as BRICS expansion. 
On the sidelines of the 15th BRICS Summit, Raisi and Modi discussed ways for strengthening bilateral cooperation in several areas including connectivity, energy, trade. While Modi congratulated Raisi for Iran's entry into BRICS, the Iranian President thanked Modi for India's support for the same. 
PM Modi also met with Ethiopian President Abiy Ahmed on the sidelines of BRICS. The Ethiopian President had participated in the Voice of Global South Summit, hosted by India, held in January 2023. While China has a strong presence in Africa, India's outreach towards Africa, including Ethiopia, as well as its increasing emphasis on the Global South will strengthen ties but also pave the way for cooperation between India and Ethiopia on the BRICS platform. India has been pushing for African Union's (AU) entry into the G20 as a member. Modi flagged this point during his address at the BRICS Summit. Said the Indian PM: "We have also proposed to give permanent membership of G20 to the African Union. I am sure all the BRICS partners are also together in the G20 and will support our proposal."
Ethiopia had an important role in the founding of the AU in 2002, which has headquarters at Addis Ababa (the capital of Ethiopia).
India also has robust ties with Egypt – another new entrant into BRICS. Egypt's ambassador to India, Wael Mohamed Awad Hamed pointed to India's support for the Arab country's entry into BRICS. Egypt has also been invited to the G20, as a guest country. 
Expansion of BRICS: Beyond a zero-sum approach
The expansion of the BRICS also needs to be viewed as an opportunity for the grouping, as well as for India, because the new members do not necessarily view BRICS from a zero-sum perspective. For many, this is a forum for enhancing their economic interests and the voice of the Global South. Modi while commenting on the expansion of BRICS said that it was a message to international institutions that they need to remain in sync with the current global situation. 
It would be pertinent to point out, that the new entrants into BRICS, especially UAE and Saudi Arabia, share good relations with both the West and China and would thus not be comfortable with BRICS merely turning into an anti-West platform. The disparate nature of BRICS may be a liability, but it can also play a role in preventing China's domination of the organisation. 
While India will have to walk a tight rope between the West and BRICS, there is scope for it to find common ground with some of the new members on important issues. India can also use the platform for promoting cooperation with other BRICS members, in spheres, where it has an edge over China.
[Photo by 15th BRICS SUMMIT]
The views and opinions expressed in this article are those of the author.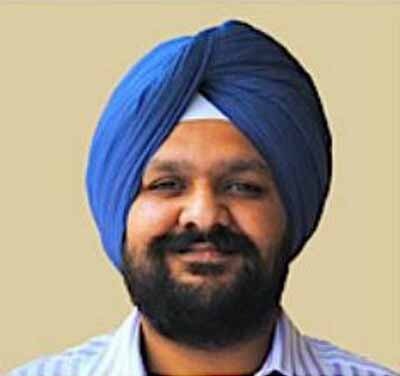 Tridivesh Singh Maini is a New Delhi based analyst interested in Punjab-Punjab linkages as well as Partition Studies. Maini co-authored 'Humanity Amidst Insanity: Hope During and After the Indo-Pak Partition' (New Delhi: UBSPD, 2008) with Tahir Malik and Ali Farooq Malik. He can be reached at [email protected].