South Asian countries have over the years experienced conundrums and apprehensions over the implications of heightening competition between China and India in the region, including Bangladesh. Although India's military intervention was seminal in Dhaka's birth, it was Washington that had the wherewithal to provide the required developmental aid in the immediate post-independence period. Nonetheless, compared to China, Delhi had a head start, being the only ally in the 1971 war in addition to hosting more than ten million refugees. India now faces the prospects of declining influence relative to that of Beijing, with the latters' increased economic footprint in Bangladesh, which has seen a transformation in bilateral ties. Beijing is now seen by many in Dhaka as an 'all-weather friend', in a sharp contrast to the ties during the independence movement and under Sheikh Mujibur Rahman's leadership. Bangabandhu's foreign policy principle of "friendship to all and malice towards none" vis-à-vis courting of both, India and China is here to stay, an approach which could become much more arduous down the road, not only because Dhaka is a smaller power but simmering Sino-Indian diplomatic and military tensions and jostle for influence have made it difficult for the Awami league government to engage with both in de-hyphenated manner.
Bangladesh, today with the tag of fastest growing economy in the region carries traction. Her significance for China is largely market orientated given that it's the second largest arms export destination, where it has also pumped billions in investment, which is set to increase in the light of Chinese government's push for tech-intensive industrialization at home. This has translated into enhanced traction among labor-intensive firms in China to relocate their production bases to a nation that also sits atop the critical sea route of the Bay of Bengal, which is fundamental to the maritime silk route of the Belt and Road initiative. For India, besides being the biggest trading partner in South Asia, Dhaka's salience lies in virtue of geography itself, with which she shares the longest border. This makes Dhaka crucial not only for its security i.e., controlling northeast insurgency, human and drug trafficking, and deploying forces through the Siliguri corridor, which lies north of Bangladesh but also for developing North East and integrating it with the mainland by leveraging territorial access which Dhaka has given. 
In terms of political engagement, both nations share cordial ties with the leader Sheikh Hasina, but Delhi has an edge as the Awami league has always had a congenial bond irrespective of the party in the South Block notwithstanding a few irritants. Also, the fact that the incumbent Prime Minister along with her sisters were granted asylum post-Bangabandhu's assassination is something indelible. In economic presence, China has overtaken and replaced Delhi as the biggest trading and investment partner, has financed several big-ticket connectivity and energy projects and plans to invest forty billion dollars as part of BRI, but the initiative also has some concerns in Bangladesh, vis-a-vis stiff interest rates, overpriced projects, and labor issues which were also conspicuous by Payra port development project. Beijing might have financed the largest infrastructural projects but the connectivity projects financed by India, owing to her geographical advantage, have facilitated cross-border trade and movement of people, while also buttressing community-centric development. India's another advantage is that she shares the podium with Bangladesh at various plurilateral forums including in the Bay Of Bengal Initiative for Multisectoral Technical and Economic Cooperation (BIMSTEC), and Indian Ocean Rim Association (IORA) which don't involve Beijing. 
In the pursuit of the objective of becoming a developed nation by 2041, Dhaka knows it has to leverage the economic and technological heft of both the South Asian giants amidst the competition and the evolving nature of ties is a testament to it. To that end, she also recognizes the merit of pursuing equidistance which is evident by some of her decisions. For instance, Bangladesh had offered access to its largest port to China just a few weeks after she granted the same to India. Also, both Beijing and New Delhi had invested in the modernization of Mongla and Payra ports, and subsequent to the projects' completion, the government billed the project as both a Belt and Road Initiative (BRI) and Bangladesh-China-India-Myanmar Corridor (BCIM) initiative. In addition to this, Dhaka's recent draft on Indo-Pacific Outlook emphasizes leveraging engagement with all relevant regional and extra-regional stakeholders to advance its objectives associated with human security, connectivity, and blue economy, whilst eschewing geopolitical rivalries. Having multifaceted ties with both India and China and desirous of further foreign investment, Bangladesh with unveiling of this policy is likely to witness enhanced engagement from the two competitors as both weigh in cost-benefit calculus of the domains incorporated by Dhaka's Indo-Pacific Outlook.
The challenge for Bangladesh lies in dealing with the two quintessential partners in such a manner that animosities between them don't involve a spillover effect on herself, as it happened recently when India gifted a submarine to Myanmar, Dhaka's troublesome neighbor after Bangladesh procured two submarines from China. Nonetheless the African proverb, – "It's the grass that suffers when the elephants fight" is not yet applicable in this trilateral equation thanks to Dhaka's deft diplomacy.
[Photo by aboodi vesakaran / Pexels]
The views and opinions expressed in this article are those of the author.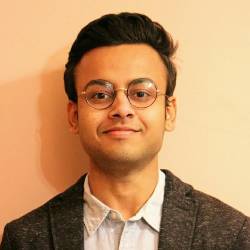 Araudra Singh is an author and a master's student at O.P. Jindal Global University, India. His research interests lie in South Asian geopolitics, China and maritime security of the Indo-Pacific.