Bangladesh has a 4,096-kilometer shared border with its neighboring India on the three sides. Following independence of Bangladesh in December 1971, Bangladesh had warm relations with India under the leadership of Bangabandhu Sheikh Mujibur Rahman. But following August 15, 1975 assassination of Bangabandhu, when military dictator General Ziaur Rahman captured power with active collaboration of the self-proclaimed killers of Bangabandhu, Zia started spreading anti-India sentiment in Bangladesh thus portraying India as the "biggest enemy" and "threat to sovereignty" of the country. The subsequent regime of military dictator Hussain Muhammed Ershad also followed the same footsteps of his predecessor Zia. Both the military dictators also tried to transform a secularist Bangladesh into an Islamic republic, copying the theme of Islamic Pakistan, which many analysts saw as an evil attempt of turning Bangladesh into another India-hating Pakistan. This although it was expected that this anti-India hostility which continued during 1976 to 1990 until military dictator Hussain Muhammed Ershad was toppled-down from power through mass-upsurge; would come to an end, in 1991 when Bangladesh Nationalist Party (BNP) came to power winning a landslide victory in the general election under the leadership of Khaleda Zia, BNP rather accelerated the process of anti-India and even anti-Hindu sentiment in Bangladesh.
In 1996, though this vicious agenda of anti-India and anti-Hindu sentiment came to an end when Awami League won the general election under the leadership of Sheikh Hasina, things once again went upside-down when in 2001 BNP with the active collaboration and support of Jamaat-e-Islami came to power by succeeding in mobilizing Muslim vote bank by cashing anti-India and anti-Hindu sentiment. It may be recalled here that, during the tenure of military dictators General Ziaur Rahman and Hussain Muhammed Ershad and later Khaleda Zia (General Zia's widow), Bangladesh was not only nourishing anti-India and anti-Hindu sentiment, it also was directly patronizing anti-US, anti-West and pro-jihadist policies. All of these regimes had directly patronized several insurgency groups in northeastern states in India, including United Liberation Front of Assam (ULFA). In 2004, when the BNP-Jamaat coalition government was in power, a consignment of 10-trucks loaded sophisticated weapons, grenades and explosives was accidentally busted by local police and it was later learnt that these weapons and explosives were supposed to be shipped to northeastern states and handed-over to ULFA. In this case, the BNP-Jamaat government directly collaborated with Pakistani spy agency Inter-Service Intelligence (ISI) in its anti-India agenda.
While media reports said the total volume of ULFA weapons was 10 trucks, in fact it was more than that, and it is said that BNP leader Tarique Rahman had directly supervised secretly sending at least 3 truck-load weapons and explosives to northeastern India via Cumilla-Tripura border, which never came into attention of the local or international media.
It may also be recalled here, during BNP-Jamaat's rule, local jihadists and Islamists in Bangladesh were openly chanting anti-US and anti-West slogans thus burning flags of those countries, while they also were chanting slogans "Amra Hobo Taliban, Bangla Hobey Afghan", (we shall become Taliban, Bangla will become Afghanistan). Rise of Islamists and jihadists became a serious issue in Bangladesh, while it was even anticipated by many counterterrorism agencies that Bangladesh was heading towards becoming a jihadist launchpad.
Situation started reverting only when Awami League (AL) under the leadership of Sheikh Hasina came to power in January 2009 through a landslide victory. Since then, Sheikh Hasina's government has been vigorously fighting terrorism and jihadism while she has successfully destroyed hideouts and training camps of anti-India insurgency groups in Bangladesh. For such an effective role, policymakers in New Delhi were delighted seeing Sheikh Hasina government's commitment in ensuring regional peace and combating common enemies in unison. Bangladesh-India relations reached newer heights especially when Bharatiya Janata Party (BJP) came to power through landslide victory in 2014 under the leadership of Prime Minister Narendra Modi.
Since then, in the bilateral rapport, along with sociocultural and identical resemblances, geographical proximity has been a core factor that brought strong impetus and bolstered the level of cooperation over the years.
During the last decade, the economic, political, and geostrategic relations between the two countries have been elevated to a new height as a result of diverse initiatives taken by both Bangladesh and India. Of them – Neighborhood First Policy (NFP) is the leading strategy of the Narendra Modi government which prioritizes improving ties with its close neighbors in the region in which Bangladesh is envisaged as an indispensable facest. During his visit to Bangladesh in April 2022, S Jaishankar, India's Minister of External Affairs, emphasized that "Bangladesh is a top priority for India's "Neighborhood First Policy." According to Indian President Droupadi Murmu, "Bangladesh preserves a special place in India's Neighborhood First Policy".
In this regard, a new impetus has been discerned between the state parties after India was selected for the G20 presidency this year, and invited Bangladesh for the participation. Among other non-member nations and international organizations which are invited to participate in the conference, Bangladesh is the only South Asian country to make it onto India's invitation list for the G20 summit in 2023. The trend of relations between the two nations shows that India and Bangladesh have benefited from the close relationships between the Awami League, led by Prime Minister Sheikh Hasina, and the BJP government, led by Prime Minister Narendra Modi. As a sign of the development, Indian Prime Minister Narendra Modi has sent the invitation to his Bangladeshi counterpart, Prime Minister Sheikh Hasina, to join him at the next G20 Summit on September 9-10, in which meeting, the two heads of state are anticipated to exchange views regarding the present state and future trajectory of the relationship on the outskirts of the summit.
In his wishes on Bangladesh's Independence Day, Dr. S. Jaishankar, Indian External Affairs Minister, argued, "our multifaceted partnership is founded on shared sacrifices". He also added that "Bangladesh would always remain a strong pillar of India's Neighborhood First Policy".
[Photo by Prime Minister's Office (GODL-India), via Wikimedia Commons]
The views and opinions expressed in this article are those of the author.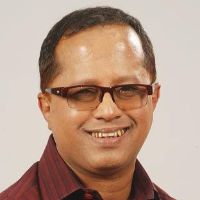 Salah Uddin Shoaib Choudhury is an internationally acclaimed multi-award-winning anti-militancy journalist, writer, research-scholar, and counterterrorism specialist. He regularly writes for local and international newspapers.