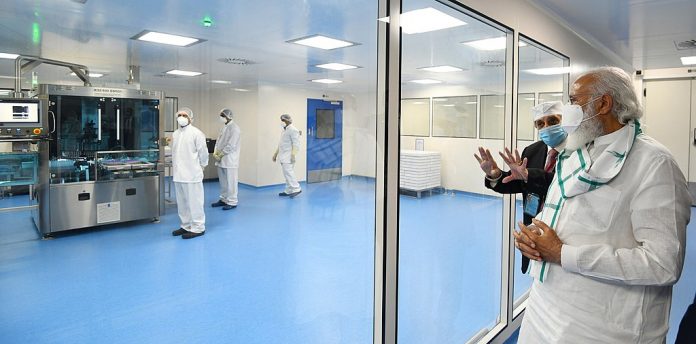 As many countries globally are racing to vaccinate their population through purchasing and stockpiling COVID-19 vaccines, Cambodia has been seeking vaccine donations from its friends and partners in order to share the cost and accelerate the process of the immunization.
Given that the reliable reports on efficacy and the safety of the COVID-19 vaccines produced by some countries like India and China remain ambiguous, many countries which can't afford a pricy and very difficult-to-handle vaccines, are compelled to accept whatever vaccines available as long as they can manage to secure enough doses to immunize their entire population in a timely manner, hoping to bring back a "normality".
As can be seen Cambodian Prime Minister Hun Sen personally requested India-developed vaccine during his meeting with Ambassador Khobragade on Jan. 18 just few days after he announced the acceptance of 1 million doses of China's Sinopham vaccine — 300,00 doses of which are due to arrive in the country in February. Not only India Hun Sen had made a request to, but also some other friends and partners, including Russia is also on the list.
The effort has been seen as substantial diplomatically in many ways as the prime minister aims to take the opportunity to reinforce diplomatic relations with other major countries while indicate that the Kingdom doesn't solely depend on China in the light of a common speculation that the country is Chinese client state. The action, of course, is aimed at echoing its foreign policy mantra: "Cambodia is friend to all countries and enemy to none."
For Cambodia in particular, maybe China is a close friend with deep pocket, but possibly with the vaccine donation, India can now appear to be a more reliable and better friend during this time of crisis.
In response to the Cambodian premier's request, ambassador Khobragade reassured during the 72nd National Day that the Southeast Asian nation will receive the vaccines developed in India, underlining the Indian government's role in international stage as a responsible emerging power to supply the vaccine to the rest of the world. So far, it has remained undetermined on how many doses of India-developed vaccine will be donated to Cambodia.
Cambodia had reportedly asked for to be given 1 million doses from the Indian side, but there has not been any public revelation from either Cambodian or Indian side regarding the final decision on the donation.
But as a long-lasting friend and an important partner in Southeast Asia under the so-called Act East policy, it is clear that Cambodia will soon be receiving vaccine donation from the Indian government through "Vaccine Maitri (vaccine friendship)" initiative.
Moreover, it is also strategically vital if India can manage to swiftly get started by providing its vaccines to Cambodia. As Cambodia will assume the chairmanship of ASEAN regional grouping next year, it is obvious that it can play as a facilitator to further bridge the ties and parentship covering wide-ranging issues between ASEAN and India be they security, cultural, economic and political connectivity.
As of Jan. 27, the country announced that it would receive up to 11 million doses of COVID-19 vaccines — 1 million doses from China, 3 million doses from Australia and 7 million doses through COVAX, the World Health Organization's (WHO) vaccine distribution platform.
Why can Cambodians have more trust in India-developed vaccines?
So far two Indian vaccines — Covishield produced by India's Serum Institute and Covaxin developed and manufactured by Bharat Biotech — have been approved by the country's drug regulator this month. But what still remains a major problem is the Indian people's hesitancy in accepting the domestically manufactured vaccines due to inadequacy of efficacy data in spite of the Indian government's determination to inoculate 300 million people by July.
As the second most populous nation on earth, India has more than 1.3 billion people to be vaccinated. However, from a Cambodian perspective, India has been seen putting more effort to promote the South-South Cooperation and assist other poorer nation in times of need.
Of course, a diplomatic reason might involve in any move by a nation in spearheading an act of generosity, but India, as an emerging power, chooses to do both: expanding its capacity to protect its people while looking to increase its determination in helping other nations battling against the pandemic. This happens while most of the wealthy nations prefer to keep stockpiling the vaccines for their own citizen — an act that is giving a greater boost to the philosophy of the vaccine nationalism.
Not only India's kind action is worth mentioning, but its easiness to handle and affordability is also important in making the Indian vaccines more appealing to many developing countries despite insufficient efficacy data.
For the Cambodian government, logistical and storage capacity is fundamentally one of the factors that must be taken into account. But what I can see is that the Indian vaccines can face least resistance from the Cambodian general public when it comes to inoculation compared to others specifically those developed in Russia and China.
Although accepting and using a particular vaccine is about public health issue, it also involves the perception of the people. In Cambodia, there is far more defiance to Chineseness than to the Indianess. For instance, Chinese products have long been deemed low quality by many, let alone the vaccines which are of the concern of public health and safety.
But things about India have been perceived differently. Cambodians regard India as an old-age friend with long-standing cultural and religious linkage, and its adherence to democracy has well cherished by many Cambodians, too.
More significantly, India's capacity and fame in manufacturing and supplying sophisticated medicinal products have been prevalent in Cambodia over the past decades. This claim can be further buttressed by the amount of money Cambodia spends each year on imports of pharmaceutical products from India. According to the United Nations COMTRADE, Cambodia pharmaceutical imports from India in 2019 stood at $45.67 million higher than that of the imports from France.
Even though Cambodia's schedule for vaccination rollout remains undetermined, it can be expected that there will be more propensity of more people willing to take the shot of the India-developed vaccines.
India's vaccine supplies: a catalyst in consolidating ties with ASEAN
It is undeniable that India's vaccine donation to Cambodia will redound to the determination in expanding the relations between the two countries and, to a certain extent, deepening socio-economic and cultural integration with Southeast Asian region — the key pillar of Prime Minister Narendra Modi's Act East Policy.
It should be noticed that many pundits have been critical of the Delhi government for its reluctant position as well as its lack of a substantive role in the region, which has left a vacuum for Beijing to fill in recent years.
However, its successful development and production of COVID-19 vaccine as well as its impending competence in pursuance of vaccine diplomacy is more critical than ever as this will offer more rooms for the Indian government to navigate its foreign policy, eventually shifting the trajectory of its relations with the countries in the region.
In order to achieve a more fruitful result, the Indian government might also need to grasp this opportunity to recalibrate its foreign policy response and continue to reach out to the countries in the region in order to fortify a vaccine collaboration.
Even though there are already some countries namely Indonesia and the Philippines whose drug regulators have already approved China-developed vaccine Sinovac, it is not too late for the South Asian country to ramp up its diplomatic effort in channeling the vaccine offer and lend a helping hand to the Southeast Asian nations in safeguarding the vaccine supply.
What is raised here is actually not a suggestion of competition with China in particular, but having more actors especially major powers like India involved will be driving a more vibrant and divergent vaccine supply and distribution amid these fast-changing regional geopolitics.
And India's diplomatic triumph in vaccine diplomacy will also pave the way for the post-COVID-19 engagement with the countries in the region, which will eventually bring about tangible benefits to the people of ASEAN and India, enabling a favorable environment to be created for further expansion of the mutual cooperation.
The views and opinions expressed in this article are those of the author.