Last year, I wrote about a popular politician in Taiwan, Han Kuo-yu, who ran for the mayorship of Kaohsiung and predicted his unexpected winning of the election. Han, a 2nd generation Waishenren (mainland Chinese who came to Taiwan after the defeat of the Chinese Civil War) vying for the top job in the Southern city of Taiwan, the domain of the Green camp and won. Those who are familiar with Taiwan politics would know this as something miraculous.
This year, Han is back in the race to challenge the incumbent, President Tsai Ing-wen, for the throne. This is kind of controversial as Han has just won the mayorship of Kaohsiung and many of his promises have not been fulfilled. 
Tsai Ing-wen, on the other hand, plagued by low approval ratings for most of her 4 year term, got a major boost for her popularity polls when she started to confront Xi Jinping, Chairman of the People's Republic of China's call for Reunification in the beginning of 2019 during his address to the people in the Open Letter to the Taiwanese Chinese. Tsai was well aware that without the 1992 Consensus, she would never be able to improve the economy in any way substantial. DPP's strategy for the Presidential Election, like Tsai's previous DPP colleague, Chen Shui Bian, was to play the cross-strait card. Moreover, DPP believed that Han won the midterm election by creating a lot of noise and exposure online. In order for Tsai to recover and overtake Han in opinion polls, DPP orchestrated a series of strategies to silent Han online, including smearing campaigns and taking down of Han's fan page on various social media, and vigorously promoting herself as the right choice, especially among youngsters who generally see Tsai as more amicable. DPP's investment in the riots in Hong Kong, calling the Hong Kong deadly protests a fight against Communist China, also scored major points among the netizens. Using powerful online paid trolls, DPP tried hard to link Han and KMT with everything with Red China. They also rigged the opinion polls run by major media who were pro Green camp or were afraid of antagonizing DPP for fear of reprisals. The rigging was so bad that some polls showed Tsai's lead to be as much as 30% above Han. Nikkei Asian Review even went as far as pronouncing Tsai's re-election a forgone conclusion.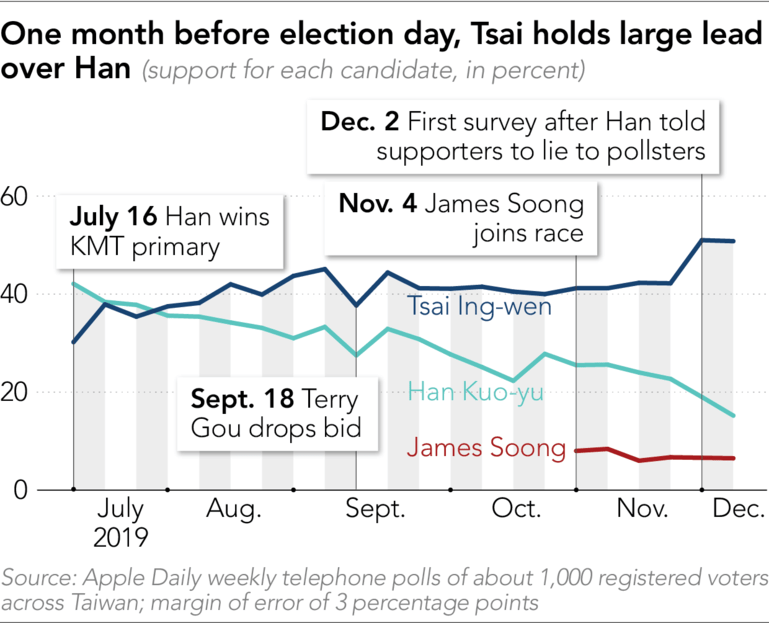 However, anyone thinking that Han is packing his bag and returning to his enclave in Kaohsiung, waiting for DPP to impeach him, is bound to be surprised. As someone who has correctly predicted Trump's victory and Han Kuo-yu's success in his bid for the mayorship, not forgetting Boris Johnson's win just a few days ago, I can assure all that it would be a race to the end. As a matter of fact, the race is too close to call. Since the polls conducted by the main stream media are no longer making any sense, we have to go to the alternatives:
Political Rallies
Han Kuo-yu attracts many more supporters who come to his rallies on their own. They wear special attire in ROC flag prints, carry ROC flags, and stay for the whole duration of the rally, which could last from noon to late at night. They sing and chant fervently, and constantly keeping eye-contact with Han and whomever Han is supporting for the Legislative Yuan. The atmosphere was reminiscent of the old DPP, but lost after Tsai took over the reign as the Chairwoman of the party. DPP, on the other hand, has to mobilize supporters from neighboring municipalities using hundreds of coaches, providing bentos for those who reluctantly agreed to join the rallies. And they would leave after finishing the bentos, searching for the coaches that would ferry them back home.
Underground Betting Bookies
Illegal bookies that offer bets for the upcoming election aren't depending on the polls at all. Even with Tsai's ratings widened to a whopping 30%, bookies are only offering odds that Tsai is only leading by 20,000 to 30,000 votes, hardly a runaway win. 
Old Fashion Street Polls
Key Opinion Leaders/Influencers are resorting to old fashion street polls, stopping and asking people on the streets who they would vote, and it's usually Han who win hands down. The economy is still the biggest issue. As more and more shops and businesses are closing down, playing the cross-strait card is not as effective as before. People who were unhappy in 2018 are still unhappy in 2019. 
During the 2016 US Presidential Election, almost every poll conducted by mainstream media picked Hillary Clinton as the winner, but netizens overwhelmingly supported Trump. For this election, online polls and mainstream media are unanimously behind Tsai, but I'm going with the people on the ground. I pick Han as the ultimate winner.                    
Image credit: 高雄市政府 [Attribution], via Wikimedia Commons
The views and opinions expressed in this article are those of the author and do not necessarily reflect the official policy or position of The Geopolitics.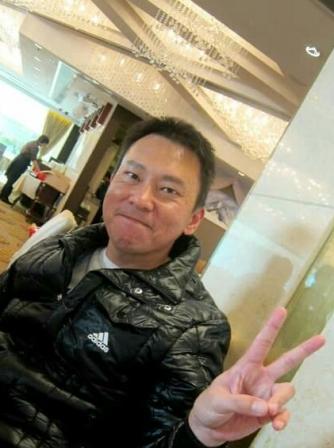 Joseph graduated with a degree in Business Administration from the National University of Singapore and is a CFA and CAIA charterholder. He enjoys geopolitics and study international politics extensively. Joseph currently lives in Hong Kong.