More than five years have passed since in 2017 the military of Myanmar launched its latest merciless onslaught against the Rohingya communities dispersed throughout the western region of the country's Rakhine State. The head of the UN agency for human rights later referred to the military's conduct as "acts of horrific barbarity," potential "acts of genocide," and "a textbook example of ethnic cleansing". Since then, over one million Rohingya refugees are being sheltered in neighboring country, Bangladesh. 
Bangladesh, while being compelled to assuming enormous amount of her limited resources to meet costs and impacts incurred upon her economy, society and environment, has never received enough financial assistance for Rohingya refugees. Instead, the amount of assistance has been decreasing over time. In 2020, donors contributed only 60% of the required funding, down from around 72% to 75% two years earlier. In 2022, the Rohingya Refugee Crisis Joint Response Plan 2022 sought approximately $881 million to support the refugees. Bangladesh received a little more than 50%. 
The world's attention towards the Rohingya is decreasing. International donor community is now turning its back on a million Rohingyas. As a result, for the first time WFP is forced to cut back its lifesaving assistance for all Rohingya living in the camps in Cox's Bazar, Bangladesh. Starting March 2, 2023, WFP will have to reduce its General Food Assistance voucher value from $12 to $10 per person per month, due to a $125 million funding shortfall.
The vouchers are used to purchase 13 kilos of rice per person, as well as other food products. Having received "only a small portion of the required funding for 2023," WFP said they had to reduce the entitlements "or we will have no funds left very soon."   
Consequences of the cutting
45% of Rohingya families are not eating a sufficient diet. The Global Acute Malnutrition rate for children stands at 12%, just below the 15% of WHO 'Emergency' threshold but still categorized as 'serious'. Some 40% of children have stunted growth and 40% of pregnant and breastfeeding women are anaemic — all this is before the ration cut. UN experts warned that food shortages could lead to further violence and unrest in the camp along with heightened risks of human trafficking. Hundreds have reportedly died making perilous boat journeys to seek new opportunities. 
The cuts have coincided with a rising cost of living, reducing purchasing power. Bangladesh's 'Refugee Relief and Repatriation Commissioner' says, these cuts can cause more Rohingya to take desperate measures to seek work, this can cause a rise in terrorism, drug and human trafficking, impacting over the whole region. 
Why this Aid void? 
Funding for other protracted crises in 2022 seems to coincide with overwhelming political interest in, and donor pledges for Ukraine. For instance, while the 2021 Afghanistan Humanitarian Response Plan was very well funded, at 112.8%, in 2022 it has received less than 50% of its funding appeal. 
Since January 2022, the U.S. government, has committed more than $18.2 billion in security assistance to Ukraine, with approximately $17.6 billion dedicated to train and equip Ukrainian armed forces. The 2022 "Stand Up for Ukraine" global pledging campaign raised $8.9 billion. U.N. spokesperson Stephane Dujarric stated: "This is among the fastest and most generous responses a humanitarian flash appeal has ever received."
At the 2022 international donor conference on Yemen – a country of 23.4 million people in dire crisis with war and famine – the UN appealed for $4.3 billion for humanitarian aid. World leaders offered less than one-third of that. This so-called "aid void" is increasing for Myanmar, the Sahel and Ethiopia.
The European commissioner for crisis management had explicitly stated that the European Commission would not pull funds from other crises around the world as it responds to the conflict in Ukraine. Other EU ministers made similar commitments.
But individual EU member states have already begun diverting funds, as real-time aid data shows. For instance, Sweden and Denmark have announced cuts to other aid priorities that equate to 14% and 10% of their respective 2021 aid budgets. Sweden has already reallocated $150,000 from Sri Lanka – where millions face poverty following its severe economic crisis and political turbulence since March 2022 – to Ukraine. Denmark announced that it would defer development aid it had earmarked for Syria, Mali, Burkina Faso and Bangladesh to fund the reception of fleeing Ukrainians.
The U.K. has recently announced that it will halt all "nonessential" aid spending. It is estimated this may result in that spending budget being reduced by 25% with further cuts to aid to countries like the Sudan and Syria in addition to those already implemented since 2020. Germany has shown a similar trend. Excluding the generous support for Ukraine, the U.S. has also cut its humanitarian budget by $1 billion relative to 2021. In West Bank and Gaza, critical programs had already been curtailed and food rations had been severely reduced in Yemen.  
It's our foremost duty to response similarly to all humanitarian crisis. We must not be biased in case of humanity. The Rohingya crisis, recognized as the fastest and largest refugee influx since the 1994 Rwandan genocide must not be sidelined along those with Ukraine, Gaza, Yemen and Afghanistan.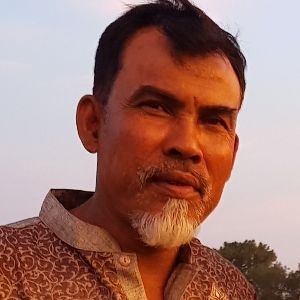 Nur-Mohammad Sheikh is an Associate Professor & Security Affairs Analyst.