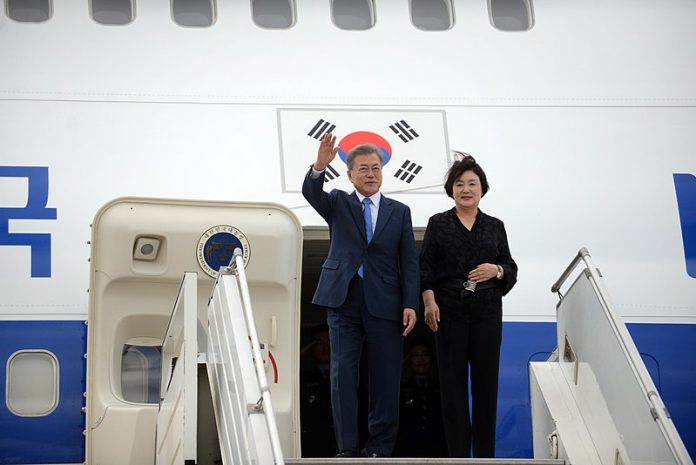 South Korea has taken two important steps recently which clearly indicate that the East Asian nation, lauded for its economic progress in recent decades, is keen to enhance its international stature by taking a principled stance on important issues. 
First, Seoul has decided to give asylum to 378 Afghans who worked with the South Korean embassy and Korean companies in Afghanistan. What is important is that these Afghans have been taken in not as refugees, but as people of merit. 
BBC's correspondent in Seoul, Laura Bicker, in a tweet said: "380 Afghans who worked for the Korean government in Afghanistan will arrive in South Korea tomorrow according to MOFA. They will not be entering as refugees, but as people of merit to the country says the Foreign Ministry."
There were many reactions to this decision of Seoul, with South Korea's decision being appreciated globally. Domestically there has been some opposition given the fact that the country is facing its own economic challenges as a result of Covid-19. South Korean President Moon Jae-in however stated that helping out Afghans who had assisted South Korea was only 'natural'.
By providing refuge to Afghans, even though in the past there has been resistance to refugees, the East Asian nation has sent an important message, that it is not just an important strategic player in Asia, but is keen to emerge as a responsible global player. 
Second, Seoul has backed democracy in Myanmar. In a response to a petition filed in favor of Democracy in Myanmar, and to engage with the National Unity Government (NUG), the Cheong Wa Dae, the office of the South Korean President issued a statement saying: "The [South Korean] government will continue to make contributions, going forward, so that the Myanmar situation can be resolved in a direction to meet the aspirations of its people."
The timing of both is important. It comes at a time when America is drawing flak for its handling of the situation in Afghanistan and China's economic and strategic clout is witnessing a rise. 
The statement backing democracy in Myanmar coincided with US Vice President Kamala Harris' Asia visit during which she criticized China for its approach towards neighbors. Harris had also condemned the repression of protestors in Myanmar saying:
"We condemn the campaign of violent repression.  And we are committed to supporting the people there as they work to return their nation to the path of democracy."
Seoul also happens to be the first Asian country, which has spoken firmly in favour of democracy in Myanmar (while businesses of many countries including Japan have pulled out after the takeover by the military junta, the fear that Myanmar will move firmly towards the Chinese orbit has prevented countries from criticizing the junta). Significantly, South Korea's economic linkages with Myanmar have risen in recent years (as of August 2020, Seoul was the sixth largest investor in the Southeast Asian nation having invested $4 billion). During South Korean President Moon Jae-in's visit in 2019 a number of steps were taken to give a boost to bilateral trade between South Korea and Myanmar, as well as Korean investments in Myanmar.  An MoU was signed for setting up a Joint Commission for Trade and Industrial Cooperation. Korea is involved in a number of infrastructure projects such as the Korea-Myanmar Industrial Complex (KMIC). This project, planned to be a green complex, is strategically located and is important in the context of job creation. 
South Korea's support for the democracy which is in stark contrast to many countries which are not keen to upset the military junta is important. While Korea was critical of the military coup in March it decided to suspend defence exchanges with Myanmar and ban arms exports to the country after the violence against pro-democracy protestors. South Korea's Foreign Ministry while commenting on its decision had said, "Despite repeated demands of the international community, including South Korea, there are an increasing number of victims in Myanmar due to violent acts of the military and police authorities."
Significantly, South Korea has also permitted Myanmar nationals the option to stay in Korea on humanitarian grounds, until the situation in Myanmar improves.
At a time when many countries are shirking their responsibilities vis-à-vis the Afghan people, South Korea's decision to provide Afghan nationals asylum is important. Apart from this, while many countries are pre-occupied with events in Afghanistan and not paying much attention to events in Myanmar, it is significant that an Asian country is backing pro-democracy forces in the South East Asian nation. While many other Asian countries, have shied away from doing the same, lest they offend the ruling military junta in Myanmar, South Korea's support for pro-democracy forces in Myanmar has sent a firm message not just to the junta, but also to Beijing, and it has also proven the fact that in addition to Western countries, Asian nations can also take a firm stance in favour of human rights and democracy.
The views and opinions expressed in article are those of the author.