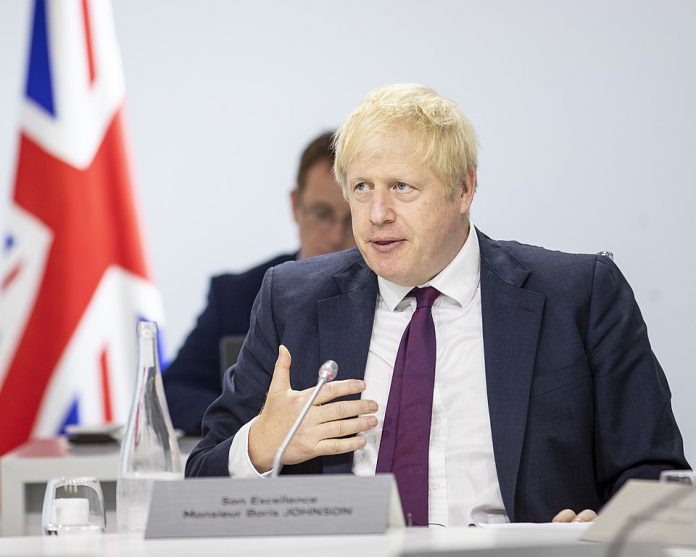 The UK Prime Minister Boris Johnson and the Conservative Party had been clear-eyed about the challenges of a relationship with China and also had been frank about its disagreements with it. But in the last few months, the conservative party's resentment of China has accelerated into something which has made PM Johnson to act tough on Britain's third-largest trading partner. Also is the pressure exerted by the U.S. over the UK to be on its side in cornering China at the global stage in areas of military and economic interests. Boris Johnson is now readying a policy reversal that would restrict Chinese investment in the UK and also terminate the contentious agreement to admit the Chinese telecommunications giant Huawei to the UK's 5G network. Other critical infrastructure investments, in areas of nuclear energy, could also be in doubt.
Prime Minister Boris Johnson and his party navigated the Brexit plebiscite on the hope of cashing in on innovative opportunities in the Asian continent, particularly in China. But contrary to this hope, the opportunities for the UK in China have been shrinking over the years and the outcry against China on COVID-19, Hong Kong and other issues from UK's allies like the U.S., India, Australia and France is making Johnson rethink his China policy.
This move on Huawei from the UK could have been catalysed by the latest U.S. sanctions imposed on Huawei which would essentially mean that allowing Huawei to expand its hold on the UK telecoms market posed security risks which were not considered when the government settled for a compromise solution in January 2020 giving Huawei up to 35 percent of the market share. Boris Johnson now on a sound technical grounds of the U.S. sanctions could reverse his earlier decision to allow the Chinese firm Huawei to build the UK's 5G infrastructure.
Johnson's earlier decision to allow Huawei to a certain limit in the UK market sphere was an act of balancing between the U.S. and Chinese interests within the UK. But because of the U.S. sanctions, Huawei will be barred from using a technology — reliant on American intellectual property in the UK.
UK's January decision to allow Huawei to play a role in Britain's 5G network was based on its price competence and proficiency in the space. But Huawei has been unable to successfully disprove accusations that it is under the control of the Chinese government. Also, CCP's control over Huawei meant a hostile power could have leverage over critical UK infrastructure. 
On another front, the UK is all set for a collision course with China in the energy sector. The UK ministers are being urged by the members of the Conservative Party to curb Chinese involvement in Britain's nuclear power plants as relations with Beijing sour. The nuclear energy project Hinkley Point C is being built in Somerset and China's government-controlled General Nuclear Power Group (CGN) which is carrying out that project has being pitched as a partner in similar power projects planned for Bradwell in Essex and Sizewell in Suffolk. These projects were signed by former prime minister David Cameron and Chinese premier Xi Jinping in 2015 commemorating the beginning of the Sino-Britain Golden era. 
But senior Conservative party members have been wanting Boris Johnson to reconsider the UK-China nuclear deal as concerns have been growing about Beijing's ambitions about controlling critical infrastructure in foreign countries. The world has changed in the COVID era and there is a strong case for the UK to be more mindful of its vulnerabilities against Chinese designs. French firm EDF which is partnering with CGN for the 3.2-gigawatt Sizewell C nuclear project has already submitted its plans. Sizewell is the second of the three plants agreed by former Prime Minister David Cameron and Xi. Sizewell C project will use French designs and CGN will be financing the project with an option to take up to 20 percent stake in the project. But the Chinese state-owned CGN will be the majority partner at Bradwell power project, where it will be having a two-thirds stake and will be using its designs for constructing the plant. This Chinese control in design and finance has caused a lot of discomfort and scepticism among the British conservative party members. Ultimately this avenue of Chinese interest in the UK too may be subjected to sharp censure and scrutiny that may hamper Chinese plans of extracting strategic dividends from the project.
Boris Johnson's dealing with Chinese investment and interests in the UK could set in a precedence for the EU and other Western countries in dealing with China. Both China and the U.S. are aware of this and both countries would like to make the UK agree to their respective plans and line of action. But now within the UK many anti-China voices in its power circles have been rising and this may very well serve the American interests. The speculated Huawei decision should further calm the angst that has been simmering in the Trump administration since Johnson's initial failure to fall in line. Yet this decision reversal from Johnson will provoke complaints from Beijing, along with threats of withdrawal of Chinese investment from the UK and retaliation against UK companies and interests in China and Hong Kong. British companies that depend on the Chinese promotion like the HSBC bank could be collateral damage in this UK-China investment skirmish.
Boris Johnson and the Conservative party's anti-China detour has been greatly reinforced by Beijing's early cover-up of Covid-19 and its subsequent aggressive propaganda by the levying of a ruthless security law on Hong Kong that effectively slashed China's accord with the UK to leave Hong Kong's way of life unchanged for five decades. Also is the American influence on UK's security and trade which was reiterated by the U.S. where it has indicated that if Britain reached any arrangement with China that was not to Washington's predilection, the U.S. could scrap its bilateral trade deal with the UK. 
Also, the creation of a cross-party and international initiative called the Inter-Parliamentary Alliance on China (IPAC), launched in early June has been a driving force in checking Chinese advancement. In the UK, IPAC is co-chaired by former Conservative Party leader Duncan Smith and Labour party representative Helena Kennedy. This alliance has senator Marco Rubio as a member of the U.S., and the alliance boasts others from Australia, Canada, Germany, Japan, and the U.S. The alliance plans to mobilize liberal democracies to the common defence of shared principles against hegemonistic Chinese policies in international cooperation. This will only amplify global resolve in countering Chinese expansionism and its intent to form a China-centric world order.
The UK-China trade cooperation has evolved significantly in the past decade, but it is only a small portion of the UK's overall trade and is biased towards Chinese profiteering. The UK has received significant Chinese investment, but most of it is in high-tech companies that Britain is currently trying to safeguard. The Huawei and the nuclear power project deals will serve as a defining moment in Sino-British relations, if  the UK scraps these agreements with China, then it would end up fully aligning with the U.S. and its narrative on China. Given the sentiment within Johnson's party against China and with alliance like IPAC gaining traction, the Prime Minister is all poised to recalibrate his policy on Chinese interests in the UK which may end up making China a hostile country to the UK with unknown repercussions in the turbulent times ahead.
Abhilash Halappanavar is an Electronics & Communications Engineer having worked as a Software Analyst for a global software conglomerate based in Bengaluru, India. His writings have appeared in various local and global portals on technological and economic issues concerning geopolitics and international relations.