The Sikh diaspora has distinguished itself in different walks of life globally — business, medicine, law, corporate sector. In recent years, Sikhs have also become active in public life especially in countries like Canada and UK. In Canada, the current Liberal party government consists of two Sikh Ministers – Harjit Singh Sajjan (Minister of International Development and Minister responsible for the Pacific Economic Development Agency of Canada) and Kamal Khera (Minister of Seniors). Earlier Harjit Singh Sajjan served as Defence Minister (2015-2021). Anita Anand, also of Indian origin, replaced Sajjan in 2021. 
The New Democratic Party (NDP) which is a part of Trudeau's coalition is led by Jagmeet Singh a practicing Sikh. Jagmeet Singh is vocal on economic issues and has also been steadfast in his opposition to Islamophobia, along with his brother Rattan Singh Dhaliwal 
It is not just the Liberals or NDP, Sikhs are doing well in other political outfits as well. Tim Uppal a Deputy Leader of the Conservative Party and Member of Parliament is also a Sikh (he was Minister of Multi culturalism in the Conservative government led by Stephen Harper).  In a recent tweet, "Yesterday marked 6 years since the terrorist attack that took place at the Quebec City Mosque. I wear the green square representing the carpet of the mosque that day, in remembrance of the lives lost and their families as we continue to fight Islamophobia and anti-Muslim hatred."
It would be pertinent to point out, that of the 17 MPs of Indian origin who won in the Canadian general election of 2021, the overwhelming number were Punjabis. 
If one were to look at the case of UK, two practicing Sikhs are MPs from the Labour Party – Tanmanjeet Singh Dhesi and Preet Gill. Both are vocal not just on community issues, but several crucial policy matters. Dhesi is especially famous for his speech where he asked then British PM Boris Johnson to issue an apology for racist remarks he had made against Muslim women. Said Dhesi in a speech in 2019:
"For those of us, who from a young age have had to face up to and endure being called names such as towelhead, or Taliban, or coming from bongobongo land, we can appreciate full well the hurt and pain felt by already vulnerable Muslim women, when they are described as looking like bank robbers and letter boxes."
Recently, Kuldeep Singh Sahota was nominated to the House of Lords by the Labour Party. Sahota is the third turbaned Sikh to have been nominated to the House of Lords – the earlier two being Lord Inderjit Singh (an independent who was the first turbaned Sikh to enter British Parliament) and Lord Ranbir Singh Suri (a conservative life peer since 2011)
Sikh MPs have often take up issues pertaining to minorities in South Asia, and have been especially vocal in seeking justice for the victims of the 1984 Anti-Sikh pogrom. 
If one were to look at Sikh participation in US politics,  the first Asian American, Indian and Sikh to enter the House of Representatives was a clean shaven Sikh, Dalip Singh Saund, in 1957.
Nikki Haley Randhawa — born Namrata Randhawa to Sikh parents — a prominent Republican Leader was US Ambassador to the UN during the Trump administration and has also served as Governor of South Carolina. Recently, she indicated that there is a strong possibility of her contesting the Presidential election. While she called for a generational shift and the need to defeat incumbent US President, Joe Biden the Republican leader said: "As governor, I took on a hurting state with double-digit unemployment, and we made it the best. As ambassador, I took on the world when they tried to disrespect us. I think I showed what I'm capable of at the United Nations."
Gurbir Singh Grewal was elected as Attorney General of New Jersey in 2018, while Ravinder Singh Bhalla was elected as Mayor of Hoboken, New Jersey. Bhalla was the candidate of the Democratic Party.
Harmeet Dhillon who a lawyer currently a national committeewoman of the Republican National Committee (RNC) for California and in the past served as Chairperson of the Republican National Lawyers Association as well as head of the San Francisco Republican Party. She was unsuccessful in her bid for the position of Chair of Republican National Committee. 
In Singapore, the current leader of opposition Pritam Singh – also Secretary General of the Workers' Party – is a Sikh. Earlier Inderjit Singh, a turbaned Sikh, who was part of the People's Action Party (PAP) was an MP for nearly two decades. 
While Sikhs who are part of left of centre outfits draw media attention and even from the community, as a minority community it is important to have representation across the political spectrum. Even those in right of centre outfits do occasionally raise their voice on issues pertaining to minority rights and immigration issues on party platforms. 
It would be pertinent to point out, that while Sikh politicians in the West do receive support from the community — and raise matters pertaining to the community — they also make important interventions on important economic and social issues which are often relegated to the side lines. It would also be important to underscore the point that the approach of certain Indian media platforms towards the Sikh diaspora in general, and Sikh politicians in Western countries is skewed.
No one can deny the fact that Sikh participation in politics overseas is increasing across the political spectrum, and that they are making their mark by intervening on important policy matters.
[Photo by Joel Friesen, via Wikimedia Commons]
The views and opinions expressed in this article are those of the author.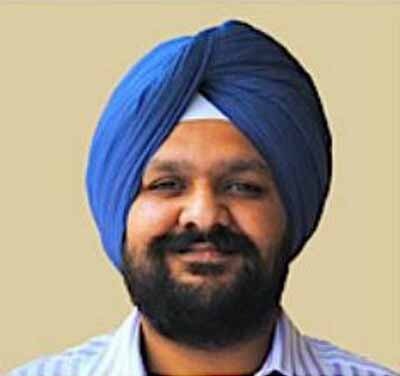 Tridivesh Singh Maini is a New Delhi based analyst interested in Punjab-Punjab linkages as well as Partition Studies. Maini co-authored 'Humanity Amidst Insanity: Hope During and After the Indo-Pak Partition' (New Delhi: UBSPD, 2008) with Tahir Malik and Ali Farooq Malik. He can be reached at [email protected]