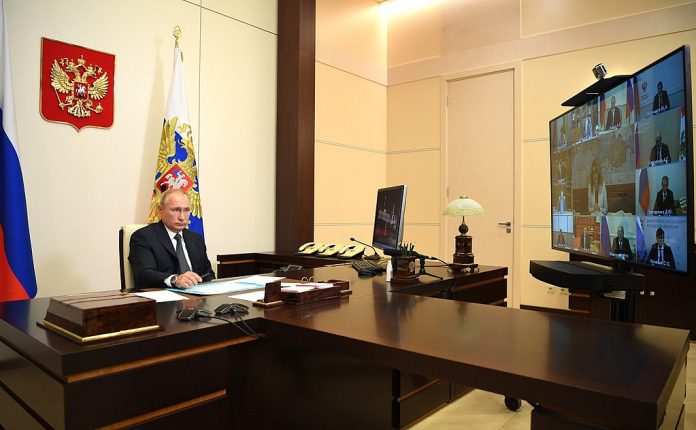 OXFORD, HONG KONG – On August 11, a wave of push notifications lit up screens all around the world: Vladimir Putin announced that a COVID-19 vaccine, researched in Moscow, has been given regulatory approval.  The Russian president boasted that the Gameleya Institute's jab was a "world-first" and that it offered "sustainable immunity." He repeatedly stressed that it had passed "all needed checks" and even disclosed that one of his two daughters has had this vaccine.
From a political perspective it is quite easy to interpret why Russia approved the vaccine without a completed phase III trial, after just two months of tests on humans. This so-called success was to remind Russians and the world that the country which was the first to send a man into space will now be the first to dispose of the coronavirus.
Improving Moscow's international standing has been hugely important given how the management of the coronavirus pandemic has caused humiliation to Russia. In March this year, Moscow was sending medical assistance to Italy. Several months later it has transpired that it is incapable of defending itself against the pandemic: with more than a million cases, Russia is now the fourth most infected country in the world. The Russian economy has taken an even more catastrophic blow — media all around the world reported how Russia is haemorrhaging its precious financial reserves and how Putin lost the oil-price war he waged against Saudi Arabia in March.
Furthermore, these failures are being linked, both within Russia and abroad, to Putin's authoritarian rule. The Economist, for example, recently used Russia as an example of how suppression of freedom of the press has enabled authoritarian regimes to underreport coronavirus fatalities. "A rate of 15 deaths per 1,000 cases is plausible in New Zealand, which has contained the virus, but less so in Russia, which has not", the magazine pointed out.
It is true, that Putin very much needed to give his supporters something to be proud of. Moscow's vaccine, however, is not only a demonstration of Russian omnipotence; it is also a part of the Kremlin's disinformation campaign which Russia has conducted on the West since shortly after Vladimir Putin came to power.
Numerous books have been written about this phenomenon – the most recent being Catherine Belton's Putin's People and Luke Harding's Shadow State – concerning how Russia weaponized disinformation and exploited democratic political freedoms to undermine the unity of the West and its societies. From Ukraine being invaded by "little green men," through long shadows being cast over Brexit and the election of Donald Trump as President of the United States, to the recent Russian activity during the events in Belarus, the Kremlin seems eager to remind how proficient it has become in fanning the flames of political division in the West.
One does not have to look very far to see that the Russian vaccine fits the general template.
The magazine Nature recently reported the outrage among the scientific community caused by Putin's revelations. The magazine quoted various experts who stressed not only that Moscow has approved something that may not work, and which may cause serious side-effects, but also that regulatory approval of insufficiently tested vaccine will have severe consequences for the entire world.
"This is a reckless and foolish decision. Mass vaccination with an improperly tested vaccine is unethical. Any problem with the Russian vaccination campaign would be disastrous both through its negative effects on health, but also because it would further set back the acceptance of vaccines in the population," said Francois Balloux, a geneticist at University College London in a statement distributed by the UK Science Media Centre. "It could undermine the entire global enterprise", added Peter Hotez, a vaccine scientist at Baylor College of Medicine in Houston, Texas.
It would be a euphemism to state that since the beginning of the pandemic numerous conspiracy theories have come into circulation. There are those who believe that the virus does not exist at all while others are setting cell phone towers on fire baselessly contending that the disease is being spread by way of 5G technology. Among countless factions, undoubtedly the anti-vaxxers movement have benefitted the most from the populist political exploitation related to COVID-19.
Putin's announcement was not the first to utilise understandable doubts with regard to whether a rapidly researched vaccine could be safe. The trust in scientists who endeavour to complete extensive research projects as quickly as humanely possible is being undermined by huge amount of money involved in the research and manufacture and the attributed infamous greed of the pharmaceutical industry. During this time of fear and uncertainty people have every right to be doubtful and anxious, but all hell broke loose when politics got involved in the process: during the same period when Russia began to sabotage the confidence in the work of the scientists, Donald Trump launched a desperate attempt to give credence to the possibility that a vaccine might be available before the November election.
The result of what Putin and Trump have done is catastrophic. A survey conducted by YouGov for Yahoo News revealed yet another fall in the number of Americans who would be willing to get a COVID-19 vaccination. In early May, 55 per cent of adults were ready to be inoculated. Polling done in late July indicates that this figure has fallen to only 42 percent.
Quite clearly Putin and his followers managed once again to hit the same soft spot they have already exploited so many times: a politicised vaccine drives a deeper wedge between the people and the elites who brand as untrustworthy and corrupt. By undermining the credibility and impartiality of medical trials, populists have achieved their goal: development of a working vaccine would not mark the end of the pandemic, but the beginning of yet another deepening of the political conflict. Infected with disinformation, many people would not be willing to be saved from the disease.
The views and opinions expressed in this article are those of the author.
Stanislaw Skarzynski is a UK-based Polish journalist serving as the global affairs correspondent for Gazeta Wyborcza, Poland. He is a volunteer in the Oxford University COVID-19 vaccine trials. He tweets at @stskarzynski.
Daniel Wong is a student at Winchester College, UK.