The US-Iran negotiations are finally showing light at the end of the tunnel as a renewed nuclear deal is on cards. Yet the changing regional dynamics, perpetually diverging positions as well as the resistance from domestic critics and foreign allies have turned this last mile into a conundrum. Is making the deal even worth such hassle?
The deal with Iran has been on the precipice since Biden assumed his office last year. It has been a tortuous ride from partisan resistance in Washington to a change of regime in Tehran. On multiple occasions, the European mediators have intervened to prevent deviation in talks. A 'final draft' is now the object of current negotiations that could pave a path to economic appeasement for Iran and a semblance of security for the broader Middle East. I have perused multiple articles theorizing the way forward, delineating issues that could derail the talks, and a plethora of outcomes that could make headway once Iran resumes trade amid the concurrent political fracture in the Middle East (and the world at large). I have already discussed the implications of the war in Ukraine and the ongoing tensions over Taiwan that could precipitate the rise of an authoritarian world order comprising Russia, Iran, and China. My preceding article holds relevance to this discussion on the grander concept of bloc politics. However, my focus today is only on a piece of that jigsaw, nurturing a discussion that solely gauges the merits of this reconfigured nuclear deal with Iran. I attempt to answer the following questions: Can this deal play a successful role in curbing regional insecurities? Could it prove to be an economic panacea for Europe? And would it reinvent the animus between Iran and the United States?
The JCPOA Accord 2015
The nuclear accord between Iran and the European Union (EU) alongside the P5+1 – a strategic coalition of five permanent members of the UN Security Council and Germany – was a pragmatic arrangement. A nexus of economic pressure and diplomatic coercion that weaved a balance of power to ensure a binding commitment. Also known as the Joint Comprehensive Plan of Action (JCPOA), the plan was reached in 2015 after years of deliberations, waiving sanctions on Iran in exchange for a framework that placed curbs on its nuclear program and achieved tentative access of its declared nuclear sites for international inspections. The deal symbolized a landmark victory for the Democrats despite critical opposition within and without.
Things went awry when Donald Trump, a rightist Republican, assumed US Presidency, and nixed the nuclear deal in 2018. While his controversial term is still heavily debated in the context of domestic political and social anarchy and isolating American interests in an increasingly globalized world, the unilateral exit from the Iranian nuclear deal is considered one of his most emotive foreign policies in hindsight. Nicholas Burns – an American Diplomat and US Ambassador to China – termed the decision of withdrawal as "reckless and one of the most serious mistakes of his presidency." According to the Pew Research Center – a centrist American think tank – 94% of US international relations scholars opposed the departure from the deal. Evidently, their inherent fears materialized the very next year.
By 2019, Iran had completely digressed and enriched its Uranium stockpile to 60% concentration – up from around 3% before the US withdrawal – mere weeks away from developing a nuclear weapon. While the economic sanctions further deteriorated the social fabric of the Iranian society, its impressive adaptability in the face of financial hardship continues to this day. In fact, it is a case study often employed as a testament to the failure of sanctions without complementing diplomatic policies. The absence of economic relief despite the nuclear deal shifted power from moderates under former Iranian President Hassan Rouhani to hardline theocrats under the current leadership of President Ebrahim Raisi. Now after a dismal exit from Afghanistan and rapidly alienating allies in the Persian Gulf, Biden is determined to reshape the deal amidst fierce criticism from the Republicans. From the suspension of talks to heated exchanges between American forces and Iranian proxies in Syria, the indirect negotiations have largely sustained due course, inching closer to a mutual resolution. But the questions asked in 2018 are still unanswered!
A Middle Eastern Resolve?
When Donald Trump reneged on the agreement, the Gulf states voiced overwhelming support for the decision. The UAE Foreign Ministry urged the international community "to respond positively to President Trump's position." Saudi Arabia backed the move that severed economic gains and muzzled Iran from "developing ballistic missiles and supporting terrorist groups in the region." Four years forward, the UAE recently revived diplomatic relations with Tehran, reinstating its ambassador to Iran after six years. Saudi Arabia has visibly distanced from American influence and gradually moving towards a diplomatic connect with Iran. The reasons are manifold. From Biden's aversion to supporting the Saudi offensive in Yemen to Iran's continued support to Houthi rebels despite harsh sanctions, the Arab states have been disenchanted. The attacks on Saudi oil facilities in the backdrop of receding American military support have disillusioned the monarchy from the supposed effectiveness of cornering Iran and trusting US policies amid a patent polity divide in America.
The regional concerns regarding the deal that shaped the foundation of Trump's rhetoric to withdraw are still elusive. While Iran has backed away from its demand to exclude the Islamic Revolutionary Guard Corps (IRGC) from US State Department's Foreign Terrorist Organization (FTO) list, its contentious ballistic missile program is still beyond the scope of final negotiations. Tehran has also further developed its intelligence wing since the assassination of its IRGC Divisional Commander Qasem Soleimani in 2020. Its militia proxies have exponentially disseminated in Iraq, Lebanon, and Yemen. And its grip on the Syrian heartland alongside Russia is nothing short of strategic leverage against its bordering arch-nemesis – the state of Israel. The core opposition from the Republican fraction and the Israeli administration has hinged on a singular premise. A perception that a loose nuclear deal that ignores Iran's militaristic capabilities and its allegedly extremist presence in the region is a strategic blunder that would eventually allow Iran to cash export revenue and streamline support to its proxies threatening regional stability.
In August, Israeli Prime Minister Yair Lapid underscored his opposition to any deal with Iran that leads to windfall profits for Iran's hardline leadership. While planning closed-door discussions with the P5+1 nations to rethink the elements of negotiations, he bolstered Israel's Mossad spy agency to "prepare for any scenario" if the deal revives. Israeli leadership has maintained throughout the negotiations since last year that promises made to Iran would not bind Israel from launching its covert operations against the Islamic Republic. Traditionally, Israel has focused its policies on disrupting the military infrastructure of Iran, ranging from acts of sabotage against its nuclear facilities to assassinating its nuclear scientists. Hence, there is no reason to believe that a successful nuclear deal would lead to a prosperous Middle Eastern landscape. Even if Iran returns to compliance and normalizes relations with the Arab states, the eternal strife over Palestine would likely have a spillover effect, sooner or later, through indirect confrontation – whether with Hezbollah in Lebanon or with Hamas in Gaza. Thus, framing this deal as a prelude to regional harmony is highly ambitious. And practically unlikely!
Economic Advantage to Europe?
In 2018, when sanctions kicked in, Iran throttled its oil production to a third of its capacity. However, despite bearing a cost of over $200 billion in lost oil revenue, Iran managed to curb production while minimizing damage to its oil fields. Currently, Iran exports about 800,000 barrels/day with a capacity to rapidly scale up to around 2.5 million barrels/day, according to shipping estimates compiled by Bloomberg. Since 2018, Iranian output has predominantly poured into China, as we witness a mirror scenario with Russia. A nuclear deal, however, could allow Iran to supply twice what it exports now. And according to energy analysts, Iran could even reach its 2017 production level of 3.8 million barrels a day in just a few months.
Nevertheless, waivers to Iranian crude exports, contrary to mainstream beliefs, would not ease the energy crisis in Europe. Admittedly, the flow of Iranian oil would palliate pressure on global oil prices. And could even alleviate the pains of inflation for oil importing countries in Asia. Yet we need to understand the basis of the soaring energy costs in Europe. It is not oil; it is natural gas. The electricity prices in Britain, the chemical plants in Germany, and the industries in all of Europe thrive on natural gas imported from Russia. Disruption in gas supply via Nord Stream 1 (NS 1) pipeline has debilitated commercial and domestic equilibrium in European countries. While oil transit is seaborne, gas supply relies on a complex pipeline network. Europe is dependent on the Russian grid, which is impossible to replace in the short run. Even alternatives like coal would not be enough as most systems run on natural gas while compatible substitutes like LNG are limited in supply. Thus, while normalizing oil prices may fetch some relief to transportation costs and consumer prices, they would not quell the throes of a chilly winter ahead.
Even if we assume that the nuclear deal with Iran allows roughly 2 million barrels a day into the global oil market, we should also consider that sanctions would not disappear overnight. Instead, sanctions would be phased away gradually over a set time frame. Moreover, many countries would be reluctant to trade with Iran even after the sanctions are completely relieved. There are no US sanctions against Russian grains, fertilizers, and energy supplies. Still, many countries have scaled back imports from Russia to avoid retaliation from the United States. Given the historical context of tensions between Iran and the US, investors and neighboring countries would likely be wary of the consequences of engagement with Iran, given that the US administration has offered no guarantees of an ironclad deal beyond Biden's presidential term, which ends in 2024. The deal clearly does not enjoy bipartisan support. Thus, while I can foresee ebbing pressure from the global oil market, I am also aware that the OPEC+ alliance would likely cut production to accommodate the Iranian oil supply and maintain elevated oil prices in the international market. Therefore, in the short run, oil supply from Iran could ease the burden on neighboring oil importing countries like Pakistan and Afghanistan. But the bane of energy costs in Europe would still largely depend on the stage of conflict with Russia.
A Thaw in US-Iran Relations?
Since the Iranian Revolution in 1979, every US government (barring George W. Bush) has tried to engage with Iran and failed. Bush sparked the Iraq war in 2003, which (ironically) proved to be a pivot to Iranian theocracy, spreading through militias in Iraq, Syria, Lebanon, and Yemen. Trump tried an unorthodox approach by pressuring Iran via sanctions, assassinations, and diplomatic isolation. Instead of a weakened Iran, however, those policies made Iran more hard-skinned with newfangled nuclear facilities and a sophisticated Combat Drone Program. The American policies in the face of a resilient Iran offer insights that many overlook. We should realize that Iran is an Islamist theocracy that animates hardline governance, draconian and conservative policies, and a political system embedded in a religious hierarchy. Its Supreme Leader, Ayatollah Ali Khamenei, is a vocal critic of American imperialism and has held tightly to the revolutionary ideology of his predecessor Ayatollah Ruhollah Khomeini. Anti-Americanism is central to Iranian orthodox identity, which is continually apparent in its antipode narrative over foreign policy issues ranging from the Russian invasion of Ukraine to the Chinese intimidation of Taiwan.
The recent visit of Russian President Vladimir Putin to Iran manifested another testament to Iran's characteristic opposition to American incentives. Ayatollah Ali Khamenei blamed the "Mafia Regime" of the US for the war in Ukraine, alleging that NATO would have eventually started the war. I have often discussed that such a confluence of inflammatory views could portend an axis of anti-American powers in a replay of the Cold War. Successive American administrations have consistently failed to reach a balance of diplomacy and coercion that is pivotal to engaging Iran. William J. Burns – Director of the Central Intelligence Agency (CIA) – recently wrote that the 2015 Nuclear Deal was a product of "tough-minded diplomacy, economic and military leverage, and International consensus." Today, US diplomacy is a mockery, whether in Ukraine, the Asia-Pacific, or the Middle East. American economic sway is subtly diluting with the emergence of global duality in China's ascendency. And international cohesion, once rallied by the US, now has a visible chasm that has perforated the effectiveness of the Western offensive against Russia and China. The deviant Indian foreign policy is one of the myriad examples and a throwback to the era of non-alignment.
Ultimately, the US should acknowledge its blunders and recalibrate the scale of diplomacy. Over the years, it should have already learned that Iran is hawkishly lethal, resilient to sabotage, diplomatically adept, and thrives under isolation. And now, it is high time that the US establishes a base of mutual trust by either holding firmly onto the agreement or scrapping the deal entirely before it's agreed upon. Because any sane mind would realize that a repeat of Trump's escapade would be more catastrophic this time around. My colleague Karim Sadjadpour aptly sums up my argument in his opinion piece for New York Times: "The Iranian regime has shown it's too influential to ignore, too dogmatic to reform, too brutal to overthrow, and too large to [fully] contain." Hence, either make a deal for the right reasons or maintain the status quo. The third option is too inimical to even put into words!
Credit: Sonia Sevilla, CC BY-SA 3.0, via Wikimedia Commons
The views and opinions expressed in this article are those of the author.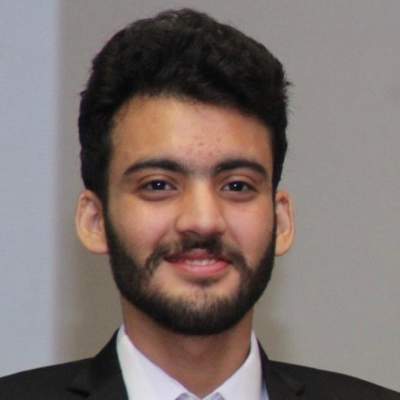 Syed Zain Abbas Rizvi is a political and economic analyst. He focuses on geopolitical policymaking and international affairs. Rizvi has written extensively on foreign policy, historical crises and economic decision making of Europe and the US.