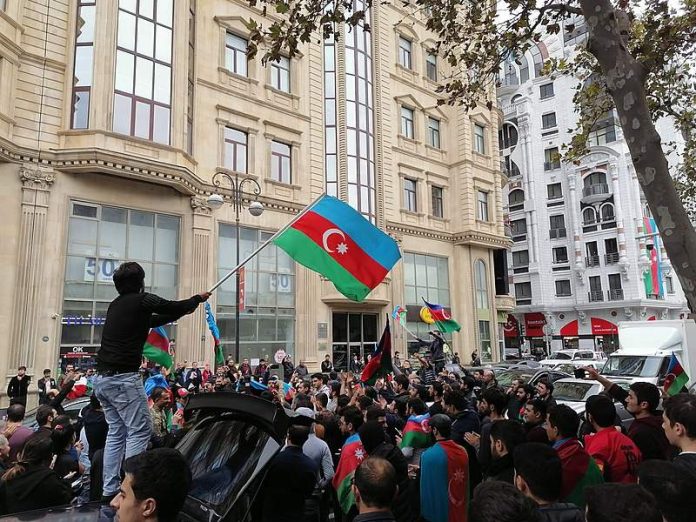 The six-week-long war in Caucasus region ended on Nov.10, 2020 at midnight Moscow time. The peace deal was signed by Russian President Vladimir Putin, Azerbaijani President I. H. Aliyev and Armenia's Prime Minister N. V. Pashynian. Under the deal, Azerbaijan took over the control of so-called "Buffer Zone" territories (Kalbajar, Lachin, Qubadli, Zangilan, Jabrayil, Fuzuli, Agdam) lost to Armenia during the early 1990s conflict. In the joint statement made by participant and facilitator parties, it became apparent that Moscow emerged as a sole deal-maker as Russia is the only country deploying peacekeeping centre in Stepanakert and along the Lachin corridor for 5 years, with the possibility of extension in case parties willing. 
One of the most interesting aspects of this ceasefire agreement is Turkey's involvement in the peacekeeping process, which has been voiced by the Azerbaijani side on Nov. 11, 2020. In truth, this is not exactly what Baku desired to because Kremlin didn't allow Turkish peacekeepers' presence alongside Russian troops neither in Nagorno-Karabakh nor in surrounding provinces but made an exception in favour of monitoring posts in Azerbaijan.  
In this so-called "frozen conflict" both sides enjoyed the support of powerful backers. "After Syria and Libya, Nagorno-Karabakh was the latest theatre in which Moscow and Ankara had become enmeshed in a battle for geopolitical superiority." Moscow's diplomatic victory is obvious from the peace agreement — Nagorno-Karabakh and Azerbaijan was the sole post-Soviet space in the Southern Caucasus with no Russian "boots on the ground". Despite, diplomatic victory, there is a new scenario and balance of power changes in the region due to the growth of Turkish influence, which in its turn challenges Moscow's role as an exclusive major power in the region. Besides, Turkey overtook the West, managed the conflict and made OSCE Minsk Mission look irrelevant. 
The reality is the following: Russia – peacekeeping and Turkey — monitoring, the role of the latter one is symbolic while the first one undoubtedly keeps the supremacy. 
Why wasn't Minsk Group Effective?
Although the diplomatic circle was seen to be the main actor in this situation, the current setting of COVID-19 pandemic, the U.S. elections and many other distractions resulted in constrained diplomacy. 
The main international cooperation responsible for solving the conflict was OSCE Minsk Mission co-chaired by the U.S., Russia and France. The first one was paralyzed by the elections, the second one preferred to stay reluctant, while the third one took the side of Armenia. Even though it is worthy to mention that Russia's active role on the final stage surpassed its previous passiveness. Overall, three meetings were held within the scope of OSCE Minsk Mission (Moscow – Oct. 10, Paris – Oct. 17 and Washington – Oct. 25) with no tangible results, compared to Nov. 10, 2020, Agreement which was initiated unilaterally by Russia and ended the war. 
Foremost achievements of the OSCE Minsk Mission has been "Madrid Principles"  first drafted in 2007 updated in 2009 according to which Armenia was supposed to return buffer-zone territories to Azerbaijani control, while Azerbaijan was supposed to keep the corridor linking Armenia to Nagorno-Karabakh safe and be open for negotiations regarding the status of the enclave.
It's important to note that these exact seven regions that Armenia managed to occupy during the first Karabakh War in 1993, was the tool for Armenia first to ensure the enclaves security and the second to have an asset for making a deal in case of war, which as a matter of fact happened but with unacceptable and unforeseen territorial loss — the city of Shusha, together with 15-20% of the territory of Nagorno Karabakh in its southern part. 
Even though the Minsk Group has not achieved any tangible results in solving the conflict, it's not dismissed for now but its relevance is widely disputed. The future scenarios of the conflict management mission seems to be versatile, but if the changes are to happen Russia and Turkey are most likely to be the ones consisting the mission alongside with some other EU member states presumably  Germany, Italy or any other EU member state excluding France, which is less likely to be one of them. 
New Realities in Caucasus – Armenia
The ceasefire deal triggered outrage right after its announcement, people accused the government of betrayal, angry protesters broke into government buildings, ransacked Pashinyan's office and attacked Parliament speaker Ararat Mirzoyan. 
Armenia's geographical position, neighbourhood and economic fragility put the country in a very tough situation. According to Armenian experts now the choice is between democracy and national interest, now Nagorno-Karabakh security and not the status bears more importance. The fact is that Armenia neither expected nor was ready for such an ending – on the one hand, the country wasn't prepared for battling Turkish drones and on the other hand, was not ready of not getting helping hand from Russia.  Cooperation and Mutual Assistance treaty signed between Moscow and Erevan on Aug. 29, 1997, imposed mutual defence obligation on participatory countries within their internationally recognized territories, thus Russia averted any responsibility.  
As for ceasefire agreement implications on Armenia, it's not a total defeat, since the country managed to retain the control over three-quarters of Nagorno Karabakh and retained the right to use the road "the Lachin corridor" connecting it to the enclave.   Besides, "Armenian military forces can now remain on the territory of Karabakh for an indefinite time in unrestricted numbers. This means that Karabakh retains the right of having its own armed forces and it is clear that it will attempt to restore and even strengthen its defensive capabilities together with Armenia (presumably with Russia as well). In reality, Armenia has managed to conclude the situation with relatively small setbacks in terms of the political outcomes". 
The reality is that Russian peacekeepers suspended the conflict but didn't resolve it. They managed to leave the case as a bomb which is ready to explode any time and damage the prospects of Armenia's development. There are also some threats that Russia might make Nagorno-Karabakh new Abkhazia, by further exaggerating and incenting the confrontation between Armenians and Azerbaijani people on the ground, using buffer zone position as well as economic dependence as leverage for manipulating Armenia's political decisions. 
As of today, that is to say, that Armenia and Armenian people from the region are in a very hard situation, we bear in mind more than 200 thousand people who are supposed to leave their habitats for upcoming days, transition period seems to be very hard, most of the people are in the process of digesting, thus emotional outbreak is hard to abstain as some ethnic Armenians burn their houses before handing them to Azerbaijanis, modalities aren't set and cultural heritage issues haven't solved.  At the same time, some part of Armenian population demand Pashynian's resignation, there are also changes happening in the government as Armenian Defence Minister and Armenian Foreign Minister resigned. Thus, the changes are on their way to come in Armenia and the country needs to stay very strong to deal with all of it.
Azerbaijan
One month and a half long war led to a victory for Azerbaijan. There is a real sense in the country that a key victory has been achieved after a very long fight. The six-week campaign showed two things: 1) how effective Turkey-Azerbaijani cooperation has been and 2) how advanced Azerbaijani military is.  
Turkish support of Azerbaijan has been traditionally very strong due to close cultural ties and shared Turkic heritage. Besides, the case of Azerbaijani seizing the city of "Shusha" without proper backing arouses the suspicion that Russia allowed Azerbaijan to get what it wanted till some limit "Stepanakert" and didn't interfere on the battlefield. This argument can be supported by the latest developments in Azerbaijan-Russia relations, which showed Aliyev's attempt of warming up tensions with Russia for the sake of changing the balance. But the confrontation with Russia isn't as easy as Azerbaijan might think, we can recall "President Putin's most recent TV Interview where he spoke extensively about how Georgia was punished for attacking Russian peacekeepers which was followed by the recognition of South Ossetia and Abkhazia." 
While discussing Azerbaijani relations with other countries it's important to have a look at Azerbaijani realistic foreign policy direction which looks like the following: 1) restoration of territorial integrity; 2) strengthening country's independence; 3) development of strong regional economic partnerships; 4) neutrality — non-block foreign policy; 5) multilateral frameworks and 6) bilateral relations. 
Thus, if we look at the matter from a realistic perspective we will see an open field for provocations, but until then Aliyev with his strengthened authoritarianism, non-revolution policy, winning the war rhetoric and the joy of coming out of his fathers' shadow will legitimize the rule of his line for a long time.
Georgia
Georgia tends to be very vulnerable in this situation due to its geographic location as well as tension with Russia. The strong position of Russian peacekeepers in another Caucasian country results in a more weakened position for Georgia. 
The current setting has advantages and disadvantages for Georgia. It's advantageous in a sense that new reality left Georgia as the only country in the region which exercises openly pro-Western course, which might open up new opportunities for the country in terms of EU and NATO integration as well as attracting more American investment. It's disadvantageous in a sense that the West might backstep to resolve relations with Georgia after seeing Russian troops deployed in all countries of the region. In order not to experience the latter one, Georgia needs to have an unequivocally pro-Western government, where democracy is rewarded and authoritarianism is punished, which isn't reality in the country currently.  
Another threat that Georgia is facing is the possibility of reopening Abkhazian Railway that bears strategic importance for Russia and includes Russia and Armenia as main actors. If that's the scenario to be this will bring Georgia in geographic as well as political-economic deadlock and will be the classical attempt of creeping annexation from the Russian side. 
As of today, alongside tough COVID-19 crisis, there is a political deadlock and crisis in Georgia due to elections, which might lit the green light to Russia for further exaggerating illegal "borderization" process. Thus, clever minds and proper actions are vitally important to tackle domestic and regional challenges.
What Options are there for the status of Karabakh?
President of Azerbaijan, Ilham Aliyev, in one of his television addresses cynically reminded Nikol Pashinyan that the issue of the status of Nagorno-Karabakh is not part of the declaration, which is apparently the fact but doesn't grant any party the superiority. 
The breaking point for ending the conflict was winning control over the strategic city of Shusha by Azerbaijani forces. There is a saying "Who controls Shusha controls Azerbaijan" this might have been the decisive factor why Azerbaijan won the war. 
According to the ceasefire terms, Karabakh has become much more secure in the hands of Russian peacekeepers than it was when protected merely by the Armenian armed forces. Even though Armenia never really relied on itself alone in confrontation against Azerbaijan, the presence of Russian forces in the enclave would create long-term guarantees for the Nagorno-Karabakh to protect itself from Azerbaijan as well as from Turkey. 
The case of Nagorno-Karabakh highlights the Russian-Turkish dynamic more broadly. Turkey and Russia have different regional outlooks but have the same interests. The two states are partners as well as competitors across various theatres: in Syria, in Libya, the Southern Caucasus and the Black Sea, as well as the Western Balkans. 
Conflict needs to be resolved and it cannot always be a status quo. Today's setting is a trick Russia has leverage and uses Turkey as a mechanism for expelling the West. The peacekeeping mission is always a trap, Russian peacekeepers have been deployed to the former Soviet space in 1992 in Georgia (South Ossetia) and Moldova (Transdniester) and in 1994 in Abkhazia (Georgia). Russian troops are still stationed in all of these regions in 2020. On Aug. 26, 2008, Russia recognized the two regions of Georgia as independent states, protected their borders and supported them financially. Thus, Abkhazia and South Ossetia have been effectively turned into Russian dependencies. This might be or might not be the future of Nagorno-Karabakh, as some Azerbaijani experts say that every country is different, but past and other countries experiences are more than important to be taken into consideration. 
Thus, Russia successfully managed to leave Armenians in Azerbaijan to make problems for Azerbaijan, successfully utilizing the tool of blackmailing out of its diplomatic toolbox and warning Baku that its troops are untouchable, which once again emphasizes Moscow's role as an ultimate change-maker allowing or not allowing Armenians and Azerbaijanis to hurt each other. One way or another, when the current jubilation passes Azerbaijan might find itself in a very inconvenient situation.
The views and opinions expressed in this article are those of the author.
Mariami Jintcharadze is originally from Georgia. She has graduated in International Relations from the University of Pécs, Hungary and actively contributing to European Student Think Tank as a full-time writer.