Domestic Outsourcing
Domestic outsourcing, just as a career in the Army (Indian and British Army), has been one of the prominent trends of outmigration in Darjeeling, North Bengal. With changing times, migration to serve in the army has been replaced substantially by 'Domestic outsourcing.' Domestic outsourcing as a trend cuts across the hills-plains community divide in the region earning the population the tag of 'mobile people' (Sawan Bahadur Personal Interview, 2013). The employment opportunity in urban centers within India and abroad has played the role of a pull factor for this kind of outmigration. Domestic outsourcing precedes the call center phenomenon that churned the English-speaking educated youths from the hills of Darjeeling and the Northeast to the potential workforce to braid the global connections. The local dailies in the Nepali language in the region are splashed with attractive sounding job opportunities in big cities and abroad:
'Sunolo Mauka: Hongkong-Singapore Domestic Helper wa kamgarneichuk mahilaharu ko lagi Training shurubhairehe cha. Singapore experience laichaneimaukadeicha. Contact for more details: Darjeeling Gurkha Domestic Vocational Training, Mall Road, Chowrasta, Darjeeling.' (Himalay Darpan, 22nd June 2011)

('Golden Opportunity: Seeking females for domestic helpers and workers in Hongkong-Singapore, Training going on. People with experience in Singapore preferred. Contact for more details: Darjeeling Gurkha Domestic Vocational Training, Mall Road, Chowrasta, Darjeeling.')
Most of these advertisements target the semi-educated male and female and offer jobs for baby sitters, domestic help, Helpers in hotels, 'momo makers' etc. Domestic outsourcing has been and continues to be one of the more popular modes of outmigration in Darjeeling with almost every household having somebody or a close relative in working as pegs in the highly contested shrinking service sectors of metropolitan centers of Bangalore, Delhi, Kolkata, Mumbai or aboard in places like Singapore, Bangkok, Dubai, etc. 
Domestic workers alternately referred to as nannies/housekeepers, breadwinner maids, foreign domestics, or, concerning their status as mothers, remote mothers, substitute mothers, mobile mothers, transnational mothers, migrant mothers, or mother-domestics. Interestingly there is a feminization of the work or labour in the trend of domestic outsourcing. For instance, the following advertisement in the local daily Himalay Darpan reads:
'Urgent Required For Kuwait. Job: Male House Maid. Required: 50 candidates. Location: Various in Kuwait. Salary: 90 Kuwait 'Dinars.' Food provided by the employer. Accommodation provided by the employer. Air Ticket provided by the employer. Leave and Holiday as per Labour Law. Required documents: 1. Passport colour scan copy front-last page; 2. One colour photo white background; 3.Medical Report (23rd June 2011, 3).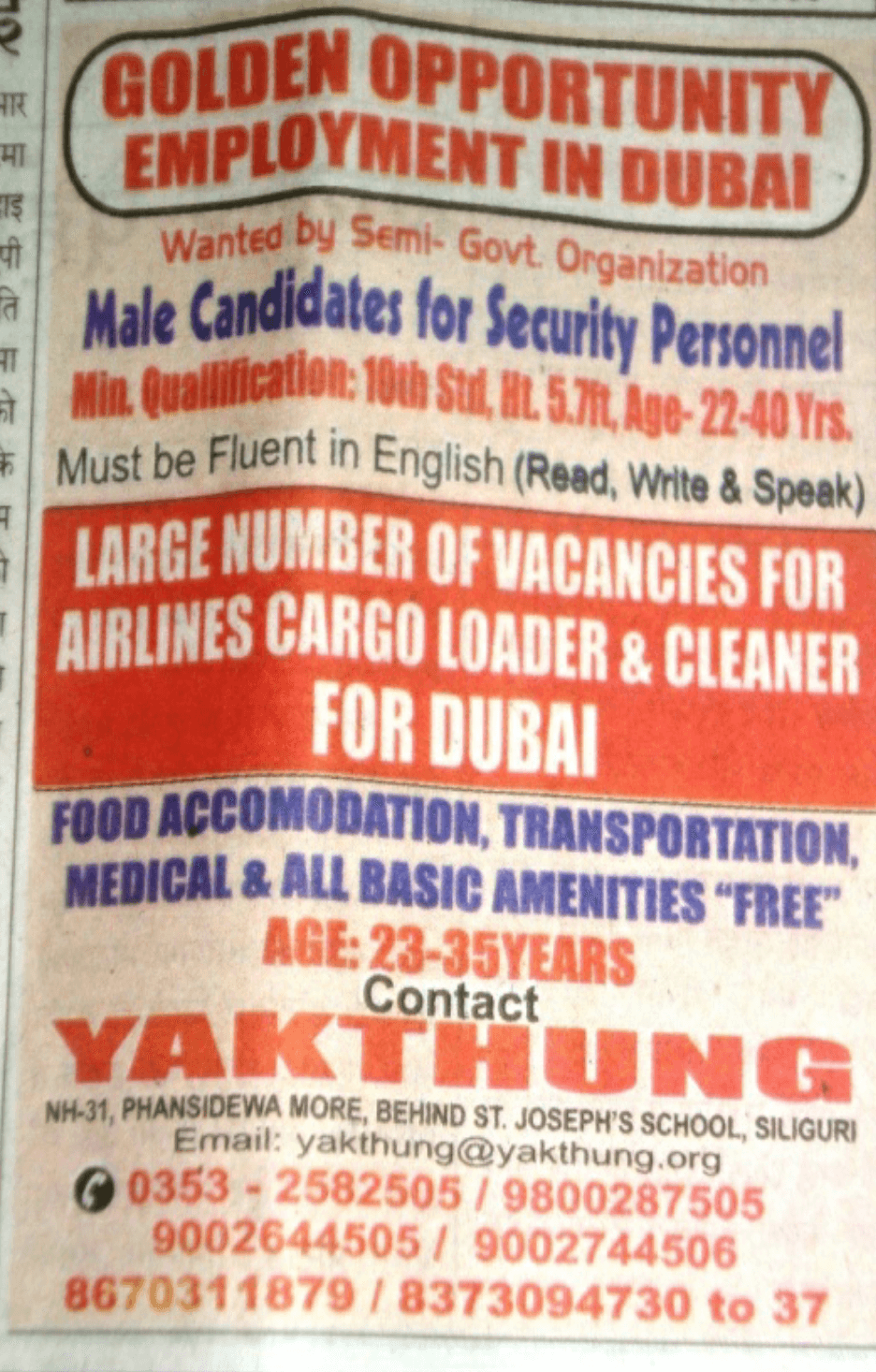 The job description 'Male House Maid' is often overlooked as a typographical error; however, the description has strong underpinnings of patriarchal norms and feminization of work intertwined in it. The job calls for the domestication of the workforce according to the dictates of operative patriarchies. For instance, few of my interviewees both female and male mentioned that, 'the male members expected the domestic helpers to agree to the terms and conditions laid down by the father-figure in the household.' (Personal Interview(s): Mala Kumari (name changed on request) 20th May 2011; Sawan Bahadur (name changed on request) 22nd May 2011; Reetu Kumari (name changed on request) 21st May 2011). In other words, patriarchy replicated and manifested itself even for the domestic helpers in an alien land. Sawan Bahadur (Personal Interview, 2011), for instance, mentioned that he had to do household work in a Sheikh's house, and there were other 'male housemaids' from Malaysia and the Philippines. Sawan felt that his Mongoloid features gave him an edge over others. 'The Sheikhs like clean-shaven, hairless male domestic helpers,' says Sawan. He further mentioned that his Sheikh was affluent and provided the domestic helpers with twin sharing room. Sawan mentioned that his friends from Darjeeling, who had joined various households in Dubai, were less fortunate, and their mobility was restricted. Though initially they were promised return air tickets on holidays this was not as easy as mentioned in the newspaper advertisement and as promised by the recruiting agency back in Darjeeling, India.  
'Saving there, Sending/Spending at 'Home'
'Life in Dubai was not straightforward and working there at the Sheikh's house even more difficult, but he aimed to save money and spend at 'Home' in Darjeeling,' says Sawan. 'Saving there, Sending/Spending at Home,' and enduring challenges in alien geographies seemed to be the common mantra among those interviewed. The female migrants interviewed shared experiences of being humiliated, over-worked, and inadequate health due to the nature and duration of the household work/task. Mala Kumari (Personal Interview, 2011) former Domestic helper at Qatar mentioned that 'one of the daily tasks assigned to her was to iron clothes at the Sheikh's house and sometimes she would iron and arrange the clothes for over three hours. Mala said, 'I was like a robot or a mechanical slave. I was expected to work fast and do my next task/work that was instructed or charted by the household on a day to day basis, leaving me breathless (Saans fernu fursat thiyena)'.
Another Sawan Bahadur (Personal Interview, 2013) aged 25, working at Bahrain mentioned that savings and sending home remittances enabled his family back in India financial security. He could now afford to provide English education to his 8-year-old son in the best school North Point. Hailing from a small village below Sukhiapokhri, Sawan grew up looking at the lights in the distant town of Darjeeling and never had a chance to get English education. He was grateful to god that working in Bahrain, he can send his son to study in Darjeeling and possibly get government jobs for themselves when they finish college. His parents had migrated to Sukhiapokhri from Pashupati market, Nepal (on the way to Mirik) in the early 70s. His father worked as a bhariya (porter) in the local Marwari shop in Sukhiapokhri bazaar. Sawan dropped-out from school and took to working in a garage in Garidhura in 2003. While working there, he eloped with a girl from Salbari (a small village on the way to Siliguri) and moved back to his parent's rented house at Sukhiapokhri. Becoming a parent at 16, Sawan was pressurised to look for options for better earning. It was then that he met an older acquaintance who helped Sawan to network his current job at Bahrain from Nepal in 2004. Working in Bahrain and earning 170 Bahraini Dinar a month has changed life for Sawan and his family. His father no longer works as a porter. Sawan repaid the loan that his father had taken for sending him abroad from the Marwari ('Kainya') shopkeeper, where he was working as a regular porter. The family has invested in an agricultural plot closer to Ghoom and constructed a concrete structure. Sawan mentioned that the only target that he had in mind day in and out while in Bahrain was 'earn here, send/spend back at home.' Sawan got his job through agencies in Kathmandu and flew via Kathmandu to Bahrain. He paid the agents 25000 Indian rupees, and the family at Bahrain took care of his airfare, visa, and necessary documents. The family in Bahrain bore food, lodging, clothes, and medical expenses. Sawan could not give the details of the percentage of the 'cut' that the various agents took from him but did mention that the agency received two month's salary. Sawan is thankful for his stint abroad that has changed his family's life back home.
The evolving 'Home,' Family, Marriage
The conversations on life abroad during the field study conjured interesting aspects of the 'Home' among female domestic helpers. Mala, like Sawan (Personal Interview, 2013) mentioned that what kept her resilient was the prospect of saving and investing back at 'Home.' Mala mentioned that back at her ancestral native village at Rangli, she installed a double door fridge and a massive wall-mounted TV and rebuilt the concrete house and a shop for her brother. Mala also mentioned that she refurbished her second husband's house in Chandmari, Darjeeling town. Back in 2002, Mala lived in Lebong with her first husband, a sepoy in the Indian army who took voluntary retirement a year after their first child was born in 2003. Her husband had brought a Sumo and became a taxi driver shuttling between Darjeeling and Siliguri. Soon after, her husband had an extramarital affair with a college student and eventually left Mala. Her in-laws could do little to help her, and she went back to her parents at Rangli. Jobless and a child to her care, she moved to Gurgaon to work as a domestic help at the house of a businessman earning 8000 rupees a month in the year 2005. She befriended a man from Darjeeling working in a restaurant in Delhi, got remarried in 2006, and bore another child. They moved back to Darjeeling to live with the family of her second husband. Her husband made several failed attempts to get a government job through networks with the local political party. Her new husband had a history of substance abuse and wasted his money at the local beer shop run by a lady in the supermarket complex at Chowkbazaar Singamari Taxi Stand. Mala began working as a domestic helper in the neighbourhood earning just sufficient to make ends meet. She found it humiliating to be called a maidservant, and her husband was unhappy with her cooking, washing, and cleaning at people's houses. Through friends in Delhi and relatives in Siliguri, she came to know of agencies seeking female domestic helpers in Qatar. She moved to Qatar in 2008 for three years and worked there till March 2011. She did not know precisely how much the agency charged for her paperwork as the Sheikh's family had contacted the recruiting agencies sister concern in Qatar and paid 6000 Qatari Rial to the agency; Mala paid a month's earning in Qatar to the agents. Mala mentioned: 'performing domestic work in the Sheikh's household is more reputable than working as a domestic maid in Darjeeling. She earns monthly 1100 Qatari Rial, and free accommodation, clothes, food, and medical expenses, including return airfare; and that when she visits Darjeeling, she can easily afford to take her two children and relatives to 'Park hotel' (Darjeeling) and buy the best of clothes without thinking about the cost.' When this interview was conducted, she was applying to work in the UAE.
The undercurrent of control and regulation of the body
Reetu Kumari (Personal Interview), a Baby sitter at Singapore, mentioned that 'she underwent a Training Programme at Siliguri before moving to Singapore. The recruiting agency at Siliguri gave them training in hygiene, grooming, working in modular homes, and using baby care products accessible in Southeast Asia. She mentioned that the agency instructed the girls not to have unsafe/unprotected sex in India or Singapore or elsewhere, as that could lead to termination of their work permits/contracts. Pregnancy was seen as a problem by the agencies, and they encouraged the 'girls' to use contraceptives or take pills.' It thereby suggested that outsourcing of labour also included control and regulation of the body of the individuals.
Reetu mentioned during our conversations that the girls (married as well as unmarried) from Darjeeling were often handed packets of contraceptives by the recruiting agencies while boarding the plane to their destinations. And on their return to India from Southeast Asia, their mothers and mother-in-laws handed them contraceptives so that they do not get pregnant during their vacations at home. Reetu mentioned that the girls working abroad were 'dollar earning machines' (Suun Buri ('Golden wives'), and the families at home could not afford to have them married or enjoy 'normal conjugal life.' These overseas female domestic helpers became the sole breadwinners for many households in Darjeeling, and the remittances they sent were used to procure big flat Televisions, Refrigerators, building concrete houses, children's education, healthcare, etc. Reetu also shared sad cases where the woman had to work abroad while her husband took a second wife and stayed at the house built by the overseas wife. There were also reciprocal cases where overseas married women took local partners at their workplaces abroad and lived together conveniently while maintaining contacts with 'legal husbands' and sending remittances to families in Darjeeling. Srijana (name changed) (Personal Interview, 2013), a 23-year-old single mother from Dabaipani/ Mineral Spring tea garden area mentioned that like her, many girls from the tea gardens have found jobs through multiple agencies to Thailand, Singapore, HongKong. They work as baby sitters, in beauty parlours, in spas, in shopping malls or as housemaids, and send remittances back home to the remote areas of Darjeeling. Srijana mentioned that working through agencies was more respectable and more secured; the agencies provided some kind of protection and security in foreign lands. Srijana also mentioned that working abroad for a single woman is not easy, and people back at home in the 'Kaman basti' (tea garden areas) talk ill of them as 'Chari keti' ('loose women') and doubt their source of income. Contrarily they are also role models for other girls to take control of their agencies and become breadwinners in a rapidly dwindling local economy that is affected negatively with trade unionism, closure of tea gardens, and the never satiated Gorkhaland movement. Like Srijana, Manisha Ghisingh (Personal Interview, 2013), a 29-year-old widow mentioned that after losing her husband to substance abuse in the year 2000, she decided to move out of the tea garden area of Lamahatta and work in a beauty parlour in Siliguri. In 2011 she enrolled through an agency to work in a Spa and moved to Kathmandu and then to Dubai.
Regardless of terms used by academics, states, recruitment agencies, employers, or the workers themselves, and regardless of the tremendous cultural differences and geographical distances between sending and receiving countries, the capitalist-patriarchal underbelly provides the connective tissue of all paid or unpaid versions of similar kinds of labour. This labour has always supported a capitalist "interior infrastructure" of service and servitude, one that now has gone global.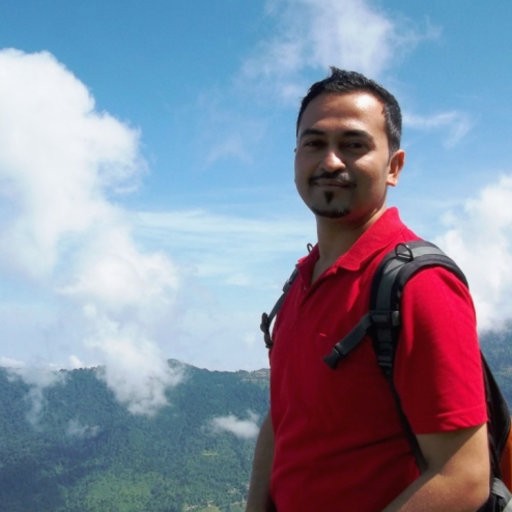 The author is an Assistant Professor, Department of Political Science & Political Studies, Netaji Institute for Asian Studies, Kolkata; and member Mahanirban Calcutta Research Group (MCRG), Kolkata. Also Visiting Faculty, Department of South and South East Asian Studies (SSEAS), University of Calcutta.