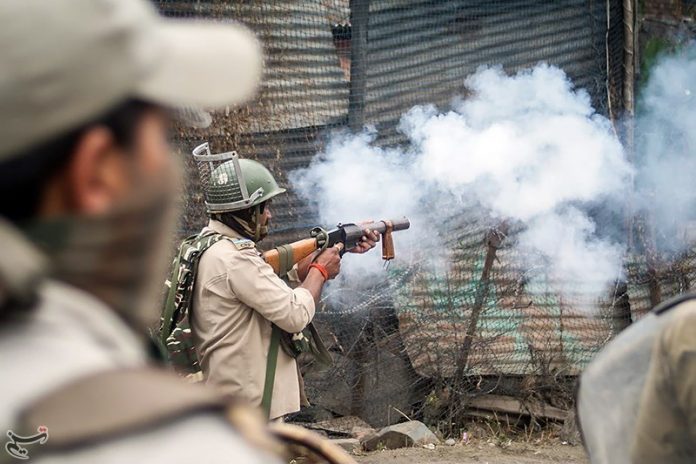 Relations between India and Pakistan continue to be soured and strained due to unresolved conflict in Kashmir. In the recent past, the relations have further deteriorated, threatening to escalate into a military clash between the two neighboring countries. In this conflict over Kashmir, the ordinary  Kashmiris continue to suffer with their voice going unheard.
While Jammu and Kashmir or Kashmir for short – consisting of five geographical sections – is divided between the two countries along the Line of Control, both the  nuclear powers claim the region  in entirety;  New Delhi calls Kashmir as its "integral part," Islamabad calls it as its "jugular vein." Both have fought about four wars over the mountainous territory of Kashmir. After the partition of the British India in 1947, Kashmir had acceded to the dominion of India but the instrument of accession has proven instrumental for an unending cycle of violence and bloodshed.
The latest victims of  violence has been a five –year boy and a sixty-five year old man. The boy was killed on June 26, reportedly in the exchange of fire in South Kashmir between the government forces and what are known as militants in the ongoing conflict; the man in his sixties was  killed on July 1, reportedly in cross-fire in North Kashmir in which case, a 3-year-old grandson of the man was seen sitting on his dead body, the video of which went viral on social media. The shocking video created an environment of gloom across Kashmir. 
Meanwhile, no warring party claimed the responsibility of killing the child and the man: social media was flooded with  blames and counter blames over the killings while the political class, as usual, dished out criticism and condemnation of the horrible incidents. In this sympathetic noise, the wails, sobs and screams of the people whose nears and dears lost their life for no fault of theirs — were lost with no ear to listen, no shoulder to cry on and no solace to sleep comfortably.
Although it is claimed that "dialogue is the solution" to clinch the issue and the leadership in both the countries holds that only negotiations can play a key role in resolving the conflict, it is in place to say that several rounds of talks held in the past, have either proven futile or inconclusive.
Apart from consuming human life, devastating homes, destroying social and economic life of Kashmiris, the conflict has taken a heavy toll of their mental health as well. Every day, there is a gun battle , a killing or a raid by government forces taking place here and there. This situation sends shockwaves across, affecting the peace of mind and thought process of children, adults and the elderly people. Children are seen talking about the conflict and their vocabulary is full of war related terms; they talk less about their schools and education. 
Decades of violence and conflict have caused heart diseases, depression, anxiety and fear in the ordinary Kashmiris here; pessimism and defeatism has become a permanent feature of their social life. In this bleak atmosphere, parents live in the perpetual fear of losing their children to the smithy of conflict which can consume them anytime with no way to escape. Health experts believe that conflict, disruption, losses and experiences of humiliation or entrapment — result into mental health issues.
A survey conducted by Médecins Sans Frontières (MSF) in two districts of Kashmir between 1989-2005 shows that one in ten people reported has lost one or more members of their immediate family to the violence. The highest estimates of depression and anxiety were in women than men. About 30 percent Kashmiri adults use tobacco as a coping strategy. The greatest levels of suicide ideation in such strong Muslim communities was seen by the MSF as "a worrying indicator of the level of despair and hopelessness."
Sudden Kashmir-related developments push the situation to an alarming level which in turn causes communication lines to vanish within hours in J&K. And consequently suppression, confusion, chaos and uncertainty prevail while death and helplessness reign all around. Why am I living here? Who am I? When shall this chaos end? All these questions cross your mind but in vain as there is nobody to answer; nobody to listen to. When in August 2019 the government of India abrogated Article 370 — the constitutional provision giving special status to J&K, and bifurcated it into two union territories to be directly ruled from New Delhi, the relations between India and Pakistan become so tense that war looked imminent. Before that in February, the two countries were at each other's throat when about 40 Indian paramilitary troops were killed in an attack in South Kashmir's Pulwama district. 
Subsequent to the February attack, India reportedly carried out what it said was an airstrike deep into Pakistan, the claim refuted by Islamabad while the air forces of the two countries after a few days engaged in a dogfight, leading to the downing of each other's fighter jets with one Indian pilot captured alive by Pakistan. It was an atmosphere of uncertainty and depression for the common masses of Kashmir because  war seemed near and most people would be seen arranging the basic commodities to be used in case the war occurred. 
Most shocking is the apparent lack of interest in the leadership of both the countries to resolve the conflict. It seems that both the countries expect the longstanding conflict to tire out and resolve on its own. Perhaps that is the rationale behind no engagement at the political or diplomatic Level to find out a solution. Does that mean that the common masses will have no option but to continue to suffer in terms of life, property, economy, education and health?
While the United Nations is often cited as the institution which can play a pivotal role in bringing the two warring countries to the negotiation table, there has been no such endeavor by this organization towards that end.  New Delhi and Islamabad need to demonstrate political will and the spirit of cooperation to seek an end to the conflict which continues to consume human life with no side in a position to claim victory.
Most alarmingly, the unresolved Kashmir conflict is likely to usher in a phase of geopolitical crisis involving three nuclear powers — India (controlling 55 percent of Kashmir), Pakistan (controlling 30 percent) and China (controlling 15 percent). Even a small scale war between India and Pakistan could possibly force China to side with its key ally Pakistan, leading to a nuclear war. The war between India and Pakistan in 1965 was an escalation of the small scale and irregular fighting from April 1965 to September 1965 between both countries.
Interestingly, the ongoing standoff between India and China is in the Galwan valley of Ladakh, a part of J&K, where Chinese troops have reportedly entered. A military clash here is likely to involve Islamabad, triggering a regional war among the three nuclear powers.
The views and opinions expressed in this article are those of the author.

Sheikh Shabir Kulgami is a Kashmiri (Indian) political commentator, analyst and columnist. He writes extensively on South Asia.