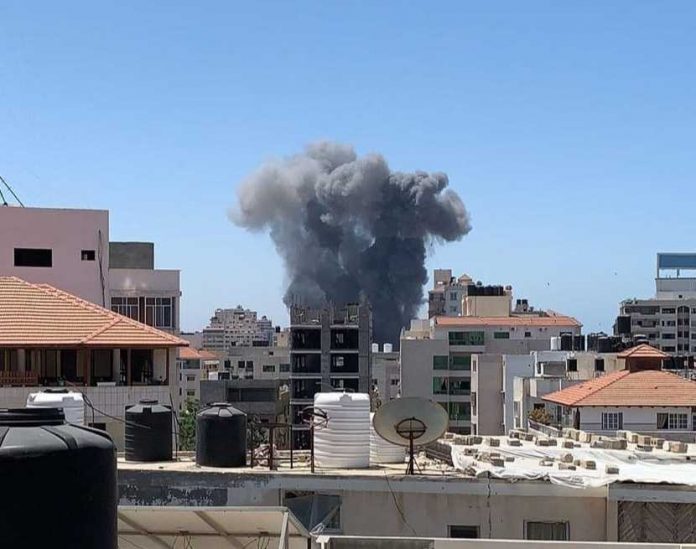 President Biden a centrist Democrat has faced criticism on a number of issues during his four months, and has been dubbed as an 'establishment politician' by left leaning Democrats. He has tried to strike a fine balance especially on economic issues. 
His economic agenda with a focus on greater spending and a clear thrust on providing a safety net to the working class, to deal with the economic consequences of Covid-19, was clearly directed at keeping the left leaning section of the party, as well as blue collared workers and the American middle class happy.
On Israel, Biden is largely stuck with his party's stand. In April, the Biden administration approved a sale of $735 million precision-guided weapons to Israel — a move which has been criticized by Democrat policymakers. Ilhan Omar a member of the House of Representatives from Minnesota recently called for imposition of conditionalities, otherwise this would be considered a go ahead for escalation and reduce the scope for a 'ceasefire.'
It would be pertinent to point out that in recent years there has been significant churning within the Democrat Party vis-à-vis Israel (a gallup poll in March 2021 revealed that over 50% of the Democrats were in favour of building pressure on Israel to find a solution to the Israeli-Palestinian conflict, which is a 10 point jump from 2018).
Biden's support for Israel
During his conversation with Benjamin Netanyahu on May 12, 2021 Biden extended his support for Israel's right to defend itself and its civilians. While criticizing the Biden administration for being soft on Israel and not calling out the violence against innocent Palestinians, a number of Democratic policymakers including Senator Bernie Sanders, Senator Chris Van Hollen and Alexandria Ocasio-Cortez, a Democrat representative from New York did not mince any words in criticizing President Biden. Bernie Sanders said that Biden should stop being an apologist for the Netanyahu administration. 
Senator Chris Vollen said: "If the Biden administration puts the rule of law and human rights at the heart of its foreign policy, this is not a moment for tepid statements."
On May 16, 2021, 28 of the 48 Democrat Senators, including 3 Jewish Senators issued a statement calling for a 'ceasefire.' Signatories to the statement included Elizabeth Warren and Bernie Sanders. As of May 17, the death toll in Gaza is estimated at 192 and this includes 58 children and 34 women. 
Recent developments
In a telephonic conversation on Sunday (on the sixth day of violence) with Israeli Prime Minister Benjamin Netanyahu, the US President while condemning the violence by Hamas is also supposed to have expressed his concern at the 'flare up.' US Defence Secretary, Lloyd Austin during a conversation with his Israeli counterpart also extended US support. 
During his conversation with the Israeli Prime Minister on Monday, May 17, 2021, the US President is supposed to have expressed his support for a ceasefire, and also asked Netanyahu to ensure that innocent civilians were not harmed (in a deadly strike by Israel, on Sunday May 16, 2021, several homes in Gaza were destroyed and 42 people were killed).
Israeli air strikes on a building which houses Al Jazeera and AP have drawn attention. According to a White House Spokesman, US Secretary Anthony Blinken spoke with the president and CEO of the Associated Press, Gary Pruitt extending US support to independent media organizations globally, and also spoke about the significance of reporting in conflict zones.
Stance of the Republicans
As predicted, the Republican policymakers have stated that the US should stand firmly behind Israel. In fact, the current conflagration is being used as an opportunity to put pressure for ending US negotiations with Iran (Israel has been firm in its opposition to the revival of the Iran Nuclear deal). More than 40 Republican Senators have even written to President Biden to end negotiations with Iran over the JCPOA, pointing to Tehran's support for Hamas.
While negotiations at Vienna between Iran and other signatories have made headway, and Saudi-Iran talks to have made substantial progress, the recent developments are likely to prove to be a serious impediment to further progress, as far as the revival of JCPOA is concerned. 
The geopolitics of the Middle East could again witness a significant shift. While in 2020, two GCC countries, UAE and Bahrain normalized relations with Israel, recently the Organisation of Islamic Cooperation/OIC chaired by Saudi Arabia issued a strong statement against the recent violence. In an emergency meeting on Monday, all member states criticized the strikes and pointed to 'systematic crimes.' UAE Minister of State for International Cooperation Reem al-Hashimy said, "De-escalation and the highest degree of restraint are important to avoid dragging the region to new levels of instability." 
The US Secretary of State Anthony Blinken has been interacting with his counterparts in the region, including the Qatari and Saudi Arabian Foreign Ministers with a view to ending the conflict.
While one section of the Democrats have clearly stated that the administration is soft on Israel, the Republicans are likely to use this opportunity to accuse the US President of not standing firmly behind Israel, and also to pull out of negotiations with Iran. The Biden administration's task is clearly cut out, as far as the Middle East is concerned. This is President Biden's first significant test not just in the context of addressing divisions within his own party, but also of his foreign policy vis-à-vis the Middle East. 
The views and opinions expressed in this article are those of the author.