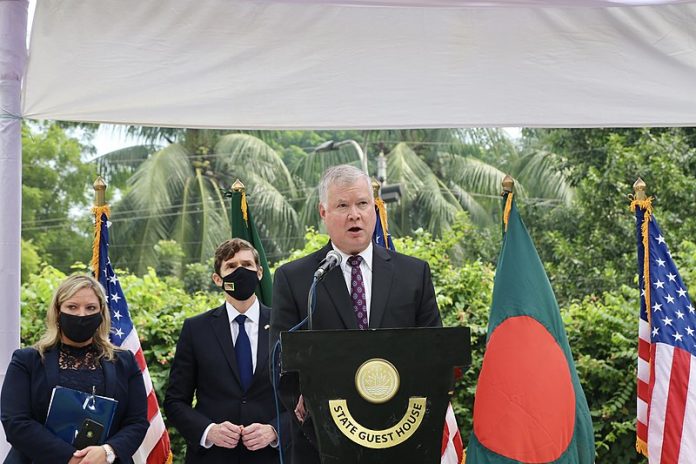 The U.S. Deputy Secretary of State, Stephen Biegun during his visit to India (Oct. 12-14) made two important points with regard to the Free and Open Indo-Pacific Strategy (FOIPS). First he stated that if the Indo-Pacific cooperation is to progress, the initiative needs to have a strong thrust on people to people linkages. He also flagged the need for robust cooperation in areas like Economics, Trade and Technology between all countries which are on board the Free and Open Indo Pacific Strategy.
Second, Biegun alluded to the need for getting more stakeholders on board the FOIPS. There have been repeated references to the centrality of Association of Southeast Asian Nations (ASEAN) for the Indo-Pacific initiative to be successful, and the senior state department official flagged the need for Quad (U.S., Japan, Australia and India) countries to work with ASEAN. Said Biegun: "In Southeast Asia, Quad partners can deepen engagement with ASEAN, cooperate in defending the freedom of the seas, and work together in governance, health, environmental protection."
It would be pertinent to point out that, of late the U.S. has also been seeking to upgrade the role of South Asian countries other than India — Bangladesh, Sri Lanka and the Maldives —  in the FOIPS (China's increasing economic clout in the region is one of the important factors). Biegun also visited Bangladesh (Oct. 14-16) and during his visit said that Bangladesh was central to its vision of the Indo-Pacific. The U.S. Secretary of State Mike Pompeo is likely to visit Sri Lanka towards the end of this month.
The U.S. Deputy Secretary of State also articulated his vision of a "Pax Indo-Pacifica." Said Beigun, "together we stand for a pluralistic vision that will ensure that our countries, and all the region's diverse countries, can thrive as sovereign and prosperous nations in a free and open Indo-Pacific. One might call this a vision of a Pax Indo-Pacifica."
Biegun's Delhi visit came days after the meeting of 'Quadrilateral Security Dialogue' held among Foreign Ministers in Tokyo, and ahead of the Indo-U.S. 2+2 dialogue to be held from Oct. 26-27. 
Efforts to strengthen economic and technological cooperation along with security ties
There has been an attempt to give a firm shape to deepening strategic and security cooperation under the rubric of the Indo-Pacific, as a result of China's belligerent approach in recent months —  on the South China Sea issue, as well as vis-a-vis India across the Line of Actual Control (LAC) in the Eastern Ladakh Sector.
In the aftermath of the Covid-19 pandemic, there has been an emphasis on moving supply chains away from China — the U.S. had mooted an "Economic Prosperity Network." More recently, during the meeting of Foreign Ministers of Quad Countries in Tokyo, there was mutual agreement with regard to the shifting of supply chains from China. An initiative dubbed as Resilient Supply Chain Initiative (RSCI) was discussed, though for this to go ahead, countries will need to reach an agreement on a number of trade related issues.
Britain which has begun to take more interest in the Indo-Pacific in recent years, and has been bolstering economic and strategic ties with Japan and ASEAN has proposed D10, a grouping of 10 democracies (G7+Australia, South Korea and India). The Johnson administration has proposed that one of the main areas of cooperation within this grouping should be technology.
Significantly, India and Japan have agreed to cooperate in the area of 5G technology. An agreement was signed during the visit of India's External Affair Minister, S. Jaishankar to Tokyo. Jaishankar and his Japanese counterpart, Toshimitsu Motegi, agreed to bolster cooperation in 5G, Artificial Intelligence and numerous other areas including connectivity.
The Trump administration has outlined its vision for connectivity and economic linkages. The first articulation of the economic component of the Indo-Pacific strategy was provided by Mike Pompeo in July 2018 while addressing the Indo-Pacific Business Forum, where he spoke about U.S. funding for areas like infrastructure, energy and technology. The U.S. Secretary of State in his address announced a commitment of $113 million for the above areas. Pompeo stated, "I am announcing $113 million in new U.S. initiatives to support foundational areas of the future: digital economy, energy, and infrastructure. These funds represent just a down payment on a new era in U.S. economic commitment to peace and prosperity in the Indo-Pacific region."
He also highlighted the role of the U.S. private sector in promoting economic cooperation between Indo-Pacific countries, as well as contributing towards the prosperity of the Indo-Pacific.
Months later, the BUILD Act (Better Utilization of Investments Leading to Development Act) was passed by the U.S. Congress, receiving bipartisan support in the U.S. Senate and The House of Representatives, and led to the setting up of the USIDFC (U.S. International Development Finance Corporation). USIDFC, which has a budget of $60 billion, will not just provide assistance to developing countries in Asia and Africa, but also encourage private sector financing in infrastructure projects.
Other important stakeholders in the Indo-Pacific initiative
Other stakeholders within the Indo-Pacific like the EU, UK, Japan and Vietnam have played an important role in sending out a clear message of keeping the narrative of globalization and free trade alive. Vietnam's Free Trade Agreement (FTA) with EU was ratified in June, and this FTA will benefit the country's economy significantly (giving a boost to GDP and exports) and also help in making it even more attractive as an important Foreign Direct Investment (FDI) destination. 
If one were to look at the case of Britain, it has been seeking to strengthen ties with both Japan and Vietnam. It has already signed an FTA with Japan, and is also likely to sign an FTA with Vietnam. During British Foreign Secretary Dominic Raab's visit to Vietnam, the ASEAN Chair for 2020 extended support to Britain's entry into the CPTPP (Comprehensive and Progressive Agreement for Trans Pacific Partnership). Raab on his part also reiterated the increasing geopolitical importance of Vietnam.
CPTPP originally known as TPP was a brain child of former U.S. President Barack Obama for giving a push to the "Pivot to Asia" strategy, but one of Trump's first moves was withdrawal from the grouping. 
It is important to get new stakeholders on board the Indo-Pacific, so that the initiative is not restricted to just the security dimension, or countering China's growing influence. Countries which have taken a lead in building economic and technological linkages are likely to be important stakeholders within this initiative. The U.S. needs to step up not just in terms of funding connectivity and infrastructure related projects in the Indo-Pacific, but also in terms of standing in favor of globalization. Even with its allies, Trump administration's differences over economic issues and its withdrawal from the TPP have not sent a very positive message. 
Not just the U.S., even other countries need to shed their insular economic approach for giving a boost to economic cooperation between countries which are part of the FOIPS. While FTAs and trade linkages are important, cooperation in areas like connectivity, infrastructure, technology and even research need to be explored. For the FOIPS to succeed it is important to have clarity of purpose, while understand that convergence on all economic and strategic issues is not possible.
The views and opinions expressed in this article are those of the author.