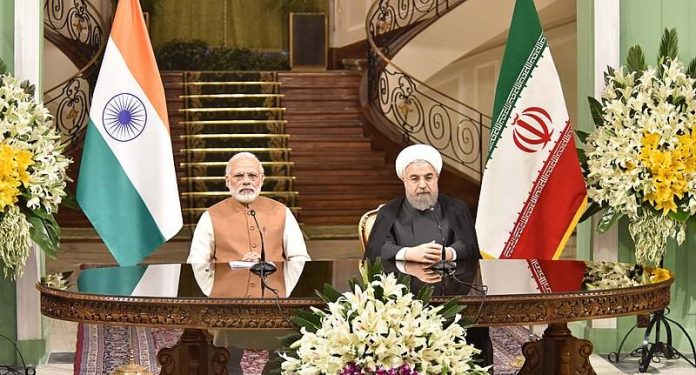 The Bilateral relationship between New Delhi and Iran witnessed a steady deterioration after India had ended the purchase of oil from Iran in 2019. A clear indication of New Delhi according high priority to ties with Iran in recent months, is the back to back visits by India's External Affairs Minister, S Jaishankar and India's Defence Minister, Rajnath Singh to Tehran in the month of September. 
India stopped importing oil from Iran in 2019, after U.S. had ended the sanction waiver it had provided to India and other countries to purchase oil from Iran. Senior Tehran officials, including the Foreign Minister Javad Zarif on more than one occasion stated that India's decision to stop the purchase of oil from Iran had an impact on the overall relationship, including the Chabahar Port which is of immense strategic importance to India. However, the U.S. has provided waivers to India for the Port and even on the eve of the Indo-U.S. 2+2 meeting (Oct. 26-27, 2020), Washington reiterated the same. The deterioration in the relationship was evident from the drop in bilateral trade from the 2018-2019 levels of $17 billion to $3.5 billion in the first eight months of this year.

Chabahar Port and India-Iran relations
The strategic Chabahar Port project has often been dubbed as India's gateway to Afghanistan and Central Asia. India, Afghanistan and Iran also signed an agreement to promote trilateral connectivity through Chabahar in 2016. In December 2018, India was handed over operations of Phase-1 of the project. In 2019, Iran signaled that it was keen to get Pakistan and China on board the Chabahar project. Apart from the decision to end the import of oil from Iran, India's warming up to Gulf Cooperation Council (GCC) member states – specifically United Arab Emirates and Saudi Arabia — also proved to be an irritant in the bilateral relationship.
Since December 2019, efforts have been made to get the India-Iran bilateral relationship back on track, though it was only recently after the Iran-China 25 year agreement that New Delhi has begun to pay closer attention to ties with Iran. What further prompted India to accord priority to Iran, was the news that India had been elbowed out of the Chabahar-Zahedan Railway line (both countries are still engaged on the project). Both Rajnath Singh and S Jaishankar during their respective visits, had raised the issues of regional connectivity as well as regional security — specifically the Afghanistan issue, with their Iranian counterparts. 
Economic relationship beyond the Chabahar Project
What is often missed out in the discussion on Iran, which is focused on the Chabahar Port — oil and most importantly geopolitics are other layers of the economic relationship. As a result of U.S. sanctions on Iran, Indian exporters of other commodities are also likely to lose out significantly. One example of this is India's Basmati rice exporters and rice growers. In 2019-2020, Iran accounted for nearly 30% of India's Basmati exports — out of the total exports of 4.45 million tonnes Iran accounted for 1.3 million tones. Basmati exporters have been having a problem in receiving payments from Iran. The drop in Basmati exports to Iran will have a major impact on the North Indian State of Haryana and Punjab which account for a large percentage of Basmati exports.
Another important setback to economic ties between India and Iran is Tehran's decision of the Farzad B oil field being developed by an Iranian company.

The oil field was discovered by ONGC Videsh Limited (OVL) — the overseas arm of India's largest oil and gas exploration company ONGC. OVL along with its partners had offered to invest $11 billion in Farzad B but NIOC (National Iranian Oil Company) informed India in February 2020, that this project would be handed over to an Iranian company. It would be pertinent to point out that one of the major impediments to India taking over the Farzad B has been the fact that, technical studies could not be conducted due to the imposition of U.S. sanctions on Iran in November 2018. It is believed that ONGC has still not given up on the Farzad B project and is still in talks with NIOC.
The New Delhi-Iran relationship is deep rooted and not restricted to any one sphere. Strategic commentators in India often make the mistake of viewing India's ties with Iran from a narrow prism. New Delhi needs to de-hyphenate ties with Tehran from ties with other countries – especially the U.S. Here it would be important to point out that viewing linkages with Iran from the lens of the Iran-China Agreement is also problematic. Tehran is important for India's regional connectivity ambitions. A number of analysts and policymakers believe that a change of guard in Washington may provide more alternatives to New Delhi given that the Democrat Presidential nominee, Joe Biden has indicated that he will engage with Iran and will adopt a more flexible approach with Tehran. Biden has also signaled on more than one occasion that he will work closely with allies on important issues, and this augurs well for U.S. allies which have robust economic ties with Iran. 
The views and opinions expressed in this article are those of the author.