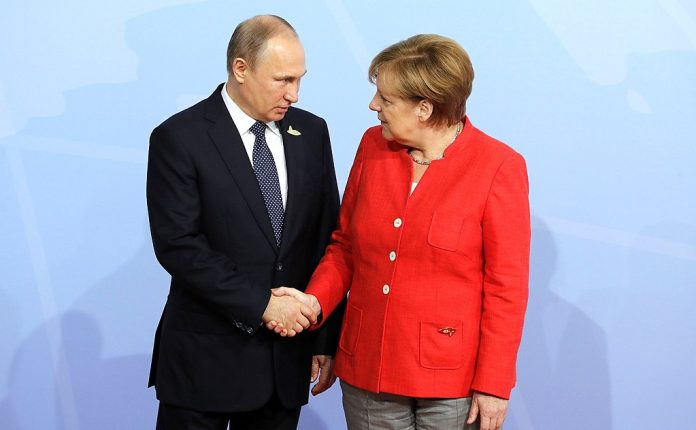 From Germany's unification through to the end of the second world war, the "German Question" referred to the recurring potential Germany had to threaten Europe, due to its size and the peculiarity of the German character, and how the rest of Europe could contain it. Today, since Germany poses no such threat, there is no longer a German Question. Or at least, there is no longer that German Question. There may, however, be another one. 
For anyone with even a fleeting interest in history, contemporary Germany is a fascinating country, having in less than a century transitioned from a totalitarian, genocidal conqueror to one of the most democratic, humanitarian and peaceful countries in the world.  But although Germany has left behind its ambitions for a fascist conquest of the world, it hasn't quite given up on power politics. Fortunately, economics is the preferred means of navigating this landscape.
Germany is an economic giant, wielding the fifth biggest economy in the world, and is the world's third-largest exporter, an economic weight that has enabled it to become the de-facto leader of the largest and most integrated bloc of countries in the world – the European Union. Although the economic and political integration of the EU has received some push-back in recent years, it is this which allows the EU to project power on the world stage. Germany, as the indispensable power within Europe, can effectively lead this projection.
But then there is Germany's national economic self-interests, which have led it to a controversial policy in one particular area: relations with Russia. Those relations are far warmer than many of Germany's EU allies would like. German Chancellor Angela Merkel's public condemnations of President Vladimir Putin's destabilizing activities are generally an unpersuasive cover for a far more realpolitik-oriented foreign policy she has pursued with her country's eastern neighbor. At the center of this is the Nord Stream 2 gas pipeline.
The pipeline, which will transport Russian gas directly to Germany, is now 95% complete, and is currently estimated to begin commercial services in the first half of 2022. It's a marriage of great convenience for both parties, giving Russia access to the biggest market in Europe, and giving Germany's manufacturing industry the energy it badly needs. However, it is far less than convenient for anyone who wants Western sanctions in order to contain Russian aggression, since the pipeline increases Europe's dependence on Russian gas and therefore undermines those sanctions.
The pipeline is a landmark Merkel project, but the current Chancellor isn't an outlier in wanting to work with Russia; a degree of friendliness with the Kremlin can be found across the German political establishment. On the left of this establishment, for example, is Gerhard Shroder, the former leader of the Social Democratic Party and a personal friend of Putin who also sits on the Nord Stream 2 advisory board. Armin Laschet, successor to Merkel as leader of the Christian Democratic Union and likely future leader of Germany, also makes no secret of his fondness for the Kremlin, having warned of 'anti-Putin populism' spreading in Germany after Putin's annexation of Crimea, as well as having publicly questioned the UK for blaming Russia for the poisoning of former intelligence officer Sergei Skripal and his daughter in Salisbury in 2018 – something that is hardly disputable.
This brings us to the dilemma Germany faces as an ascendant power. On the one hand, it seeks to exploit its clout as the leading nation of a large, wealthy and highly integrated supra-national entity. On the other, it seeks to become an economic superpower in its own right by pursuing a highly transactional foreign policy, which has it engaging closely with a country hostile to many EU member states, thereby undermining its leadership of the EU.
Take, for example, Russia's recent military build-up on the Ukrainian border and its threats of invasion. There is no necessary causal link between this aggression and the Nord Stream 2 pipeline, but it is noteworthy that it is occurring as the finishing touches are being put on the project. It is therefore not far-fetched to speculate that the economic partnership established by the pipeline has emboldened Russia — in which case, there is a great more emboldening to come, since the pipeline helps Russia divert oil from Ukrainian land, and avoid the $2-3 billion per year it pays to Ukraine in transit fees.
Ukraine, of course, is not an EU member, however, many EU members, particularly those in eastern Europe, view Russian military assertiveness in Ukraine as a red flag for their own security. Bilateral relations between Russia and EU countries have also broken down once again in recent months, with an investigation by Czech authorities revealing Russian involvement in an arms depot explosion in 2014 which killed two people. The Czech Republic consequently engaged in ritual tit-for-tat diplomat expulsions with Russia. Poland has been dragged into this diplomatic battle, along with Bulgaria, which revealed its own investigation of a series of similar bombings of arms depots, evidence of which, they say, points to Russia. A round of diplomatic expulsion with Italy and Romania also took place recently after revelations of Russian covert activity in these countries. 
These events are generally reported as a crisis in Russia's relations with its European neighbors. However, the fact is that such relations have more or less been in perpetual crisis since the annexation of Crimea in 2014. Germany is one of the few Western-aligned countries which has continued to enjoy good ties with Russia in spite of such behavior. As tensions continue, Germany's policy on Russia may increasingly come across as treacherous to its EU allies – a view which, as one Polish minster's comparison of Nord Stream 2 to the Molotov-Ribbentrop pact suggests, is already taking shape.
A German Question for today, therefore, may be: how can Germany at once remain an entrusted leader of the EU, and also enjoy friendly relations with Russia? The answer, in short, is that it can't.
Patrick Hess is a recent Master's graduate in Middle Eastern Studies. He is currently based in London. The views and opinions expressed in this article are those of the author.