China's Satellite technology is actively going global with the BeiDou Navigation Development System (BDS) nearing its completion. An alternative to the existing navigation satellite (Nav-Sat) system to stimulate the inclusion of advanced technology is emerging.
With the recent launch of its 34th satellite into the geostationary orbit the BeiDou system is built by National Remote Sensing Centre of China (NRSCC).
China's Global Satellite Navigation system, BeiDou was named after the constellation, Ursa Major or the "Northern-Dipper". This was incepted in the year 1990 to have a navigation system incorporated to focus on national security, economic and social development needs of the country and to render high-precision positioning infrastructure services. 
This Nav-Sat has seen three generations of development namely BeiDou-1, BeiDou-2 and BeiDou-3. Beidou-1 was initially created as a network of three satellites to cover entire China (refer figure 1; part 1), to be used for Defence and strategic purposes only. In 2008, it was opened for civilian and commercial purposes but was decommissioned later by the end of 2012.
Beidou-2 was later developed and is operational since 2011. It was called the COMPASS or the CNSS (Compass/BeiDou Navigation Satellite System), comprising of ten satellites in its geostationary orbit. This had a wider range covering the entirety of the Asia-Pacific region (refer figure 1; part 2). 
China wanted BeiDou-2 to be used only for defence purposes and thus it joined the European Union's Nav-Sat Project, Galileo in 2005. A MoU was signed between "Galileo Joint Undertaking" (GJU) and the "National Remote Sensing Centre of China" (NRSCC). But China was discontented with the Galileo's Program and wanted to compete in the Asian market using BeiDou again.
The step to move ahead with BeiDou-3 was a momentous decision for the PRC. This third generation satellites was launched in March 2015, which presently has a total of 34 satellites in orbit. All of these satellites were launched from Xichang, Liangshan in Sichuan province in the Long March carriers. It further expanded the capabilities of BeiDou, and various base stations were set-up at tough terrain regions.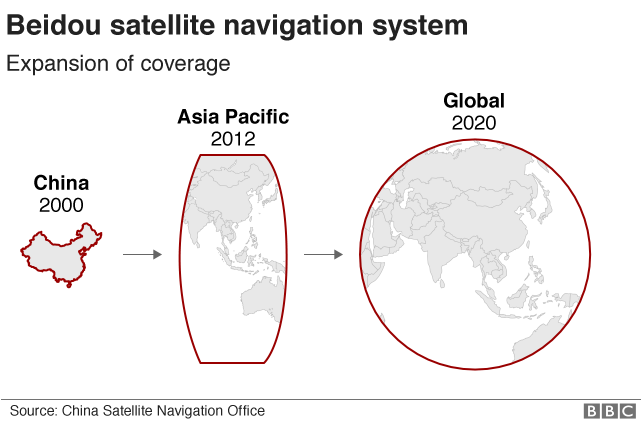 It is expected that the NRSCC will complete the satellite constellation network by May 2020 to enable global coverage with improved accuracy equivalent to that of the Global Positioning System (GPS).
Since 2018, BeiDou-3 has been delivering a capable global service and generating huge revenues for China through various sectors – such as automobile navigation, aerospace corporation, and other industries – utilising its service. It is being widely used in marine & fisheries sectors, disaster relief including search & rescue operations, transportation, telecommunication, power transmission, and national security among others.
Global Outreach
In the global context, the BeiDou Nav-Sat is being utilized as strategic new-generation information technology and Beijing is particular in ensuring its compatibility & interoperability with Nav-Sat of other countries. 
It caters to the needs of other nations and keeps them in the ambit of China, timed strategically in the Belt and Road Initiative Era again spearheaded by China. 
To realise the goals of "Transnational Outreach" the Chinese smartphone giants – the Huawei, Xiaomi, and One Plus – have multiple Nav-Sat chip embedded on them. BeiDou is now being integrated for commercial usage by embedding them onto the processor of Qualcomm's Snapdragon and Huawei's Kirin as well. 
As of March 2020, a total of 54 satellites have been launched with a hundred percent success rate. The penultimate satellite was launched on March 9, 2020, in the 'Inclined Geosynchronous Orbit'. "We have focused on constantly developing the BeiDou system's new application modes and new business forms, as well as its integration with the new economy," Yang Changfeng the Chief Architect observed.
The accuracy of the Beidou network has improved considerably compared to its counterparts like GPS and Galileo; it is performing with the precision of 10cm (3.9 inches) which is higher than other existing Nav-Sat like GPS or Galileo.
At present China is just one step away from a broad-ranging operational navigation satellite of its own. The last satellite in the series is expected to be launched in May 2020, and with that, China will own a constellation network of satellites strengthening their navigation capabilities. 
Futuristic Projections
The BeiDou nearing completion with the launch of its 54th satellite, it is expected to outpace the GPS with its advanced technologies such as the cryptography and artificial intelligence. Also, this would act as a 'force multiplier' to boost Beijing's 'One Belt, One Road Initiative' (OBOR) in the targeted countries. As the synergy between technical research and implementation is in full swing, this would yield more accurate positioning and applications worldwide.
The views and opinions expressed in this article are those of the author.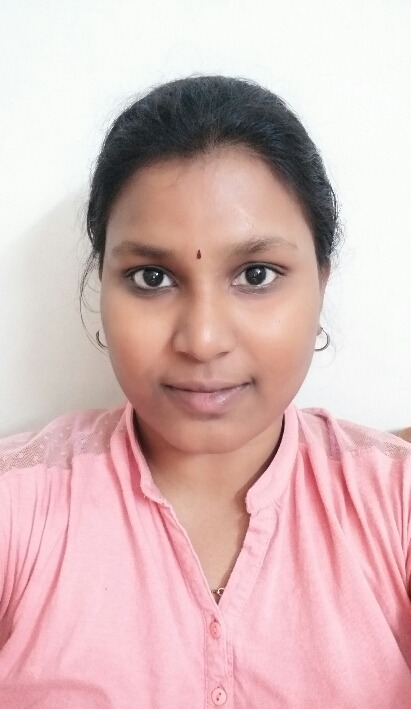 The author is a Research Intern at the Chennai Centre for China Studies. Her areas of interest include Indo-China Relations, Science and Technology advancements, Space Science, Satellite Technology and Security.