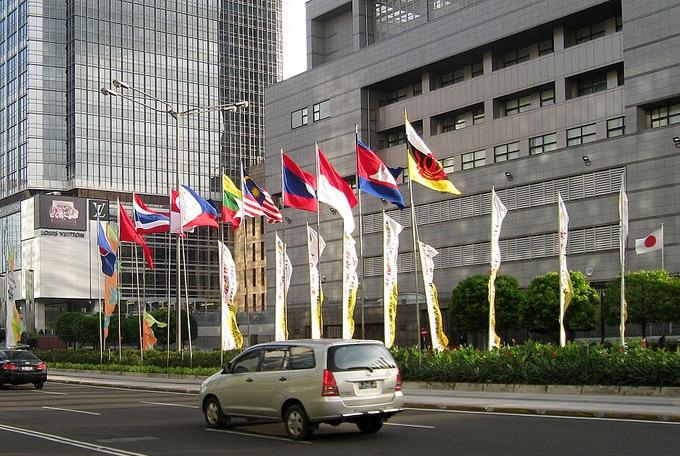 For the period between January and June 2020, bilateral trade of the Association of South East Asian Nations (ASEAN) with China was estimated at $297.8 billion. This represents a 2 percent year on year rise in trade between the regional bloc, and Beijing. China's trade with ASEAN accounted for 14.7 percent of its total trade. 
Trade between the European Union and China dropped significantly from the previous year, as it did between the U.S. and China. While China's drop in bilateral trade with EU has been attributed to UK's exit from the EU, the dip in trade with the U.S. was along expected lines given the rising bilateral tensions between Beijing and Washington.
Recent conversations between Xi Jinping and ASEAN leaders
Interestingly, only last week, Chinese President Xi Jinping spoke to Prime Ministers of two important ASEAN economies – Singapore and Thailand – which have been hit by the Covid-19 pandemic, and have close economic links with Beijing. He congratulated Singaporean PM Lee Hsien Loong for his recent electoral victory. He also spoke to the Thai PM, Prayut Chan-o-cha. The focus in Xi's conversation with both leaders was on enhancing cooperation to fight the Covid-19 pandemic, and also to further enhance economic relations.
During his conversation with the Singaporean PM, Xi Jinping discussed the importance of the 'fast track lane' which facilitates travel for essential purposes between Singapore and six Chinese provinces. The arrangement became operational on June 8, 2020. The Chinese President and the Singaporean PM also discussed ways for enhancing economic cooperation through trade, investment and connectivity. 
The China-Singapore (Chongqing) Demonstration Initiative on Strategic Connectivity-New International Land-Sea Trade Corridor was discussed as was the need for giving a boost to cooperation under the Belt and Road Initiative. 
During his conversation with the Thai PM, Xi referred to the robust trade relationship and the fact that projects like China-Thailand railway project were going on smoothly in spite of the pandemic . Both sides also discussed the importance of linking BRI with Thailand's initiatives such as Thailand 4.0 and the Eastern Economic Corridor. 
China-ASEAN ties: Cooperation, competition and conflict?
What is especially interesting is the point that trade between China and Vietnam for the period of January to June 2020 has witnessed a year on year increase, and while FDI from China has reduced in recent months, Beijing's level of FDI in Vietnam is higher than that of Japan.
This is significant, because Vietnam, the ASEAN chair for 2020 has been aggressive in wooing firms seeking to relocate from China. Other ASEAN member states like Thailand, Indonesia, Malaysia and the Phillipines are also doing the same. Given the numerous advantages Vietnam has vis-à-vis other competitors, it is likely that Hanoi will be successful, as it has been in the past in drawing investment from companies moving away from China.
China's close economic links with ASEAN countries including Vietnam reiterate the complexity of the relationship. On the one hand, Beijing has strong trade ties with the South East Asian regional bloc on the other it has territorial disputes with ASEAN member states – Vietnam, Indonesia, Malaysia, the Phillipines in the South China Sea.
China and Vietnam are also embroiled in conflict over the South China Sea issue (during the recent ASEAN Summit). In April, a Vietnamese fishing boat was sunk by a Chinese surveillance ship. The Phillipines extended support to Vietnam, and during the recent ASEAN Summit, a statement was passed by all member states: "reaffirmed that the 1982 UNCLOS is the basis for determining maritime entitlements, sovereign rights, jurisdiction and legitimate interests over maritime zones."
ASEAN's ties with Japan and EU
While ASEAN-China economic ties are not likely to face any major disruptions at least in the short run, many ASEAN countries like Vietnam and Thailand are keen to expand their ties with other countries, and regional blocs including the EU.
Japan and the EU have taken the lead in strengthening ties with ASEAN. While Japan is encouraging its companies located in China back to Japan, it is also encouraging Japanese companies to move to ASEAN countries. The East Asian nation has earmarked $653 million for helping 87 companies to relocate from China. Of these 87 companies, 30 are likely to shift to the ASEAN region. Japan is also seeking to bring ASEAN states such as Thailand, the Phillipines and Indonesia on board the Comprehensive and Progressive Trans Pacific Partnership (CPTPP).
In June 2020, Vietnamese Parliament ratified an FTA with the EU, dubbed as the European Union-Vietnam Free Trade Agreement (EVFTA) which will give a strong fillip to bilateral trade. The FTA, operational from Aug. 1, 2020 will cut or eliminate tariffs on 99 percent of commodities traded between Vietnam and the EU. According to forecasts, Vietnam's GDP could increase by a whopping 4.6 percent by 2025, while its exports could increase by 42.7 percent. The FTA will also enable Vietnam to attract more FDI. 
What has also gone unnoticed is the point that the EU has suspended Myanmar's debt service payments for the period between May to December 2020, which amount to $98 million. A number of countries have been urging China to suspend debts of developing countries. EU's decision will only provide temporary relief to Myanmar, but has sent a firm message to other creditors, especially China that they too should follow suit. 
ASEAN-China economic ties are unlikely to be impacted in the short run. What we could witness, however, is enhancing of economic relations between a few ASEAN countries with Japan and the EU. Japan is the only country, which is making serious efforts to alter supply chains and to relocate its companies from China to ASEAN. While Japan's economic ties with ASEAN are likely to grow in a post-Covid-19 world, countries like the U.S., UK, Australia, Germany also need to encourage their companies to invest in ASEAN.
The views and opinions expressed in this article are those of author