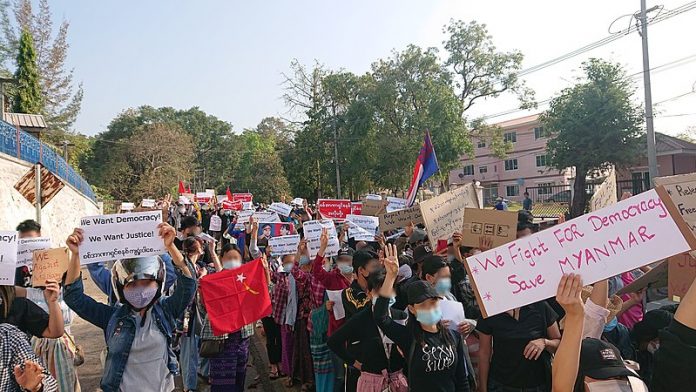 India has many reasons to worry about the deteriorating situation in Myanmar. Following the coup d'état by Myanmar's military on Feb. 1, the friction between the military and the protesters, who are demanding the restoration of democracy, is rising.   
India expressed deep concern over these developments and called for upholding the democratic process. However, India did not explicitly condemn the military coup. India's rather cautious approach to the situation in Myanmar is a reflection of how its ties with Myanmar have shaped over the years. 
India-Myanmar ties experienced an upswing after democracy was restored in Myanmar in 2010 following decades of military rule. It was also during this period that India reframed its Look East Policy as Act East Policy in order to give a push to engagements with the Southeast Asian countries. 
Myanmar is a key element in Act East Policy due to its multi-faceted strategic relevance for India. 
India's strategic cooperation with Myanmar has grown in the past one decade
Myanmar is a strategically important country for India in more ways than one. Myanmar is the only Southeast Asian country to share both land boundary and maritime boundary with India. Myanmar shares territorial boundary of more than 1600 km with four northeast Indian states of Arunachal Pradesh, Nagaland, Manipur and Mizoram. The maritime boundary between both the countries is in the Andaman Sea in the Bay of Bengal where Myanmar and Indian Union Territory of Andaman and Nicobar Islands share maritime border. 
Myanmar's growing strategic importance for India over the years could be understood through a series of engagements between both the countries. 
Indian Prime Minister Narendra Modi, while speaking at the ASEAN-India Summit in 2019 said, "North East India is being developed as a gateway to South East Asia, as part of India's Act East Policy. India-Myanmar-Thailand seamless connectivity will boost development in the entire region."
India is currently developing two connectivity gateways – India-Myanmar-Thailand Trilateral Highway and Kaladan Multimodal Transit Transport Project – between Northeast India and Southeast Asia, Myanmar being a pivotal link in both. India expects these projects to forward the Act East Policy as well as help in development of northeast India. 
As much as connectivity is central to the development of northeast India, so is peace and stability. Insurgency had plagued the northeastern Indian states for a long time. Many of these groups have been taking refuge in Myanmar and operating from there. India's and Myanmar's armed forces have been coordinating with each other and have carried out military strikes against these insurgent groups. In 2015, India's armed forces carried out a surgical strike against the Naga insurgents inside Myanmar. In 2019, Indian and Myanmar armies carried out coordinated strikes against several insurgents and terrorists in their respective territories. 
In October 2020, India's Foreign Secretary Harsh Shringla and Army Chief Manoj Mukund Naravane visited Myanmar. During this visit both the sides discussed the security situation along their border areas. In the same month, India handed over its Kilo-class submarine INS Sindhuvir to Myanmar on lease. 
India is also developing Sittwe Port in Rakhine State which is a part of the connectivity drive. While India is looking to counter China through strategic cooperation and connectivity, there are security concerns for the Sittwe Port. China is said to be supporting Arakan Army, a militant group operating in Chin State and Rakhine State of Myanmar close to India's border. The security of this port is a common concern for India and Myanmar. 
Myanmar's military is an important entity in India-Myanmar relations which is why India is being cautious in its response to this coup.   
Why Myanmar is a complex issue for India?
India-Myanmar relations present a unique perspective of bilateral relations. India, as an advocate of democratic process, deepened its engagements with Myanmar after restoration of democracy there. But it is true that during the democratic rule in Myanmar, India did develop close and fruitful relations with Myanmar's military. Most of the time during the past decade, India has prioritized its strategic relations with Myanmar over economic relations. 
Despite restoration of democracy in Myanmar, the role of military had hardly diminished in the political process. A military-backed constitutional process was initiated in 2008 when Myanmar approved a new constitution proposed by the military. In 2010, elections were held in Myanmar which were considered to be rigged by the military. Aung San Suu Kyi's National League for Democracy (NLD) boycotted the 2010 elections. The NLD participated in the 2015 elections which it won and Aung San Suu Kyi became the State Counsellor of Myanmar.  
Bertil Lintner, an expert on Myanmar, while highlighting military's role in Myanmar's politics, said that the 2008 constitution opened up the country to some extent but the real power was never transferred to the elected government. He further adds, "The NLD won the 2015 election but was not in power." This sums up the state of democracy in Myanmar.
Myanmar's transition to democracy has coincided with India's accelerated outreach to Southeast Asia. Myanmar has an important role in India's Act East Policy. India's engagements with Southeast Asia would stand affected to some extent depending on how India calibrates its response to Myanmar's situation. Also one of the most important factors in India-Myanmar relations is that Myanmar is the only Southeast Asian country that has bearing on India's internal security. The challenge for India is to balance between protecting its own strategic interests on one hand and demanding restoration of democracy in Myanmar on the other. 
India has been making strategic investments in Myanmar since the last decade and is a stakeholder in Myanmar's stability and security. India also needs to decide what course to take in the view of the US, UK and EU imposing sanctions on Myanmar. Isolating Myanmar at international level could push it closer to China. In the coming days, the situation in Myanmar could become the Gordian knot for India's foreign policy.
The views and opinions expressed in this article are those of the author.