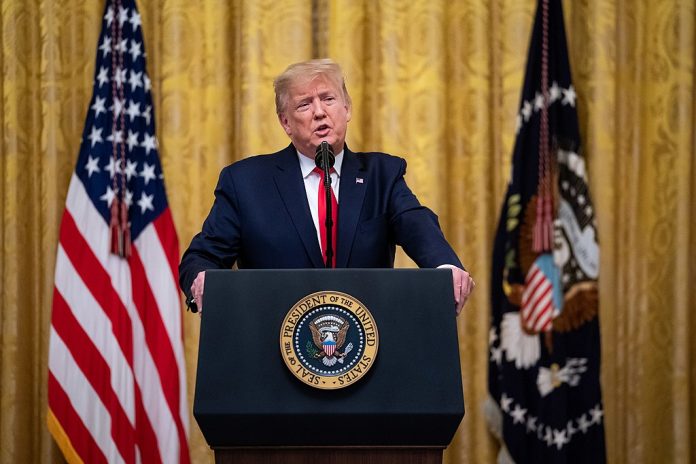 The U.S. President Donald Trump has repeatedly accused his predecessors of kowtowing to China, and having sold out U.S. interests and  lashed out at Democrat Presidential Candidate and Former Vice President Joe Biden for being soft on China. Trump has sought to make Biden's dovish approach vis-à-vis China as one of the main planks of the 2020 presidential elections.
Some revelations made by Trump's former National Security Advisor, John Bolton in his memoirs The Room where it happened: A White House Memoir are interesting, and raise important questions with regard to Trump's approach towards China (what is clearly evident is a lack of gravitas).
Trump's stance vis-à-vis China on the Uighur issue
On June 18, the U.S. President signed a legislation which sought to punish China for its flagrant violation of human rights against the Uighur minority in Xinjiang. The Uighur Human Rights Policy Act of 2020 received bipartisan support from the Republicans and Democrats in Congress. There has been pressure on Trump to impose sanctions on China from many of his party members, have been urging the U.S. President to utilize the Global Magnitsy Act for imposing economic sanctions against China.
During the course of two meetings (2017, 2019) with Xi Jinping, Trump had supported China's decision to build detention camps according to Bolton's memoirs. While during his visit to China in 2017, the U.S. President is supposed to have told the Chinese President that he would not impose sanctions against China on account of repression of Uighurs — at least while trade negotiations were going on. On the sidelines of the G20 meeting at Osaka, during his meeting with Xi Jinping, Trump lent support to Xi Jinping's decision to built detention camps. 
Trump has taken a firmer stance vis-à-vis China on economic issues, such as imposition of tariffs which led to Trade Wars, and sanctions on tech giant Huawei which have made it tough for the Chinese company to do business not just in the U.S., but other parts of the world as well. Apart from this, the Trump Administration also made changes to the visa regulations pertaining to Chinese students enrolled in STEM courses in 2018 (in May 2020, the Trump Administration has introduced a proclamation according to which Chinese nationals, which are part of China's military fusion strategy, will not be permitted to enter the U.S. on an F or J Non Immigrant visa for post graduate courses). The main aim of introducing tougher regulations for Chinese students according to the administration is the growing instances of 'intellectual theft' by Chinese students enrolled in science and engineering courses.
Many argue, the U.S. President gets better along with authoritarians, and has struck a rapport with Russian President Vladimir Putin, Saudi Crown Prince Mohammed Bin Salman and North Korean dictator Kim Jong-un. Interestingly, in a media briefing, the U.S. President himself confessed: "I get along with everybody, except you people … I get along with (Russian) President (Vladimir) Putin, I get along with Mohammed (bin Salman) from Saudi Arabia." 
He has been attacked not just by U.S. liberals, but even sections of the Republican Party for turning a blind eye to human rights violations not just in China, but even the ghastly murder of an Egyptian journalist Khashoggi (this has been attributed to Trump's close rapport with Prince Mohammed Bin Salman, driven allegedly by personal economic interests in Saudi Arabia).
The U.S. President who was elected on the plank of 'America First,' has not made any qualms about being indifferent to human rights related issues,  personal freedoms and liberal values in the domestic context; in the global context he has not really expressed much interest in building partnerships on the basis of a commitment to democratic ideas, liberalism or Human Rights (while each country has to see its own interests, and even earlier US Presidents have had to make some compromises, no one has deviated so much from the above values). His differences with allies such as Germany, France, Japan and Canada over economic as well as crucial strategic issues reiterate the same point. Only recently, Trump has warned that the U.S. may withdraw its troops from Germany. The U.S. President has expressed his displeasure earlier too with Germany for failing to fulfill its financial obligations as a member of the North Atlantic Treaty Organisation (NATO). The U.S. Secretary of State, Mike Pompeo at a virtual meeting stated that the troops being withdrawn from Germany are being shifted to Asia given China's increasingly aggressive behaviour in South and Southeast Asia. 
Secretary Pompeo said that given the increasing threats from the Chinese communist party,  "…. to India, threats to Vietnam threats to Malaysia, Indonesia, South China Sea challenge, the Philippines. We are going to make sure we are going to be postured appropriately to counter them, the PLA"
It would also be pertinent to point out that the text of the National Defense Authorization Act (NDAA) for the fiscal 2021 has been introduced. One of the provisions of the NDAA is fighter jet training detachment for India, Japan and Australia in the U.S. Pacific territory of Guam.
Bolton's revelations have given the much needed handle to Democrats 
Bolton's relevations could not have come at a more opportune moment for the Democrats. Biden, who has been accused of soft pedaling on China, while commenting on Trump's remarks vis-à-vis China, said that if voted he would take a much tougher stance against China. While commenting on the revelations in Bolton's book Biden said: "If these accounts are true, its not only morally repugnant, it's a violation of Donald Trump's sacred duty to the American people."
It would be pertinent to point out that in recent years the Democrats have been taking a tough stance vis-à-vis China,  on the issue of preventing Huawei from participating in American 5G network and reducing U.S. dependence upon Chinese technologies. The revelations of Bolton's book along with Trump's mishandling of the Covid-19 pandemic and the abysmal condition of the U.S. economy are not good news for the U.S. President, and they have come at a wrong time.
Internationally, U.S. allies like UK, Germany, Japan, Australia are trying to reduce economic dependence on China, while India-China tensions have escalated in recent weeks after the brutal killing of Indian soldiers by the People's Liberation Army (PLA) and there have been growing calls for further expanding strategic ties with the U.S. To be fair, the Trump administration's recent announcements with regard to moving troops stationed in Europe to Asia, and some of the provisions of the NDAA, seek to check China's increasing belligerent behavior in South and South East Asia.
Yet, Trump's transactionalism and simplistic approach with regard to complex strategic issues will not send a very positive message to U.S. allies. There is no problem in having a nuanced approach towards Beijing, but lurching between two extremes, as Trump has done is not very reassuring. 
The views and opinions expressed in this article are those of the author.