When German National Security Advisor Jens Glötner visited India on March 30, 2022, he had stated that he was not in New Delhi to "lecture or demand" India on Ukraine and that India and Germany "might have different approaches, but we hope to arrive at the same conclusions". With Indian Prime Minister Narendra Modi set to visit Berlin on May 2, 2022 to meet German Chancellor Olaf Scholz, both leaders are set to take forward their strategic partnership and further explore areas of bilateral cooperation between the two democracies.
The visit arrives in the backdrop of Germany reportedly weighing a snub to invite India to this year's G-7 Summit to be held at Schloss Elmau in the Bavarian Alps over New Delhi's Russia stance. While the German side has cited the report as "wrong", it does reveal Berlin's reluctance to accept New Delhi's position on sensitive matters despite both countries enjoying vibrant relations as a result of a "strategic partnership" since 2000.
In this regard, Glötner's observations must be paid heed to by Germany when the Indian Prime Minister visits Berlin on May 2, 2022 if both the countries want to fully explore and utilize their potential as strategic partners in a multilateral world overwrought by the Ukraine war and increasing geopolitical competition, especially the Indo-Pacific. In realizing this goal, both Berlin and New Delhi must appreciate the possible bumps in their relationship. And the initiative will have to come from Germany. By shedding its reluctance to engage with India on sensitive matters, Berlin should instead pursue the larger, common goal of upholding a rules-based world order in the Indo-Pacific with New Delhi through an EU-centric approach.
Exploring the Domains of Cooperation
India and Germany established a "strategic partnership" back in 2000 and solidified this relationship with the launch of the Inter-Governmental Consultations (IGC) in 2011. Continuing the tradition, German Chancellor Olaf Scholz and Indian Prime Minister will take part in the IGC with their respective ministers and explore new areas of engagement during the visit.
According to the German Minister of State for Federal Foreign Office Tobias Lindner, the visit would focus mainly on renewable energy. This seems to be driven by the fact that both India and Germany are heavily reliant on Russia for their energy needs and both can cooperate on building a common framework to reduce this reliance. Moreover, it will help both nations to undertake sustainable energy sustenance. In this regard, German State Secretary of the Ministry for Economic Cooperation and Development Jochen Flasbarth had also recently mentioned the possibility of both sides signing a "broader green and sustainable development partnership" during Modi's visit. This will also ensure both India and Germany's commitment to achieving their Sustainable Development Goals (SDGs) respectively and champion the common cause of tackling climate change.
Apart from renewable energy, Lindner had also talked about the visit focusing on exploring bilateral cooperation on technology, education, security and climate change. On this front, both the countries should take a cue from Former Indian Ambassador to Germany Gurjit Singh's advice that they should focus on the progress of the high-speed railways, revival of the High Technology Partnership Group (HTPG) and engaging Germany as a defense partner. Leveraging these three key areas will go a long way in ensuring infrastructural development, technology exchanges and advancement, strengthening security and undertaking effective green initiatives on a bilateral level.
Further, to realize the above mentioned possibilities, both New Delhi and Berlin should explore more opportunities for collaboration through "Make In India" projects that will bring in German Foreign Direct Investment (FDI) to India and help build sustainable supply chains via technology transfers. This will be a mutually beneficial arrangement as it will cater to both economic and defense purposes of both the nations.
Shunning Reluctance and Pursuing a Larger Goal: The Indo-Pacific Through an EU Angle
The large room available for both the countries in terms of their economic and defense engagement is enough to highlight the strength of the Indo-German bilateral relationship. And Modi's visit to Berlin will surely strengthen it further. However, for the relationship to truly translate into one that can withstand the emerging geopolitical and geo-economic challenges, both India and Germany will have to jointly pursue a larger goal; a goal that combines economic and defense aspects to strike a balance and move beyond the Russia-Ukraine war, the China factor, diversify supply chains and establish a rules-based world order in the Indo-Pacific.
Recent geopolitical developments in the Indo-Pacific, especially the Galwan clash, the Afghan issue and the Russia-Ukraine War, have led India to a position where it is reinventing its global position by exerting itself as a responsible power with an independent outlook. India is now being increasingly seen by powers as a net-security provider in the Indo-Pacific. And this offers an opportunity to both India and Germany that they can and should leverage.
On the geopolitical front, Germany joined France in releasing an Indo-Pacific Strategy in 2020, even as the EU also released its strategy on the Indo-Pacific in 2021, with strong pivots towards India. Similarly, Germany under its new Chancellor Olaf Scholz has taken a harder stance against China, a deflection from Angela Merkel's non-confrontationist approach towards Beijing, a sentiment that it now shares with the European Union (EU) as well. And India is bound to be appreciative of this shift in policy too.
These two developments are clear indicators that Berlin is now ready to take a more active role in the Indo-Pacific. At the same time, India is now increasingly looking towards the EU as a partner that shares similar values like establishing a rules based order and respecting international laws, a sentiment that Germany also shares. Similarly, the resumption of India-EU Free Trade Agreement (FTA) Talks in June 2022 also offer a wide range of opportunities for both India and Germany to widen their economic and connectivity engagement while building globally resilient supply chains.
To put it simply, a stronger Indo-German relationship can become one of the key drivers for securing the Indo-Pacific with an EU-centric approach. But to do this, Germany will need to shed its reluctance while engaging with India and accept India's independent identity. Even though Germany sent its Frigate Bayern to Mumbai in a major show of strength in the Indo-Pacific in 2022, the recent report of Germany weighing the invitation to India for the G-7 Summit over New Delhi's Ukraine stance is an example of Berlin's reluctance on this front.
Germany needs to be clear about the terms of engagement it wants with India if it wants to become a credible power in the Indo-Pacific, both in geopolitical and geo-economic terms. Both the countries should explore more areas of maritime and diplomatic engagement in the Indo-Pacific where Germany can be made a part of consultations under various multilateral forums in the Indian Ocean as well. And this can only happen if Germany takes the Indo-Pacific pivot and India consequently leveraging the same. Learning and understanding India's complex neighborhood and national interests, a reason put forth by German NSA Jens Glötner for his recent visit to India, is the right path to follow for Berlin.
[Photo by Sandro Halank, Wikimedia Commons]
The views and opinions expressed in this article are those of the author.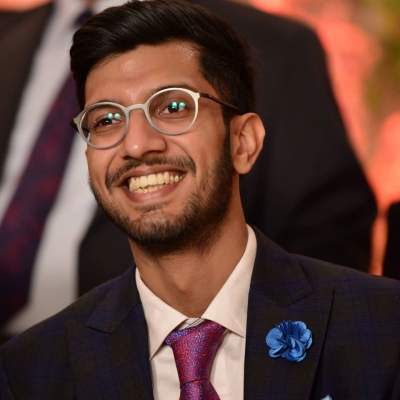 Bhavdeep Modi is currently serving as a Research Associate with Global Policy Insights, a centrist-policy think-tank with offices in New Delhi, London & Washington. He also serves as a Visiting Consultant with Organisation for Research on China and Asia (ORCA India), a New Delhi-based think-tank.