The air raids carried out by Indian Air Force on Feb. 26 opened a new dimension of response to 'hybrid warfare'. It was the first time since the 1971 conflict when the Indian Air Force was used inside Pakistani territory. Although the Indian Air Force was even employed during the Kargil conflict in 1999 but was mandated not to cross the Line of Control (LoC). According to NATO, "Hybrid threats are those posed by adversaries, with the ability to simultaneously employ conventional and non conventional means adaptively in pursuit of their objectives." Terrorism has taken the shape of hybrid warfare and countering terrorism has become an 'extension of state policy' in many parts of the globe. To deal with such multidimensional threats, a state requires more than civilian law enforcement agencies.
It is not the first time that India has used military force against terrorists; it was used against 'Naga' insurgents and in 'Operation Steeplechase' against the Naxals in 1971. The most discussed and apparent use of military was during the 'Operation Blue Star' where the Army used even tanks against militants who were armed with Rocket Propelled Grenades and Anti-tank Weapons. In September 2016, it was the first time after Uri attack when India used special forces to carry out ground-based operation to destroy 'launch pads' of militants across the Line of Control. The said operation opened a new threshold and expectation of employment of regular forces across borders to annihilate terror infrastructure.
Operation of this kind was considered something new in South Asian parlance but Indian forces have carried out even larger conventional operation during 'Operation Cactus' in 1988 to save the Maldives from Tamil secessionist group and Indian defense forces showed their capabilities to carry out airborne operations overseas with little preparation and rehearsal. The terrorists are more or less trained on military standards now, and they are armed with military ordinance. During the Soviet presence in Afghanistan, the Mujahideens were trained to operate most of the modern arms available at that time and they were even provided with sophisticated Stinger missile systems which were purely meant to neutralize Soviet jets and helicopter gunships, especially Mi-35s which were proven to be very effective in hills of Afghanistan. The use of Stinger (heat-seeking shoulder-fired missile system) gave respite to Mujahideen against air attacks and caused substantial loss to the Soviet Army and Air Force.
The Indian government has avoided using the Army or Air Force in hinterland operations. Even after a deep provocation by the Naxals, (they killed CRPF troop en-masse in 2010 in Chattisgarh State) the government did not use the Air Force. The IAF was restricted to the role of casualty evacuation only. The Indian defense forces largely wish to avoid getting involved in local affairs. The government also considers that the enforcement of 'law and order' should be dealt with the local police, assisted by the Central Armed Police Force (CAPF). Till now, mostly small caliber weapons are being used in counterinsurgency operations.
The Abbottabad operation carried out by the U.S. Navy Seals in 2011 has even been quoted by the Indian authorities to give validation and justification that, even India is quite capable of protecting its security interests when it comes to carrying transnational operations. The Indian authorities were careful in classification and declaration of the post-Pulwama air strike inside Pakistan as a 'non-military preemptive strike' so that it may not be considered as an 'act of war'. The action has no doubt reflected the political resolve of not tolerating cycle of violence and it has moved ahead from just diplomatic condemnation to taking immediate punitive action. But one of the pitfalls of this kind of operation is – it raises public expectation to such a level that every time a big militant action happens there will be general outcry for action of such magnitude. Also, there is a strong possibility of 'action-reaction' phenomenon as both the nuclear powers want to preserve the pride of their nations and institutions.
The decision makers and related stakeholders must carefully appreciate the strategic momentum of such operations and they must avoid satisfying the episodic emotions of the public at large. South Asian insurgencies are usually complex, embedded in local populace and based on the issues of identity or nationality crisis. To effectively tackle such insurgencies, we need 'boots on the ground' followed by political solutions. The use of Air Force to suppress terrorism and militancy is a watershed moment in the history of anti-insurgency operation of India and it will be interesting to see what future holds in South Asian context of anti-terror military operations.
Image Credit: Indian Air Force
The views and opinions expressed in this article are those of the author and do not necessarily reflect the official policy or position of The Geopolitics.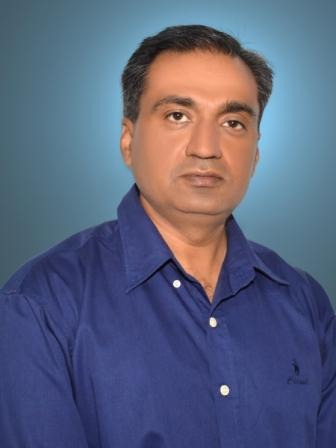 The author is a Second-in-Command in the Border Security Force (BSF). He has 19 years of experience as a practitioner in border management and security. Mr. Kumar has significant experience in serving at major Western Border States of India as a field and staff member.