All media attention is now focused on the opening of the Kartarpur Corridor, which will connect Dera Baba Nanak (Panjab, India) with Darbar Sahib (Kartarpur, Narowal District Pakistan). The agreement to operationalize this corridor was signed between both countries on October 24, 2019.
The two shrines are less than 5 kilometres apart, and devotees of Guru Nanak have been demanding a religious corridor, which will facilitate a visa free pilgrimage to Darbar Sahib (where the first Guru of the Sikhs spent the last 18 years of his life, along with his followers and propagated the key principles of the Sikh faith — love, tolerance and compassion for a long time. 
Ever since the Corridor has gone ahead, there has been a tussle between various politicians and civil society groups for getting credit. For nearly 2 decades, members belonging to an organisation by the name of Gurdwara Kartarpur Darshan Abhilashi Sanstha (set up by a prominent politician of Panjab, India – Late Kuldip Singh Wadala) performed prayers on Amavasya (no moon day). Gurinder Singh Bajwa, General Secretary of the Sanstha, has been involved in lobbying for the corridor, at a time when this did not seem possible.
There have been a number of other individuals and groups, too have been lobbying tirelessly for the religious corridor. 
The corridor will be opened just in time before the 550th birth anniversary of Guru Nanak which happens to be on Nov. 12, 2019. Pakistan PM, Imran Khan will inaugurate the corridor on November 9, while on the Indian side, it will be inaugurated on Nov. 9, 2019 by Indian Prime Minister, Narendra Modi. 
Media coverage and the narrative around the Corridor
So far, media coverage and the analysis of commentators has been focused on the strategic dimensions of the religious corridor, and has looked at it in the bilateral context. New Delhi and Islamabad have also differed on a number of issues, such as the 20 USD fees, which pilgrims will have to pay, and the number of pilgrims who will be allowed daily (5,000). In a tweet on November 2, 2019, the Pakistan PM made two important announcements. The first being that pilgrims wanting to pay obeisance at Kartarpur would not need a passport. The second, they will not have to register in advance. Finally, no fee would be charged on the day of the inauguration of the corridor and on Guru Nanak's 550th birthday.  Said Khan:
"For Sikhs coming for pilgrimage to Kartarpur from India, I have waived off 2 requirements: i) they wont need a passport – just a valid ID; ii) they no longer have to register 10 days in advance. Also, no fee will be charged on day of inauguration & on Guruji's 550th birthday"
Numerous layers 
If one were to look at bilateral ties between India and Pakistan, the Corridor is significant, because in spite of tensions running high between both countries, it has seen light of the day. This has been pointed out by many including the Chief Minister of Panjab, Captain Amarinder Singh in an article. Said Singh in an article written for The Indian Express:
"What makes this achievement truly remarkable is that both India and Pakistan stuck to their deadlines against all odds, in the face of many disturbing and disruptive developments in the last one year, to fulfill their ends of the bargain. This gives me, and I am sure it gives the people of both countries, a powerful sense of optimism about the future."
A prominent Sikh scholar and activist on Sikh issues, Harinder Singh has dubbed the agreement of an "unprecedented nature" and also made the point that this could pave the way for reconciliation in South Asia.  
The founder of the Sikh faith, was amongst other things, an Ambassador of Peace, and a firm believer in dialogue. This is strongly reiterated from all his travels, where he engaged with individuals belonging to different faiths, occupations and ideological leanings.
The corridor may pave the way for greater people to people contact through religious tourism. Pakistan has only recently opened a number of Sikh shrines to Sikhs from India, and is also renovating historical Hindu shrines. Its impact on the bilateral relationship – at least in the short term – remains to be seen.
Various layers 
Yet, there are other stakeholders who are forgotten. This includes the political class, as well as civil society groups from the state of Panjab (India). Captain Amarinder Singh, CM of Panjab (India) will be part of the first Jatha (delegation) which will include amongst others the Former PM, Dr Manmohan Singh. Singh will be now going in a personal capacity, while Pakistan had invited him for the official function. Given the strained relationship between both countries, Singh will not be attending the official function, but will be paying obeisance.
Ordinary pilgrims are waiting with bated breath for the opening of the corridor. Unlike members of various political outfits in India, ordinary citizens do not seem to be concerned about the 20 USD fees being charged by Pakistan. 
Apart from getting a chance to visit the historic shrine, pilgrims will also get a chance to interact with Punjabis from the other side of the border. This will help in reducing misunderstandings. 
Good will gestures by the Pakistan government to commemorate the 550th birth anniversary of Guru Nanak, such as the decision to set up Baba Guru Nanak International University at Nankana Sahib (the birth place of Guru Nanak) and issuing of commemorative coins and a stamp by the Pakistan government have been welcomed by the Sikh community. 
Sikh Diaspora 
Members of the Sikh diaspora, along with pilgrims from India, are likely to be present in large numbers at the opening ceremony of the Corridor, and the celebrations at Nankana Sahib (the birth place of Guru Nanak).
The number of pilgrims from overseas, is only likely to rise (as it is in recent decades there has been a rise in the number of Sikh pilgrims from overseas). This will give a boost to Pakistan's sagging economy. According to some estimates, the number of tourists from religious tourism along can be 300000 and that Pakistan's economy could earn as much as 300 Million USD from such visits. Pakistan's economy is also likely to benefit immensely from the fees charged from Sikh pilgrims. It could earn upto 3,65,000 USD annual according to some estimates.
It would be pertinent to point out, that a British Sikh tycoon, Peter Virdee has already proposed to set up a trust, which will give a boost to religious tourism in Pakistan. In the past, when there have been tensions between New Delhi and Islamabad, the Sikh Diaspora has played a commendable role, in not just getting access to Sikh shrines in Pakistan but also in their renovation and upkeep.
It would be simplistic to view the Religious Corridor from the simple prism of South Asian geopolitics, and security issues. There are many other layers, which analysts are missing out, and must keep a close watch on. This includes the possible fillip to religious tourism, closer linkages between the two Punjab's and in the longer run, more people to people initiatives between India and Pakistan – especially in the context of religious tourism.
Image credit: Xubayr Mayo [CC BY-SA 3.0], via Wikimedia Commons
The views and opinions expressed in this article are those of the author and do not necessarily reflect the official policy or position of The Geopolitics.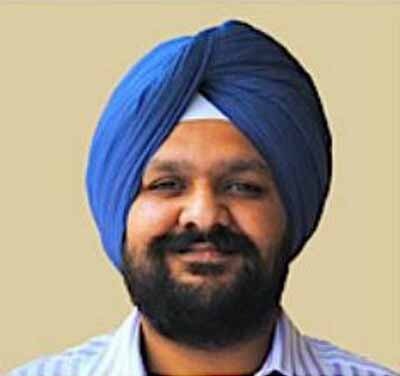 Tridivesh Singh Maini is a New Delhi based analyst interested in Punjab-Punjab linkages as well as Partition Studies. Maini co-authored 'Humanity Amidst Insanity: Hope During and After the Indo-Pak Partition' (New Delhi: UBSPD, 2008) with Tahir Malik and Ali Farooq Malik. He can be reached at [email protected]