In Bishkek, erstwhile Indian Foreign Minister Sushma Swaraj speaking at the Shanghai Cooperation Organization (SCO) expressed concern and solidarity with Asian countries facing the threat of terrorism "our heart goes out to our brothers and sisters of Sri Lanka, who have recently witnessed the ghastly act of terrorism. Our wounds of Pulwama attack were still raw and the news from the neighborhood has made us more determined to resolutely fight against this menace," The Regional Anti-Terrorist Structure (RATS) under SCO is made to fight terrorism in Central Asian countries. Even though under RATS every member state has its own strategic interest in preventing terrorist groups affiliated with Al Qaeda and the Islamic State, the cooperation in counter-rorism is till adversely affected by regional rivalries, ethnic disputes, imperfect borders and porous boundaries.
RATS is the first and the foremost international organization in which effective attempt has been made to define terrorism, in 2009 the heads of states signed SCO convention against terrorism under Article 2, the terrorism was defined as an ideology of violence, and the practice of exerting influence on the decision-making of governments or international organizations by threatening or committing violent and (or) other criminal acts, connected with intimidating the population and aimed at causing injury to private individuals, society or the state. The definition is comprehensive enough to cover all aspects of violence and related acts which can be brought under the purview of terrorism. Hence the ambiguity exists in the definition of terrorism in other international organizations like UN, SCO has got very clear and substantive definition for terrorism right from its formation.
SCO has an important role to play in the region as the US is withdrawing its armed forces from Afghanistan. As early as in 2012, the former External Affairs Minister of India S.M. Krishna acknowledged the SCO's role in Afghanistan. He stated that, "the SCO is uniquely fitted to provide positive contributions to the global discourse on Afghanistan. SCO can certainly add a critical regional perspective and play a constructive role in ensuring a peaceful and stable Afghanistan". From Indian point of view, Afghanistan is very important, when Soviet Army withdrew from Afghanistan in 1988 the security situation in Kashmir valley started deteriorating, and the situation in Kashmir in the 1990s was directly linked with the situation in Afghanistan. India is watching closely the possibility of Taliban returning to power after the withdrawal of US troops from Afghanistan. India doesn't want the repetition of history with fundamentalist forces gaining control of Kabul and its resultant adverse impact on Indian security interest. New Delhi has vital strategic interest in Afghanistan as it is involved in numerous infrastructure projects which will be affected if a fundamentalist government takes over the country. Even China is concerned about the growth of fundamentalism in Afghanistan as it perceives that radical elements may inspire a movement within the Uyghurs and will be supported by Taliban and other fundamentalist groups in Central Asian countries.  
The SCO and RATS have charted out key areas of cooperation in order to check the growth of fundamentalism in Central and South Asia. They are as follows: (i) negotiate bilateral extradition agreements, (ii) take regular stock of the radical extremists and terrorists operating in the region, and exchange such information, (iii) identify the sources of terror-financing and take necessary steps to block  these  channels, (iv) to engage and seek cooperation of the Islamic clergy/Ulema for rejecting the hate ideology of the terrorists and extremists in the name of jihad.
Another concerning aspect of terrorism is the smuggling of narcotics which is the life blood of terror financing. Even countries like Iran which is a major stakeholder in the region's security situation is concerned about cross-border terrorism and drug trafficking. Another aspect of the deteriorating situation is that the total poppy cultivation area in Afghanistan has been estimated by the UN Office on Drugs (UNODC) in 2018, at 263,000 hectares, which is 17 per cent higher than the level of 2014, representing an increase of 39,000 hectares. Afghanistan remains local production and logistical hub for narcotics to Central Asia and up to South East Asian countries, the smugglers and terrorists are waiting for the withdrawal of the coalition forces so that narco-terrorism can be revived in the region. Drug trafficking and small arms proliferation are two serious threats to be addressed by the regional countries. India, Russia, China, Afghanistan, Pakistan and Iran have a common interest to work together to fight this menace.
Astana Summit 2017, in which broad policy framework was formulated against the smuggling of narcotics. Russian President Putin at the event said that, clandestine cells of IS combatants have been created and were operating in the SCO countries, who called for stronger cooperation among member countries' secret services.
RATS within the framework of SCO, is an international institutional opportunity for India to work with its strategic partners like Russia, Afghanistan, and Iran in combating international terrorism, especially radical elements in Afghanistan whose security situation after the withdrawal of US troops will directly impact India. Due to geographical proximity of Afghanistan with India and other Central Asian member countries, RATS can play effective role in combating terrorism and prospective rise of IS elements in Central and South Asian region.
Image credit: Official website of SCO
The views and opinions expressed in this article are those of the author and do not necessarily reflect the official policy or position of The Geopolitics.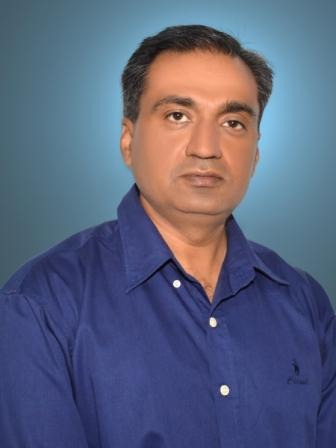 The author is a Second-in-Command in the Border Security Force (BSF). He has 19 years of experience as a practitioner in border management and security. Mr. Kumar has significant experience in serving at major Western Border States of India as a field and staff member.