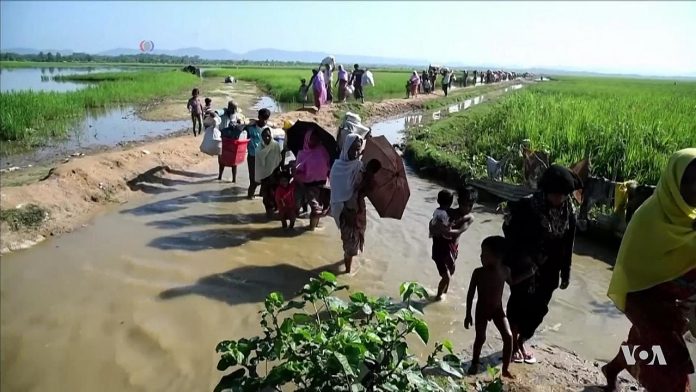 Migration is a common phenomenon which has increased in the last few years. People have migrated from one place to another from the very beginning of human evolution. As per the UNHCR, "The Asia and Pacific region is home to 7.7 million people of concern. They include 3.5 million refugees, 1.9 million Internally Displaced Peoples (IDPs) and 1.4 million stateless people. The majority of refugees originate from Afghanistan and Myanmar". The implications of migration make it a significant issue which needs to be discussed and debated from various dimensions. 
The Rohingya refugees are one of the most vulnerable groups and the largest stateless people in the world at present. After facing atrocities like killing, rape, burning down of houses and village, discrimination and statelessness, they are left with no alternatives but to migrate to Bangladesh, mainly because of its geographical proximity. Bangladesh has been hosting these refugees since 1978. Apart from Bangladesh these refugees have migrated to Malaysia, Thailand and India. As per the Immigration Act of Malaysia, these refugees are illegal and prohibited and most of these refugees are abused by traffickers and smugglers in Thailand. The Rohingya refugees in most countries face extreme difficulty in accessing these facilities. Persecution at political level in Myanmar has led to the forced displacement of Rohingya refugees. This movement includes refugee women also, making them more prone to vulnerabilities. 
Going through the recent trends in international migration, the numbers of women refugees have increased and they have become more vulnerable as compared to male refugees. The data from United Nations High Commissioner for Refugees suggests that the percentage of refugee women who are vulnerable has increased from 6.8 percent in 2007 to 11.15 percent in 2011. Migration causes many health problems among women refugees of which, psychological health issues remain severely underexplored and discussed. This aspect of health problem needs special attention. Inaccessibility, ineffective and insufficient health facilities, both in terms of quality and quantity have made the plight of refugee women even worse. The number of women facing psychological trauma is also very high. Very few of women refugees  get the access to health care facilities.
Following are few case studies of Rohingya refuge women which showcase the magnitude of trauma they have been through:
Mabia, A 40 years old women left her home and migrated to Bangladesh in 2017 says, "I was feeling unhappy in Myanmar because Myanmar's police were cutting our heads off, imprisoning our children and killing us. In the morning I heard the news that my brother and sister had been killed. I went to see. Everywhere in the house there was blood." (Medecine Sans Frontier Report; 2018)
Rohima Khatun, A 25 Years old lady narrates, "First the military called a meeting. Those people who stay in their houses will be okay, they said, but those who move from place to place will be arrested. At 4am the next morning they came back and surrounded the village. They separated the men and women. They handcuffed the men and started raping the young girls. The men were shouting and so were the children. They started beating them." (Medecine Sans Frontier Report; 2018)
As per the report of 'Fortify Rights' "random invasive household spot checks are used as pretext for security forces to commit sexual violence against Rohingya women and girls, including incidents of gang rapes and forced breastfeeding of babies in front of uniformed police and army soldiers". The UN Security Council reported that "14 cases of gang rapes and attempted sexual assaults between January and June 2014 has taken place, and in early 2015, a member of the military raped a 10 year-old-girl. Forced marriages of women and girls as well as cross-border trafficking for sexual exploitation are also happening".
Being vulnerable Rohingya refugee women have to go through various traumas at three levels of migration, which is at the origin level, at the transit level and at the destination level. They had to face forced displacement, gender-based violence, sexual harassment, discrimination, lack of basic facilities at the destination country, insensitive and unprofessional personnel, language barrier, cultural differences, economic insecurities etc. Consequently, these traumatic situations affect their mental health. These are the factors responsible for post-traumatic stress disorders, anxiety, depression, somatic health. Already, there is insufficient data on mental health problems of Rohingya refugees. Negligible or lack of knowledge on health literacy among refugee women makes the situation more difficult.
Even though not being a party to the Geneva Convention of 1951, Bangladesh has a long history of accommodating the Rohingya refugees in its society. It has kept its border open for these refugees. Government has taken steps to stabilize the situation and provide adequate assistance to Rohingya refugees in general and women in particular. Steps are being taken like forming strategic advisory groups for health in association with Ministry of Health and Family Welfare of Bangladesh, WHO, UN Agencies and major NGOs, Joint Response Plan, Relocating the refugees, giving refugees culturally relevant mental health and psychological support etc. However, Rohingya refugees still are in very unsafe conditions as the roots of their problem are not being addressed. Their relocation to Bhasan Char is very concerning as the place is not appropriate to live and is very prone to cyclonic disruptions. Another issue is that the Bangladesh government has recognized them as "Forcibly displaced Myanmar Nationals" and this status makes refugees more vulnerable as technically it refuses them the status of refugees. 
As such, it is imperative to understand the responsibility-burden gap. It is the responsibility of Myanmar government to protect and recognize these refugees. However, at present it has become the burden of Bangladesh. There should be some consensus over resolving the issue and addressing the root cause. It is also important to recognize the basic necessity of these affected refugee women from women's perspective and address them from a women-based approach. Their involvement in policy making will also help in formulating more inclusive policies for them.
Image credit: Zlatica Hoke (VOA) [Public domain], via Wikimedia Commons
The views and opinions expressed in this article are those of the author and do not necessarily reflect the official policy or position of The Geopolitics. 
About the authors
---

Zeba Rayee is a doctoral candidate at Centre for European Studies, School of International Studies, Jawaharlal Nehru University. The author has done her Mphil from Jawaharlal Nehru University. She completed her Master's and Bachelor's degree in political science from University of Delhi.
---

Abhishek Kumar is Research Scholar at Centre for Federal Studies at Jamia Hamdard University. He has done his Master's and Bachelor's degree in political science from University of Delhi.