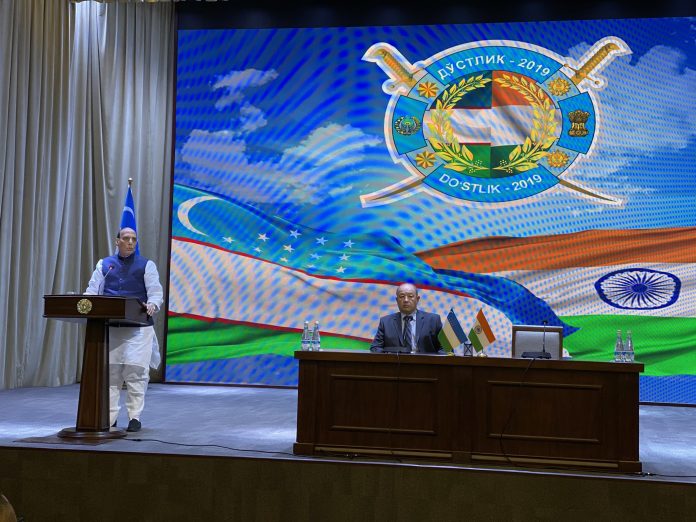 A military exercise named Dustlik–2019 was held between the armies of India and Uzbekistan from 4th to 13th November. This was the first ever military exercise between the two countries. The focus of this military exercise was counter terrorism. It is important to consider this military exercise from the point of view of India's increasing engagements with Uzbekistan in recent times and also what this military exercise should imply for India's policy towards Central Asia in future.
India's engagement with Uzbekistan and Central Asia
The military exercise was only one of the engagements between India and Uzbekistan in recent times. On November 3, one day before the start of the military exercise, Indian Defence Minister Rajnath Singh visited Uzbekistan. This visit was important since it was the first time in 15 years that an Indian defence minister was visiting Uzbekistan. During his visit India and Uzbekistan signed three pacts in the area of defence cooperation.
In September this year Uzbek President Shavkat Mirziyoyev visited India. At that time both the countries agreed to further strengthen their Strategic Partnership, boost connectivity and set a target of $1 billion bilateral trade annually. 
Central Asia is considered as India's extended neighbourhood. India's interaction with the region has increased over the past few years at the bilateral level as well as multilateral level. In 2015 Prime Minister Narendra Modi became the first Indian Prime Minister to visit all the five Central Asian Republics (CARs) – Kazakhstan, Kyrgyzstan, Tajikistan, Turkmenistan and Uzbekistan in a single trip. Multilaterally India has been engaging with the region through the Shanghai Cooperation Organisation (SCO), India-Central Asia Dialogue and the Ashgabat Agreement. In particular India-Uzbekistan relations have progressed in different areas. Uzbekistan played an important role in getting India aboard on Ashgabat Agreement. Earlier this year, in January 2019, India and Uzbekistan signed an agreement for the supply of uranium from the latter to the former. Strengthening defence cooperation with Uzbekistan is a positive step in increasing India's presence in the region.
Why strategic outreach is necessary
India has been working on increasing its strategic outreach in Central Asia and further Eurasia. India has been developing the Chabahar Port in Iran through which India can reach Afghanistan and Central Asian countries. However, instability in Afghanistan is a matter of concern for India. The uncertainty over the situation in Afghanistan after the withdrawal of US forces and Pakistan's role along with the Taliban has a potential to destabilize the region. Similarly, with the United States imposing sanctions on Iran has been one of the impediments in India-Iran relations. The instability in the region affects India's connectivity and outreach. It also affects India's economic interests in the region. India's relations with both Afghanistan and Iran would require some reset especially in the light of balancing India's relations with the region and the United States. The reset could be in the form of India participating in the security architecture of the region. This could further define India's role and status as a stakeholder in Iran, Afghanistan and Central Asia.
Challenges
Soft power has been one of the prominent instruments of India's foreign policy. India's relations with Central Asia have also been dependent to a great extent on soft power such as historical and cultural links with the region. However, in order to become a stakeholder in the region, India needs to diversify its relations. This diversification can only result from a balance between hard power and soft power. India's soft power connections with Central Asia and other regions are strong. But soft power should only serve as a basis to further engage in hard power diplomacy. Cultural connection must not become the most prominent or overbearing dimension in foreign relations. India regularly holds military exercises with a number of countries. Military exercise with Uzbekistan is an addition to that. But this exercise should be considered as a step towards change in India's posturing. 
The way ahead
Projection of hard power could be considered from two angles. One is adopting a proactive strategic policy and secondly its possible effect on India's security. With respect to policy, India's strategy has long been considered as continental in nature and that also concentrated to a large extent towards its north-western border. But over the past few years India has been focusing more on maritime domain also along with continental concerns. India's revamped policy towards Southeast Asia and East Asia has also led to increased concentration on maritime security. Central Asia is a continental region geographically. So India will need a revamp for its continental policy as well. India would need to formulate a strategy in order to become a stakeholder in the security of the region. The second dimension of hard power projection is the possible effect on India's security concerns. The instability in the region and the threat of growing radicalization and terrorism has a direct impact on India's security. Should India chose to play a proactive role in the area of security of the region it would have a positive impact on its own internal security.
Image credit: Rajnath Singh (Defence Minister of India) via Twitter 
The views and opinions expressed in this article are those of the author and do not necessarily reflect the official policy or position of The Geopolitics.