On November 28th Pakistani Prime Minister, Imran Khan laid the foundation stone of the Kartarpur Corridor, which will connect Darbar Sahib, Narowal (Kartarpur) with Dera Baba Nanak (India) (both shrines are less than four kilometers from each other). Sikhs will be able to pay obeisance at Darbar Sahib without a visa.
Guru Nanak founded the city of Kartarpur, and spent the last 18 years of his life there. Sikh pilgrims for long have been demanding a visa-free pilgrimage to Darbar Sahib. During their daily 'ardaas' (prayer) Sikhs have been praying for darshan (obeisance) and access to their religious shrines in Pakistan.
The issue of the Kartarpur Corridor received attention after former Cricketer and Punjab Minister, Navjot Singh Sidhu hugged Pakistan Army Chief, Qamar Javed Bajwa on the sidelines of Pakistan PM, Imran Khan's oath-taking ceremony in August 2018. While Sidhu's hug evoked strong reactions in India, the celebrity stated, that General Bajwa told Sidhu that Pakistan would build the religious corridor to facilitate a smooth visa pilgrimage for Sikhs, and he got emotional after hearing about Pakistan's willingness to go ahead with the religious corridor.
As a result of tensions between India and Pakistan, hopes for this corridor had diminished. However, on the 22nd of November, the Indian cabinet passed a resolution, giving a go-ahead to the construction of this corridor, and the foundation stone was laid on November 26, 2018. On the Pakistani side, the foundation stone was on November 28, 2018.
The decision to go ahead with the corridor has been welcomed not just by Sikh pilgrims, but all those pitching for peace in South Asia. Of Course, there are the naysayers who have pointed to the security hazards of the corridor.
Ill-timed statements by politicians on both sides have not helped the cause of the Corridor. On the day, the foundation of the corridor was being laid on the Pakistani side; Foreign Minister Sushma Swaraj issued a statement that the foundation of the Corridor needed to be looked at in isolation, and did not in anyway point to a resumption of dialogue. A day after the foundation ceremony, Pakistan Foreign Minister, Shah Mehmood Qureshi stated that Pakistan had thrown a googly at India, and had ensured participation of two ministers in the ceremony. While Swaraj could have made her statement a day later, Qureshi trivialized the cause by referring it to as a 'googly', and strengthened the views of naysayers, who believe that Pakistan's decision to go ahead with the Kartarpur Corridor was driven not by any goodwill but with a view towards getting India to the dialogue table. 
Pakistan PM, Imran Khan made some important points on the occasion of the foundation ceremony on November 28th. He pitched for better relations between India and Pakistan, arguing for closer people to people interactions and economic ties. One of the significant points Khan made in his speech was that the army and civilian leadership were on the same page as far as India-Pakistan relations were concerned.
It is not just the politicians but irresponsible media coverage in India which has hyphenated an important and sensitive issue like the Kartarpur Corridor to a singular issue — the possible revival of militancy in Panjab (India). There is absolutely no doubt that there are elements in the Pakistani deep state, who want to create unrest in Punjab, but to assume that Pakistan's decision to open the corridor is solely driven by this consideration and that Sikh pilgrims from India would get poisoned easily is a bit of a stretch. Most pilgrims are keen to pay obeisance at Kartarpur, and other shrines, and to visit their erstwhile homes. Punjabis on both sides will welcome robust economic links and people to people relations between both sides.
In the midst of all this, those in favor of people to people contacts have sought opening up other pilgrimage routes. The Pakistani PM has already hinted that he is open to opening up other religious routes like Sharada Peeth for Hindu's.
Both Punjab's have sensed an opportunity. Towns in the border belt of Panjab (India) believe that with the opening up of the corridor, the service sector would get a boost. Traders on the Indian side of Punjab have also sought to remove trade restrictions. Currently, the number of goods which can be traded through the Wagah-Attari border is limited, and traders need to take a circuitous route through Gujarat. A number of politicians and businessmen from Panjab (India) have also been arguing in favor of opening more trade routes between the two Punjab's and the opening up of the corridor could pave the way for closer economic links in the future.
In the previous decade, some steps had been taken for enhancing bilateral trade but political tensions have acted as a major obstacle. With the Pakistan economy in an abysmal state, Pakistan PM has spoken on more than one occasion about closer trade links. Even during his speech on November 28th, Khan said:
"If France and Germany, which have killed millions of each other's people, can today be part of the same union with open borders and enjoy trade, it is because their political leadership decided they don't want to remain in the past." 
There is definitely scope for greater people to people contact as well as economic linkages. This will, of course, require political will on both sides. While there may be many skeptics with regard to the corridor, the vast majority of the population on both sides of Punjab's would certainly welcome this development.
Header Image: Narinder Nanu/AFP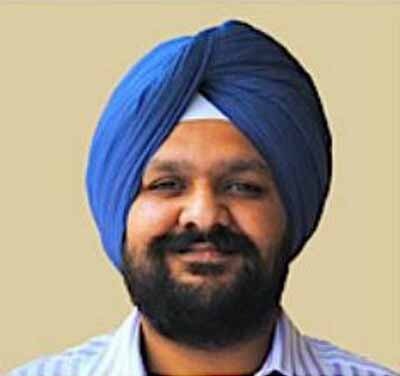 Tridivesh Singh Maini is a New Delhi based analyst interested in Punjab-Punjab linkages as well as Partition Studies. Maini co-authored 'Humanity Amidst Insanity: Hope During and After the Indo-Pak Partition' (New Delhi: UBSPD, 2008) with Tahir Malik and Ali Farooq Malik. He can be reached at [email protected]