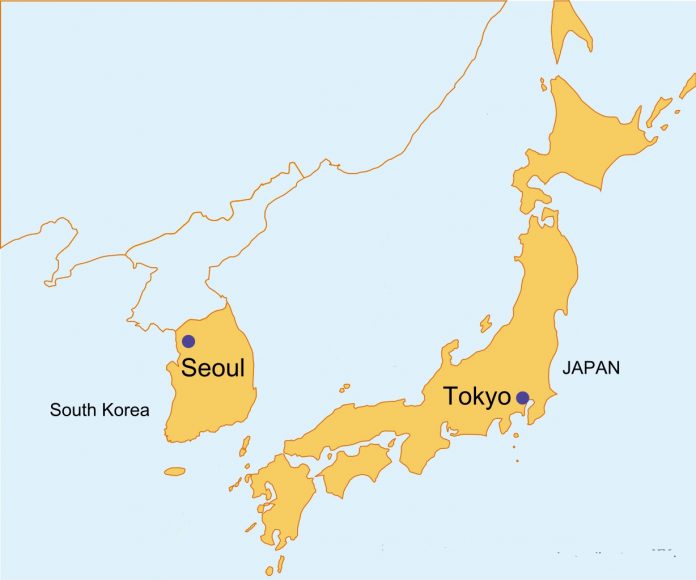 With the release of the 2020 Defence White Paper in February 2021 by the Ministry of National Defence (MND) of the Republic of Korea, or South Korea (since the country lies in the southern half of the divided Korean peninsular region), it has been made abundantly clear that Japan-South Korea relations are difficultly poised for the future. The White Paper describes Japan in simple but pointedly neighborly terms but not as a country with whom South Korea can pursue a much desirable strategic partnership. This has left those concerned with Japan-South Korea relations to dive into the open pool and provide their insightful analysis of a historically significant rivalry between two ancient and proximate civilizations but differently molded modern powers.
This Author believes that Japan and South Korea are inherently in a directionless continuum bilaterally but continue to be integral to regional developments (foreign trade, formal relations, long-term cooperation, development assistance to unfortunate countries, the comity of nation-states, joint concerns about regional and global security, to name a few) and have demonstrated ample promise and potential from within their ranks to decisively influence and determine events through a distinctive brand of interest-driven geopolitics. Despite the future clearly pointing to a contest for global supremacy between the United States of America and the Peoples' Republic of China, Japan and South Korea remain salient players with much to offer. It is even believed that Japan and South Korea, despite factors to the contrary such as rapid ageing, are making a sort of a comeback on the world's stage as far as economic, security, and political sway are concerned.
Japan and South Korea are two large, important, and impactful East Asian neighbors that have displayed their willingness (endorsed by their admirable profiles in a host of domains such as economics and the military) to emerge as key geopolitical influencers well beyond their shores, and in the world realm. Surprisingly, despite their inherent differences due to differing trade interests and unresolved historical problems, the trajectory being pursued individually (and even commonly as part of multilateral groupings such as the ASEAN+3) by both is astonishingly similar.
Extensive financial aid and material assistance to friendly nations, multiple and to-the-point strategic partnerships attuned towards addressing local security issues, independent pro-security missions in regions as far as West Asia and East Africa, and sustained cooperation in a diverse range of areas are just some examples of Japan-South Korea synonymy. Apart from the above, Japan and South Korea remain politically outspoken, and seemingly so in unison, as they were quick to condemn the Myanmar military coup of February 2021. The two rivals also appear to have a similar outlook towards the rest of the world. This view of the world is guided by their free, open, lawful, meaningful, and results-oriented democracy as a formally adopted political system for day-to-day governance.
Their respective international relations have, for quite some time, been characterized by the definitive paradigm of cooperation based upon a wise combination of self- and mutual interests and  responsive defensive endeavors and expeditions to elevate a region to peace when it is mired in conflict. Given such affability amongst their peers, Japan and South Korea should ideally be best placed to overcome their longstanding incongruity. However, the contrary seems to be happening and not just happening ordinarily or tolerably but at an outright unhealthy level. Japan and South Korea don't see eye to eye on a number of pressing issues and this has ensured a strategically red-alert East Asian region.
East Asia is faced with a number of strategic headaches and the miserable state of Japan-South Korea relations have only added to the region's plight. In the present scenario, mutually-beneficial economic cooperation (Japan and South Korea are amongst the top trading partners of many Asian countries) has served as the messiah. Further ahead, it is hoped that trade agreements such as the multinational Regional Comprehensive Economic Partnership (RCEP) and the rise of the Association of Southeast Asian Nations and its adjunct forums can help improve a dreadful status quo.
As mentioned previously, history remains and retains a very visible and painful dark mark on Japan-South Korea relations, and one that is clearly pitch black. Japan's occupation of undivided Korea between 1910 and 1945, following Japanese successes in the Russo-Japanese War of 1904-05, remains a stigma and one that is recognized by both the Koreas. Even prior to the Westphalian world order of the seventeenth century, Japan was involved in attempting to conquer Korea (Imjin Wars) during the rule of the Joseon dynasty in the latter. World War II was witness to Japanese excesses in Korea that were to do with issues which remain unresolved till date.
Reparations for the use of Korean labor by Imperial Japan for its war machinery and the Korean 'comfort women' problem of those horrific years remain a bone of contention till today with Seoul striving to convince Tokyo to address the excesses committed by pre-1947 Japan on a priority basis. In a sad turn of events for South Korea, a recent ruling appears to have acquitted Japanese wrongdoing with the early-2021 decision to penalize and punish Japan having been overturned. This doesn't bode well for the future of Japan-South Korea relations as also for the world's northeast.
In mid-2019, bilateral relations witnessed a sudden mushrooming of new issues that sent Tokyo and Seoul into a radical downward spiral. Japan's imposition of restrictions on exports of chemicals required for the television manufacturing industry in South Korea were the first of a series of severe blows that engulfed the two in darkness. South Korea remains reliant on supply chains of raw materials from Japan to power its high-end technology industry which in turn has been responsible for having created and sustained the global South Korean brand. The Republic of Korea Navy (ROKN) was denied participation in the International Fleet Review which was to be held in October 2019 in Sagami Bay, but was later cancelled. Japan, too, has been a recipient of similar disregard by South Korea in the past.
Tokyo's decision to release radioactive waste from the 2011 Fukushima-Daiichi nuclear disaster into nearby waters is also a contentious issue that has drawn ire from Seoul. The year later witnessed the start of the novel Coronavirus pandemic, which was quick to set its sights on Japan and South Korea before most other major powers. The COVID-19, as it is widely known, continues to torment the two influential East Asian powers and has been the single cause of economic harm to them. As things stand, complications in the relationship will certainly emerge with routine and distressing after-shocks also likely to prevail. The Japan-South Korea impasse is quite prolonged and a new English word will have to be devised to explain the sheer and apparent lack of mutuality.
In the end, South Korea compelled Japan to the negotiating table with a meeting in Tokyo, in December 2019, taking place to address important differences in bilateral trade. Relations remained subdued through all of 2020 largely due to the devastating and detrimental impact of the COVID-19 pandemic on the entire world with Japan and South Korea largely concentrated on curbing its rampant and venomous spread. To conclude, it must be clearly emphasized that Japan and South Korea continue to diverge despite the evidence on offer that compels them to clean the table and begin a new era for East Asia (the much-heralded Indo-Pacific region stands to gain immensely from a Japan that could or should be friendlier to South Korea, and vice versa).
Firstly, their democratic systems should ensure that the theoretical international relations paradigm of 'Democratic Peace Theory', which argues that democracies are well-placed to never be in conflict with each other because of their very systems or are better-equipped internally with the right mechanisms to resolve pending issues, is vindicated in the strategic locales of East Asia and beyond. Secondly, out of six or seven key East Asian countries, Japan and South Korea's free-spirited nature of respectful sovereign existence can work towards easing regional concerns and instill a newfound confidence and trust across the board while also improving the balance of power. Thirdly, more and more countries are bringing themselves to terms with a China that is unrelenting in its fundamental security strategy for East Asia, the Indo-Pacific, and the world at large. This should motivate Japan and South Korea to interact with China deeply and as equal, influential players capable of changing the game just as much China is.
In the case of the third point, Japan and South Korea's historical affiliations with China and a history of antagonism can hit the right buttons and help calm fears about the dubiousness of Chinese geopolitical gameplay in East Asia and beyond. It wouldn't even be a long shot to envisage a regional security order meant to uplift the Indo-Pacific to global paramountcy. Initiatives pursuant of such trajectories (for example, the Tokyo-endorsed four-nation Quadrilateral Security Dialogue — QUAD — and the proposed QUAD-Plus inclusive of Seoul), backed by countries such as South Korea and Japan and aimed against a China that needs to be deterred effectively and efficiently is the need of the hour. This matters most in no uncertain strategic terms, even if Japan and South Korea continue to drift away and beyond each other's sights.
The views and opinions expressed in the Article are those of the Author.

The Author is a Research Associate at the National Maritime Foundation, and is based in New Delhi, India. He is presently researching on issues pertaining to the maritime domains of Japan, South Korea, Indonesia, Malaysia, Singapore, and the ASEAN. Additionally, he also researches on the many productive multilateral forums of East Asia such as the East Asia Summit, the ASEAN Regional Forum, and the Quadrilateral Security Dialogue to name a few.