Cambodia needs urgent food aid as lockdown restrictions deprive people of their livelihoods and raise the spectre of mass starvation.
Since mid-April, lockdowns have been imposed in Phnom Penh, the capital, as well as Takhmao, Sihanoukville and Poipet. Police have strictly implemented the lockdowns, using force if necessary. This has left the poorest people cruelly exposed and unable to meet their daily needs.
The UN has forecast that poverty in Cambodia will almost double as a result of COVID-19. The pandemic has already wiped out the tourism industry on which many Cambodians depend, and the explosion of microcredit in recent years has left many with debts that they can't pay. The danger of widespread famine is real as many people living in the provinces rely on wages earned in the capital and sent home. The army of migrant Cambodian workers in Thailand are also unable to send money home as usual.
Lockdown in Phnom Penh is entirely different compared with lockdown in developed countries. In the West, many can work from home or claim government benefits, and all still have access to a reliable food supply chain and the Internet. In neighbouring Thailand and Vietnam, restrictions on movement have been imposed, but those affected, as well as those who have lost their jobs, have been given state aid.  These conditions do not exist in Cambodia.
Many of the poorest, in normal times, eke out a subsistence living from day to day in the informal economy. They must go out to work to get cash and have little in the way of a safety buffer. The kind of public safety net which we take for granted in developed countries does not exist. In such a context, the danger of rampant food price inflation, even if freedom of movement is restored, is clear.
In the areas which the government has designated as "red zones", people are not allowed to leave their homes even to buy food. The confinement was imposed on April 15 without any notice. Even people who had a little money to hand had no opportunity to buy food. Amnesty International estimates that in Phnom Penh alone, nearly 300,000 people live in those "red zones". Residents of the Meanchey district have already come out to protest with banners announcing that they are starving.
Government Failure
The dangers of an Indian-style explosion of COVID-19 cases must be avoided in Cambodia. Locking down hungry people in their homes is not the way to do it. Controlling the entry of people into Cambodia from countries such as India and China would do much to reduce the risks, as would accelerating vaccinations.
The government is clearly incapable of managing the crisis. Plans to distribute cash to the poorest households were announced and then cancelled. According to Amnesty, the government's attempts at food distribution have been "haphazard and inadequate" with discriminatory distribution meaning that food has been withheld from anyone seen to be critical of the ruling Cambodian People's Party (CPP).  Amnesty has independently verified a large number of social media videos showing red-zone residents making desperate pleas for food, and others in which residents beg the police for help.
The international community has begun to respond, with aid from the Swiss Agency for Development and Cooperation being used to feed nearly 4,000 families in Phnom Penh. Much more is needed. The world's leading food charities such as the International Red Cross and the UN's World Food Programme face a huge number of competing claims on their resources. I call on them to do everything possible to address the dangers of famine in Cambodia. One way that individuals can help is to contribute to Aide et Action, which has been working in the country since 2003 and has been distributing emergency food aid during the pandemic.
During the 1970s, Cambodia suffered mass famine under the Khmer Rouge and immediately after their fall. Few outside the country understood the full extent of the horror of Pol Pot's regime until it was too late. This time, the world has no excuse as Cambodians start to go hungry before our eyes.
The views and opinions expressed in this article are those of the author.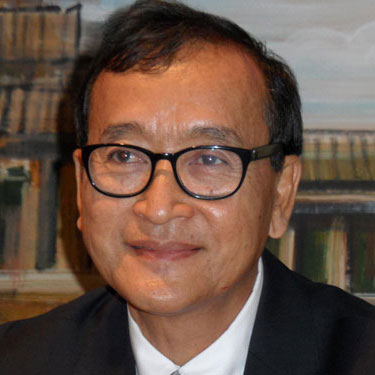 Sam Rainsy, Cambodia's finance minister from 1993 to 1994, is the co-founder and acting leader of the opposition Cambodia National Rescue Party (CNRP).