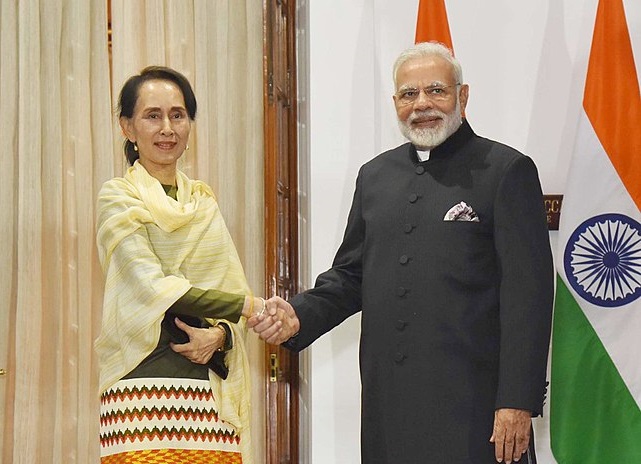 India's influence in Myanmar pales in comparison to China's economic and strategic relations with the country even after compromising ethics. Although India's policy towards Southeast Asia (SEA) changed (from 'Look East' to 'Act East' policy) there are few substantial gains beyond what the rhetoric expresses. Almost twenty years later, the Act East policy under Prime Minister Narendra Modi reaffirms similar commitments to find new strategic partnerships and strengthen old ones in Southeast and Northeast Asia. The policies were formed and rebranded to manage the 'China threat' to India's national security. India since the emergence of Look East policy in the 1990s has courted Myanmar to counter China's expanding influence in the country. 
Compromise on morality 
After decades of turbulent relations, friendly overtures were displayed by reducing calls for democracy in Myanmar. Morality was side-lined in India's conduct with Myanmar. Officially, in 1996 Pranab Mukherjee, the Minister of External Affairs of India confirmed the Indian position of not interfering in the internal affair of Myanmar between the opposition democratic movements and the military junta. He declared that priority was to protect the strategic and economic interests in Myanmar rather than preserve democracy. This shift in foreign policy marked the end of 'Nehruvian idealism' and the start of realpolitik in foreign policy conduct with Myanmar. 
Every successive government since the 1990s has then set ethics aside in pursuit of self-interested considerations. Although there were political parties favouring the restoration of democracy in Myanmar, there were no substantial opposition in engaging the junta unlike the Indo-US civilian nuclear deal that was hampered by the Communist Party of India (Marxist). The present Bharatiya Janata Party administered government has carried on the tradition by being indifferent to the Rohingya crisis and human rights violations arising out of Myanmar. Despite compromising morality, India's interests in Myanmar has not panned out as expected. 
Strategic interests 
China gained first-mover advantage into Burma under Deng Xiaoping's 'good neighbourliness policy', a change from Mao Zedong's interventionist policy of supporting the local communist insurgents. When the communist insurgency in 1989 collapsed, China and Burma were able to establish cross-border trade formally. China recognised Myanmar's strategic position as providing trade routes to the landlocked provinces of Yunnan and the ability to access the Indian Ocean. Influence in Myanmar allows China to penetrate India's Northeastern region and control the Bay of Bengal, thereby leaving India exposed to attack from the east.
The Bay of Bengal has vital Sea Lanes of Communications (SLOC) which can be of strategic use for countries. Much trade also flows through the route, south of the Bay of Bengal passing through the Malacca Strait. China's strategic interests came to light in the 1990s when India received reports on supposed military build-ups in Myanmar. China was building intelligence monitoring stations on the southwest of the Myanmar coast which is close to the Indian territories of Andaman and Nicobar. In recent years, China ramped up its information gathering in the Bay of Bengal with military ships frequenting the area. It was considered as a serious violation of Indian sphere of influence as China now poses a threat to the north and the east of India. The China threat in India-Myanmar relationship was subsequently drummed up, fearing the 'Tibetisation of Myanmar' mainly because it provides an invasion route to India. 
India's efforts are bogged down in Myanmar by attempting to neutralise the insurgencies on the Northeast frontier. The decades long Naxalite insurgency reduced in influence– from affecting 200 districts in 20 states to 106 districts across 10 states. However, it remains a major security threat that obstructs India from reaching superpower status as opined by Ramachandra Guha, an Indian Historian. In other words, if India should rightly claim to be a rival to China, then its 'house' should be kept in order. 
India and Myanmar have cooperated to manage the threat posed by insurgents in their countries. India attacked the Arakanese rebels in the latest joint raids, 'Operation Sunrise'. These insurgent groups move fluidly across the borders and coordinate their ambush attacks on Indian troops from support bases in Myanmar. The insurgents on either borders receive support from their ethnic enclaves, which are a hotbed for recruitment. While India deals with its internal insecurity in the Northeast, China is making headway in geostrategic influence by dangling economic goodies for Myanmar. 
Economic interests
China is forming economic ties with Myanmar through the Belt and Road Initiative (BRI) where projects such as the Muse-Mandalay Railway project and Kyaukphyu deep sea port are in the pipeline. The Kyaukphyu port, will be a starting point for an oil-gas pipeline and railroad link to Yunnan state in China. While China's projects are making substantial headway, India's Kaladan multi-modal project like many others face many delays due to the lack of coordination among different implementing agencies, poor monitoring and financial constraints. Furthermore, protests and security risks act as roadblocks to the projects' construction. 
Bilateral trade between India and Myanmar has grown over the years but remains below China's trade relation. India's exports to Myanmar stand over $1 billion and imports from Myanmar are over $500 million. However, China's exports with Myanmar is more than $10 billion. Partly, the reason for poor export and import showings is that Myanmar's global exports consist of food, fuel and non-food agricultural products. Myanmar has a high demand for manufactured goods which are met by China that has a competitive advantage over India. India's bilateral trade with Myanmar has grown gradually but is far behind China, with its massive investments and first-mover advantage in the country.
India has risked international opprobrium by compromising on its democratic credentials in Myanmar with few gains. With greater military prowess and economic might China has been able to maximise Myanmar's geostrategic and economic value much better than India. It is unfortunate that India's move to embrace instrumental policies did not bear better results.
The views and opinions expressed in this article are those of the author.
The author is pursuing a master's degree in Strategic Studies at the S. Rajaratnam School of International Studies (RSIS) at Nanyang Technological University (NTU). He completed his undergraduate studies in International Relations at the University of London. His research areas include India's secular and religious identity and India's foreign policy in South and Southeast Asia.