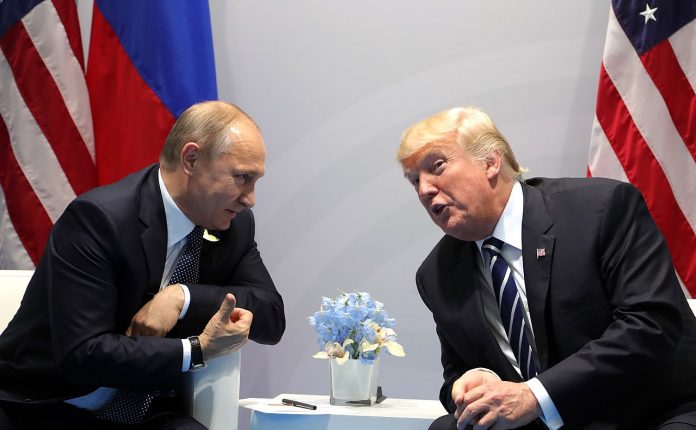 By withdrawing the entire contingent of 1,000 troops from Northern Syria, the Americans lost the entire presence in Syria by ceding vital ground to the Russians who are calling the shots
A lost opportunity for the Americans
Almost 20 days since Turkey launched its flagship operation "Peace Spring" to target the Kurdish Force YPG – the principal component of the Syrian Democratic Forces (SDF) in Northern Syria, Syria has been plunged in deeper chaos with no new opportunity in sight to stabilize the already war weary country in the turbulent Middle East region. Meanwhile it is highly clear that the US has lost the plot in Syria, by withdrawing its forces from the region, the Trump administration has only legitimized the slaughter of the Kurdish Forces and allowed Putin to steal the show in Syria.
In northern Syria, the Americans were trapped between two allies, the Kurds who fought with them on the ground and the Turks, whose country is a NATO ally and repository of American tactical nuclear weapons. Something eventually had to give. There was a serious case to be made for pulling out. The acute shame of the moment was captured in two reports this week. The first was a video of a Russian-speaking reporter wandering through a hurriedly abandoned American base in northern Syria, rummaging among the Coca-Cola cans and footballs. The second arrived with news that two United States Air Force F-15 jets had destroyed an American munitions bunker in Syria to prevent munitions and other equipment from falling into the hands of other armed groups. 
President Trump's decision to withdraw 1,000 American troops from Syria without consulting any aides, experts or allies, and without any warning to America's Kurdish comrades in arms, whom he placed in mortal danger, has provided chilling evidence of the danger posed by his chronic inability to appreciate a president's responsibilities. Mr. Trump, as he always does, claimed a huge victory — "an amazing outcome" that saved "millions and millions of lives." That scores of Kurdish lives have already been lost, that thousands of people have fled their homes, that a swarm of Islamic State followers escaped from internment camps, that the Kurds themselves turned for help to the beleaguered leader Bashar al-Assad, that America's dwindling credibility in the world was further undermined, meant nothing to the president. "It's not our border," he said. Mr. Trump's apologists, too, have been quick to marshal a defense — the Middle East is full of horrible dictatorships, conflicts and crimes against humanity, and presidents before had longed to pull America out of what Mr. Trump has called the region's "endless, senseless wars."  
It is hard to overstate how strategically ruinous the president's volte-face on the S.D.F. will likely prove to be. The small U.S. deployment not only protected S.D.F. gains; it ensured that the United States remained a player in Syria and allowed U.S. strategists a continuing role in the containment of the ISIS malignancy. Turkey apparently offered the president nothing in return for his capricious abandonment of the nation's hard-won achievements in Syria.
Putin is the kingmaker in Syria and Turkey
The five day ceasefire struck on October 17 was brokered by US Vice President Mike Pence when he visited Turkey. The ceasefire agreement is a strategic victory for Putin who on October 19 met Turkish President Recep Tayyip Erdogan in the sea side resort of Sochi. Turkey threatened to resume the offensive against the SDF in the bilateral meeting, Russia has quietly increased their influence in the Syrian crisis by not only initiating patrols in the strategically important towns of Manbij and Ras Al-Ayn but is also pretty much calling the shots on the Turkish and Syrian chess pieces. Turkey is just one of several players in the region that now has dramatically increased influence in northern Syria. The agreement cements Putin's status as the main power broker in the region. Meanwhile, Assad's army entered northeastern Syria for the first time in years. With the United States' abrupt withdrawal, the Kurds essentially had no choice but to go to the regime and Moscow on their knees asking for protection from the Turkish incursion. This puts them in a much weaker position to negotiate a settlement granting them any amount of autonomy in northeastern Syria. Assad—and his Russian and Iranian backers—will likely push to assert more control in the region, essentially returning it to the status quo before the civil war began.
As the United States has sought to reduce its commitments across the region, Mr. Putin has increasingly cast Russia as a worthy alternative. Throughout the war in Syria, Russia has been Mr. Assad's most loyal foreign backer, protecting him from sanctions by the United Nations and sending Russian troops to support his forces and jets to bomb his enemies. As of last month, Russia's assistance had helped restore Mr. Assad's control over most of Syria, the largest exception being the northeast, where the United States had partnered with a Kurdish-led militia to fight the Islamic State and had maintained a contingent of about 1,000 troops, in part to keep Mr. Assad away.
President Putin had also hoped to use Syria in the service of a broader geopolitical goal: to strengthen ties with Turkey and pull it away from NATO. "Turkey's operation drives the wedge even deeper between Turkey and NATO," Mr. Shumilin said. "That is even more important for Putin." The Kremlin said in a statement Tuesday night that Mr. Putin had spoken by phone with Mr. Erdogan, who accepted the Russian leader's invitation to visit Russia in coming days. The statement also said Mr. Putin had stressed the importance of "avoiding conflict between subdivisions of the Turkish army and Syrian government forces."
What lies ahead for the future?
It is perhaps too soon, and even irresponsible, to declare Putin's resurgent influence in Syria as a "victory lap", or that Russia has assumed the "mantle of supreme power broker in the Middle East". However, the fact remains that there is a significant trust deficit playing out in the Gulf countries over America's role. While Trump plays to a domestic audience with elections looming in 2020 amidst a number of serious challenges to his campaign and legacy, it is indeed Moscow's upper hand to make a place for itself in the volatile politics of West Asia and even beyond.
Any expectations that Russia could replace American influence pound for pound in the region are mythical at best. Russia's nominal GDP, which stands at a mere $1.63 trillion, is its biggest hurdle. However, in its capacity building measures, Putin's personal gestures and via smart diplomacy of minimal interference, economic partnerships and military assistance, Moscow is in a position to construct a long lasting presence. A successful outcome of this geopolitical maneuvering is perhaps more strengthened by the fact that Putin's style of authoritarian politics is more easily navigable and palatable to the Gulf monarchies. The overall forecast today is definitely advantage Moscow in the Middle East over the next few months if not years at least.
Image credit: Kremlin.ru [CC BY 4.0], via Wikimedia Commons
The views and opinions expressed in this article are those of the author and do not necessarily reflect the official policy or position of The Geopolitics. 
The author is pursuing his B.A. in Political Science with specialization in International Relations, Jadavpur University. His research interests include the Middle East and West Asia, especially India's West Asia foreign policy.