The Global Hunger Index (GHI) is a peer-reviewed yearly assessment report meant to thoroughly measure and monitor hunger at the global, regional, and national levels, with the goal of inciting action to eliminate global hunger. Bangladesh has shown tremendous success in eradicating hunger from society as it consistently secures a better position in the index compared to its neighboring countries over the last few years. Besides hunger, Bangladesh has also made headways in other different indicators such as human development, poverty eradication, and happiness indexes. Bangladesh has become a role model for other developing nations to follow in ensuring human security. However, the ongoing conflict in Ukraine, climate change, and the absence of a proper healthcare system may hamper Bangladesh's overall progress which needs more attention to be solved.
Global Hunger Index 2022 and Bangladesh
GHI is a joint initiative by Concern Worldwide and Germany's Welthungerhilfe. On a scale from 0 to 100, where 0 represents the best score which means no hunger, and 100 is the worst possible score. Undernourishment, child stunting, child wasting, and child mortality are the four determinants based on which the score is determined. The GHI categorizes the scores into five severity levels: low (scores of 9.9 or less), moderate (10.0–19.9), serious (20.0–34.9), alarming (35.0–49.9), and highly alarming (scores of 49.9 or above).
The latest GHI report was published on Oct. 13, 2022. It shows a grim picture of the future in combating hunger. According to the report, worldwide progress against hunger has essentially stalled in recent years, as just a small reduction from 19.1 in 2014 to 18.2 in 2022 has been reported, which marks a significant slowdown compared to earlier periods.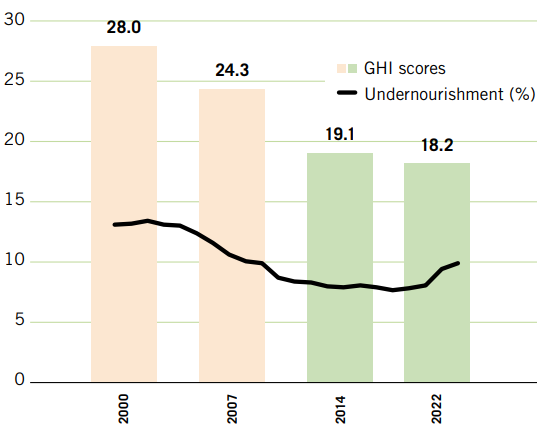 In addition, the report argued that the situation is expected to deteriorate due to ongoing conflict, climate change, and the economic repercussions of the Covid-19 pandemic. The report also cited poverty, inequality, weak governance, bad infrastructure, and low agricultural production as underlying causes that might lead a country to chronic hunger and vulnerability. This year, the report evaluated 121 nations out of the 136 that submitted data for assessment. Globally, 17 countries topped the ranking with a score of less than 5 which indicates the low vulnerability of these countries to hunger-related insecurities. On the other hand, the most vulnerable countries which ranked at the bottom of the list are Chad, Congo, Madagascar, the Central African Republic, and Yemen.
Bangladesh, as a developing country in South Asia, has been showing gradual progress in the GHI over the last couple of years. Among 121 nations, Bangladesh came in 84th place on the 2022 Global Hunger Index. Bangladesh has "moderate" levels of hunger with a score of 19.6. Bangladesh has improved in the previous two decades, going from a GHI score of 34.1 in 2000 to 19.6 in 2022, a 40% reduction. According to the report, the rate of acute undernutrition or child wasting in Bangladesh decreased from 14.4% in 2012–2016 to 9.8% in 2017–2021. Bangladesh has also shown progress in reducing child stunting. The nation decreased chronic undernutrition or stunting in children by 8.2% from 2012 to 2021. Between 2019 and 2021, 11.4% of the population was undernourished, down 2.7% from 2013–2015. Moreover, the country's under-five mortality rate was 2.9% in 2020, indicating only a 1.1% improvement throughout the period. These developments have helped Bangladesh to counter hunger and improve its position in the GHI so far.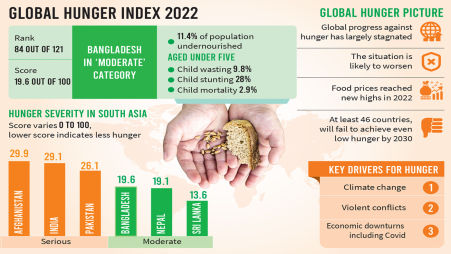 The Reasons Behind Bangladesh's Success in Combating Hunger
Human security issues are related to each other. Any improvement or assault on one area will impact other areas positively or negatively. Similarly, Bangladesh's success in combating hunger is linked with progress in other sectors. Over the course of its fifty years of independence, Bangladesh has effectively transformed itself from a country with severe food shortages to a "food basket" that even exports food to other countries now. Since 1971, food production has increased fourfold, indicating its success in ensuring food security for its people. Besides that, Bangladesh has been able to reduce the poverty rate from 44.2 percent in 1991 to 13.8 percent in 2016-2017. The per capita income has also jumped from $2,024 in 2019-2020 to $2,554 in the 2020-2021 fiscal year. Not to mention, Bangladesh maintained a positive GDP growth rate during Covid-19 when big economies like India experienced a decline in GDP. In 2020, Bangladesh ranked 133rd out of 189 countries on Human Development Index (HDI). The HDI score of Bangladesh has increased by 60.4 percent since 1990. Lastly, Bangladesh was ranked 94th among 146 countries in the recently published World Happiness Index (WHI) which reflects Bangladesh's success in ensuring human security overall.
Positive policy interventions by the Government of Bangladesh are another reason behind the success. The Bangladesh government has taken several policy measures concerning maternal and child nutrition, social safety nets, and primary and secondary education. For instance, Bangladesh's budget now has a dedicated segment to address the nutrition issue.  Article 15 of the Bangladeshi constitution mandates that the government supply people with food and other essentials if necessary. The government also launched the National Nutrition Project. Moreover, the Bangladesh government also inaugurated more innovative programs like Food for Education (FFE) to encourage parents to send their children to school, while at the same time, ensuring the food security of a family. Because of these policies, we can see that the child mortality rate has decreased and life expectancy has increased substantially in Bangladesh.
Nevertheless, Bangladesh's partnership with international partners is also worth mentioning. Bangladesh has benefited from USAID's active partnership as it educated 67,000 women in aquaculture methods. The US State Department also helped establish the Food for Education program through its funding. "Feed the Future", which the US government funds, has been contributing to poverty and hunger reduction. According to a household study, poverty levels have decreased by 16% in regions receiving assistance under USAID and "Feed the Future". Many national non-governmental organizations (NGOs) have also come forward to eradicate hunger. Such as, the microfinance program from BRAC has been quite instrumental in eradicating chronic hunger and poverty in Bangladesh.
Bangladesh's Success in GHI Among South Asian Countries
South Asia consists of eight states with 24.89% total world population. As a region, South Asia has been identified in the GHI 2022 as having the greatest levels of hunger, child stunting, and child wasting of any region in the globe. If we compare at the regional level, the African South of the Sahara is the region that is most similar to South Asia in Global Hunger Index 2022. African South of the Sahara has the second-highest GHI score, just below South Asia. This region has also the highest rates of undernourishment and child mortality compared to any other region.

Despite the bad performance of South Asia as a region in combating hunger, Bangladesh has been exceptionally well compared to its other neighboring countries. India, the largest neighbor of Bangladesh, ranked 107th in GHI 2022. Where other two South Asian countries Pakistan and Afghanistan ranked 99th and 109th accordingly. According to the GHI report, India's child wasting is the highest among any other country which is 19.3 percent. In the meantime, the rates of child stunting in India, Pakistan, and Afghanistan range between 35 and 38 percent, with Afghanistan's rate being the highest in the region. Compare to these South Asian countries, Bangladesh is doing quite well in reducing child wasting and child stunting rates which are 9.8 and 28 percent consequently 
Among South Asian countries, Sri Lanka ranked top which is 64th in GHI 2022. But given the recent economic and political instability in Sri Lanka, this ranking does not represent the actual humanitarian condition there. Nepal, another South Asian nation, with only a population of 29.14 million ranked 81st in GHI 2022. In this sense, Bangladesh has done quite well in eradicating hunger with a population of more than 165 million in addition to 1.2 million Rohingyas who are living here for five years now. But there remain challenges for Bangladesh such as the rising price of commodities, growing income inequalities, loss of agricultural land, and climate change which need to be addressed quickly to achieve its goal of zero hunger by 2030.
Bangladesh has become an example to other countries in combating hunger and malnutrition, given its large number of population and paucity of land. The gradual progress of Bangladesh in the Global Hunger Index is a testament that certifies its success among other South Asian countries. However, Bangladesh should not be complacent as it scored 19.6 (moderate). Now, it is more challenging as there are no signs of end to the war in Ukraine and no real prospects of a Rohingya repatriation soon. Bangladesh can diversify its agricultural production to ensure food security and nutrition.
[Photo by Balaram Mahalder, CC BY-SA 3.0, via Wikimedia Commons]
*Muhammad Estiak Hussian is a Research Analyst at the KRF Center for Bangladesh and Global Affairs (CBGA).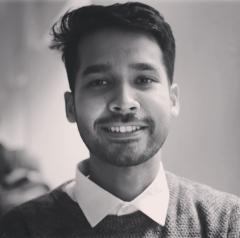 Muhammad Estiak Hussian is a Research Analyst at the KRF Center for Bangladesh and Global Affairs (CBGA).