European Union Trade Commissioner Cecilia Malmström announced on October 5 that the EU had started a review of Cambodia's duty-free access to European markets, meaning that the country's exports will face tariffs within 12 months in the absence of "clear and evident improvements on the ground."
The decision followed the bogus election held in Cambodia in July in which there was no genuine opposition party and which no credible international observers were willing to monitor. For the first time since the elections organized by the United Nations (UNTAC) in 1993, Cambodia lacks a legitimate government recognized by the international community.
The EU decision is a grave development for Cambodia. A young and growing population needs jobs. Cambodia's Commerce Minister has estimated that the loss of EU trade preferences would incur $676 million worth of tariffs. The loss of access to a main export market threatens existing jobs and makes new ones harder to create. EU countries accounted for around 40% of Cambodian exports in 2016. Most of those exports were from Cambodia's clothing factories that employ around 800,000 people: the garment industry is the country's largest employer. If those people suffer wage cuts or lose their jobs, there is a knock-on effect in spending throughout the economy. China will not be picking up the slack. Beijing invests in Cambodia, but there are no markets in China for Cambodian goods.
These statistics give an indication of the scale of the irresponsibility of the government of Prime Minister Hun Sen in jeopardising Cambodia's free-trade status. Factors such as high energy costs and poor infrastructure already serve to discourage foreign investment in the country. The United Nations does not expect Cambodia to move beyond its standing as a Least Developed Country (LDC) until after 2025. Loss of access to EU markets could postpone even that modest target indefinitely.
Many opportunities have been given to Hun Sen to avoid such an outcome. There is still some time left to change the gloomy prognosis. The EU has signalled that it will continue to engage with the Cambodian government. Such a drastic course of action by the EU was decided after deliberations that continued quietly for many years. It will not be reversed as a result of cosmetic window-dressing. There would be no point in the EU taking such a decision in order to secure half measures from the Cambodian government. The range of issues to which Malmström pointed in her announcement was broad. The EU's recent mission to Cambodia "demonstrated serious and systemic violations of, for instance, freedom of expression, labour rights and freedom of association. This comes on top of longstanding issues as regards workers' rights and land-grabbing."
The government now needs to act urgently. All remaining political prisoners must be released. The opposition Cambodia National Rescue Party (CNRP), the only party that poses a serious threat to the ruling Cambodia People's Party (CPP), must be reinstated. The restrictions on the movement of its leader, Kem Sokha, which are tantamount to house arrest, must be lifted, and the atmosphere of constant intimidation to which he is subject must end. The ban on political activities by 118 leading CNRP members must also be ended.  More than 5,000 CNRP activists were elected in 2017 local elections as commune councillors.  Their confiscated positions must be returned to them. A timetable for prompt, genuine national elections must be published. In those elections, the CNRP must be free to select whoever it wishes as candidates, myself included.
The international community now has a rare opportunity to salvage the huge financial and human investment that it has made in Cambodian democracy since the Paris Peace Agreements of 1991. If the government continues to gamble with the country's future prosperity, then the international community must take further, coordinated action. A start has already been made. The US said in August that it's expanding visa restrictions on individuals responsible for "anti-democratic" actions before the July national election. Visa sanctions and asset freezes against a much broader range of beneficiaries of the corrupt regime may be needed to bring Hun Sen to his senses. The regime's leading figures need access to foreign education systems for their families, and foreign bank accounts to hide the fortunes they have amassed. Banks must cooperate in locating and freezing these accounts, and stop lending to a regime of which the hallmarks are intimidation, violence and murder.
The government must understand that trading partners are not obliged to trade regardless of the human rights abuses it chooses to commit. Tariff-free market access for Cambodia was originally granted by the EU as recognition of the country's transition to democracy. Dialogue with the EU remains possible, as does dialogue with the opposition. If Hun Sen does not address the challenge, the verdict of current and future Cambodian generations will be harsh.
The views and opinions expressed in this article are those of the author and do not necessarily reflect the official position of the Geopolitics.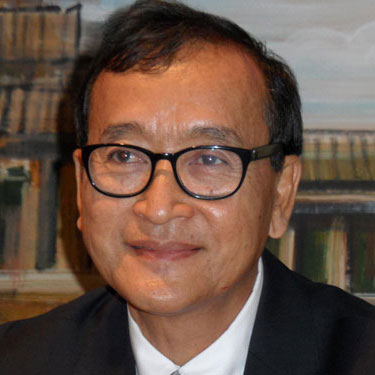 Sam Rainsy, Cambodia's finance minister from 1993 to 1994, is the co-founder and acting leader of the opposition Cambodia National Rescue Party (CNRP).