Japan and Indian share a cordial, value-based long-standing relation. It dates back to 1952, when Japan signed one of their first peace treaties establishing a diplomatic relation. Both the countries appreciate their conduct towards each other. Both have also experienced colonialism — India being the subject of colonial imperialism and Japan, experiencing the repercussions of a coloniser. Considered the largest and most developed democracies, India and Japan have recently celebrated the 70th anniversary of establishment of diplomatic relations at the 14th India –Japan summit (March 2022). As Fumio Kishida's first bilateral visit assuming office, it signified attention towards a 'Special Strategic and Global Partner'. A pledge of 5 trillion yen as FDI has been further proposed. With sustained infrastructural investments in the past, Japan plans on highlighting projects in Western and North Eastern part of India, alongside several state projects; this time. 
Professors Bayne and Wollock have emphasized Economic diplomacy as the interaction between national level (respective countries) and the international arena. With that, their area of focus remains on 'non state actors' influencing the process in the 21st century. A strand of non state actors to my understanding denotes the increasingly indispensable role of private entities in the public-private partnership. Others include, corporations, non-profit and nongovernment organisations and cultural/academic institutes. On a similar understanding, PM Kishida mentioned a realization with India as utilising a 'new form of capitalism'- the growing role of private players in boosting the economy. He believes India has donned the leadership efforts through ISA (International Solar Alliance), digital society and tackling health crisis. A rules-based international order, economically and politically have become the primary objective to restore global order. With deep rooted, value-based characteristics, India and Japan is cementing their moorings. 
Japan has always aspired for cooperative peace and with the development assistance has built sturdy, worth emulating infrastructural projects in India. Delhi Metro, a fine example is being imitated in the metropolitan cities of Western and Southern India. For a continuous line of investments in a foreign land, a factorization in responsive economic understanding is a must. And political vigour acts as the catalyst. In case of Japan and India, it seems to emanate from the concept of 'political socialization'- the learning of political and cultural values- processes for a smooth functioning. 
Japan contributes as amongst the top five FDI investors in India. Latest data puts the positioning at fourth. While the top contributors have been fluctuating between Mauritius and Singapore mainly because of indirect flow of investments, Japan has a hundred percent hold over 'Physical Investment Direct flow contribution'. The data below signifies it.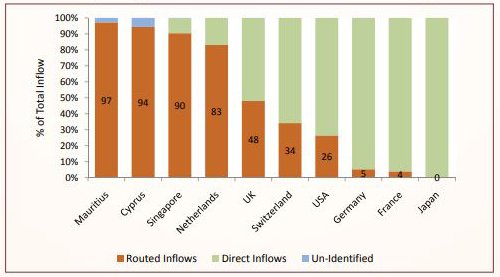 Source: FDI in India and Role of Tax Havens, Suraj Jaiswal CBGA 2017.
Infrastructure projects, Transportation and the power sector have been some of the majorly aided sectors by Japan. DMIC (Delhi Mumbai Industrial corridor) was conceptualised and pushed off in 2008. With more than a decade in the progress, the project is yet to fully fructify. One reason cited for the delay is the political non-cooperation amongst the states since the project encompasses 9 Western Indian states. Japan still retains faith in DMIC, expecting completion by 2024.  
Since 2014, Government of India's initiatives like Make in India, Digital India, Skill development, Private operation of certain passenger trains, and use of BOT (Built-operate-transfer) model in infrastructure have been accepted with a positive attitude. It has allowed for the ease of doing business and encouraged investment opportunities. Japan and India have accelerated the pace of continuous complementary collaboration. Apart from mega business, sister and partner city projects objectifying cultural and commercial ties stand testament to the complementary relation. Japan and India share at least five city diplomacy projects, namely: Mumbai-Yokohama (1965), Pune-Okayama (1998), Kyoto-Varanasi (2014), Bodh Gaya-Nara prefecture (2018) and the recently concluded Ahmedabad-Kobe (2019).
Japanese car manufacturers have gripped the Indian auto market since a long time now. While Japanese manufacturers as Suzuki, Honda, and Toyota still rave Indians, South Korean competitors as Hyundai and Kia are giving them a tough challenge. The High Speed Rail (HSR) project, a modified version of Shinkansen Bullet train is making progress as we engage in discussions. Similarly there are seven such corridors proposed; first one being from Ahmedabad to Mumbai that would reduce travel time to two hours from six. With historical linkages to North East India, Japan is now a major player in the infrastructure sector that deals with water supply to construction of primary schools in the North East region. An initiative called the IRIS program is unique in its make as it invites students from  North East to Japan in order to develop a deeper understanding of Japan's issues concerning environment, disaster management and technological awareness amongst others; a proactive step in people  to people connect. 
Today, Japan and India, with higher economic indicators and entrepreneurial capability can help build regions of conflict, together. The Asia-Africa growth Corridor has been formulated in this direction. Agriculture, IT, healthcare and pharmaceuticals alongside disaster management are some of the areas of core engagements identified. The global order, post-pandemic seems to conduct with no order. And due to dwindling market forces, Rupee-Yen swap agreement has been increased. It will work as a safety net stabilizing foreign exchanges. 
Socially, Japan's ageing population is in need of support and Indian graduates of nursing and paramedical programs have this opportunity to grasp. With government intervention to proper channels of placements, India can be social assistance to the demographic 'danger' in Japan. 
Political and economic blend is a miss without social cohesion. With technological and digital transformation, Japan is moving towards Society 5.0. It aims to resolve social challenges alongside economic advancements with the incorporation of IoT, Big Data, AI, XR (Extended Realty). India is crippled with social concerns. A similar approach in the near future can lead India in achieving consensus. 
Japan's quest for Open and Free Indo-Pacific with India's Act East policy will be tested on international grounds of stability. There is a long way to go. Despite change in leadership, the two countries' share of values and customs will remain vital veins of harmony. 
[Photo by Prime Minister's Office , GODL-India, via Wikimedia Commons]
The views and opinions expressed in this article are those of the author.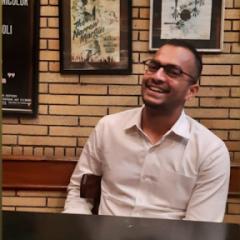 Lakhan Bir Meena is a Doctoral candidate at the Centre for East Asian Studies, JNU. His area of research primarily deals with North Korean ideology and Foreign affairs.