More than a year has now passed since witnesses saw the Thai political dissident Wanchalearm Satsaksit being forcibly abducted in broad daylight on the streets of the Cambodian capital Phnom Penh on June 4, 2020.
Neither Cambodia nor Thailand has made a serious effort to investigate what happened. Part of the abduction was caught on CCTV, and Wanchalearm was talking on the telephone to his sister as he was seized, yet Cambodia has claimed there is no evidence that he was even living in the country. This is despite a letter from the Thai police to their domestic supreme court in 2018 stating that Wanchalearm was living in Cambodia. But Thailand has not sent investigators to Cambodia to carry out a formal inquiry.
The foot-dragging is in breach of Cambodia's obligations as a signatory to the international convention protecting against enforced disappearance. Such cases are becoming more common as repressive dictatorship gains ground among countries of the Association of Southeast Asian Nations (ASEAN). The truth is that ASEAN now functions as a dictators' club for hunting down dissidents who have crossed borders.
Wanchalearm was among activists who fled Thailand after the country's military coup of May 2014. Thailand has pressured its compliant ASEAN neighbours to hand these people back, and according to Human Rights Watch (HRW) there have been eight Thai activist victims of enforced disappearance in Laos, Vietnam and Cambodia. Meanwhile, members of the opposition Cambodia National Rescue Party (CNRP) who fled Cambodia for Thailand after the party was dissolved by supreme court order in November 2017 have been subject to assaults and kidnap attempts, with some being forcibly returned to Cambodia.
The Thai and Cambodian prime ministers Prayuth Chan-o-cha and Hun Sen have learned to scratch each other's back to mutual advantage. The Thai prime minister acceded to Hun Sen's demand to refuse me access to Thai territory on November 9, 2019, as I sought to return to Cambodia. Hun Sen has returned the favour by at a minimum closing his eyes and perhaps also offering active help in Wanchalearm's abduction.
All this proves that the original aims of ASEAN as developed by its more progressive members have long since been lost. Vietnam, Laos, Myanmar and Cambodia all joined ASEAN between 1995 and 1999. The grouping took on a more authoritarian and sinister dimension which has come to dominate it. If it was worthy of its name, ASEAN should be protecting its citizens from enforced disappearances and obliging member states to hand over all the information they have.
Moral Vacuum
In reality, ASEAN failed to condemn the military coup in Myanmar this year even as the bodies piled up. Thousands of people have fled Myanmar in search of safety in Thailand only to be forced back by the Thai military. Those who carried out the coup knew that the region's longest surviving and most brutal dictator, Cambodian Prime Minister Hun Sen, had held power since the 1980s, with no fear of ASEAN condemnation or sanction for his record of atrocities.
This surely was a factor which gave Myanmar's military the confidence to strike against a democratically elected government. Myanmar's 2020 election was overwhelmingly won by Aung Sang Suu Kyi's National League for Democracy. In Cambodia, Hun Sen, at least on paper, had eliminated the opposition which he knew would beat his government in a free and fair vote. There was no reason why the same could not be done in Myanmar.
Cambodia will take over the chairmanship of ASEAN in 2022. The moral vacuum that exists at the heart of the organisation makes it all the more crucial for the international community to take steps to bring rogue regimes into line with international norms. Countries which have adopted Magnitsky type legislation should use it to individually punish those responsible for atrocities. The International Criminal Court (ICC) should make cases in the region a high priority.
The business community is under no obligation to trade with such regimes and multinational companies risk reputational damage if they do so. The countries of ASEAN have their own business elites who will not stand by and watch if sustained boycott emerges: these local business interests can become a force for change if the incentives in terms of international markets are correctly aligned.
The international community should also bypass ASEAN and engage with the undefeated progressive forces that exist within ASEAN. The South East Asia Community (SEAC) was launched in May with the support of democratic politicians in Myanmar, Thailand, Indonesia, Malaysia, the Philippines and Cambodia, seeks to provide an alternative forum based on the values of freedom, democracy, justice and the rule of law.
Membership is open to current and former ASEAN members of parliament, policy makers, academics and civil society leaders. If investigative institutions run on the basis of professional competence and integrity can be established in southeast Asia, then enforced disappearances will one day come to be seen as a memory from a barbaric past.
The views and opinions expressed in this article are those of the author of the author.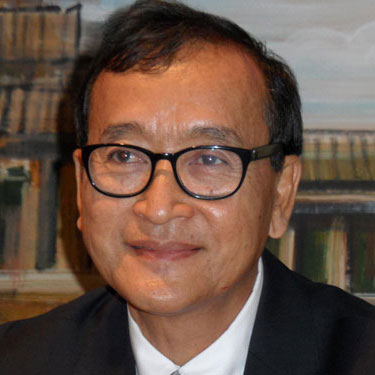 Sam Rainsy, Cambodia's finance minister from 1993 to 1994, is the co-founder and acting leader of the opposition Cambodia National Rescue Party (CNRP).