Even witch trials allowed the accused to be present. The ongoing mass show trial of supporters of the opposition Cambodia National Rescue Party (CNRP) in Phnom Penh tells the world everything that it needs to know about Cambodia's judicial system and ruling regime.
Many of the 130 people affiliated with the dissolved CNRP, who are charged with offences such as "treason" and "incitement", have failed to appear. Some, such as CNRP vice president Mu Sochua, were not allowed into the country despite their attempts to enter. Many of the charges related to my previous attempt to return to Cambodia, which was likewise blocked by the government, in November 2019. Defendants include Cambodians with citizenship in the US, Germany and Japan.
Prime Minister Hun Sen is struggling with an outdated playbook. Judicial repression as a tactic works best in a context of closed secrecy. Globally, the use of the judiciary as a means to block dissent was conceived before the Internet age. Such secrecy is no longer possible: news of the Cambodian regime's relentless human rights abuses is regularly visible the world over within seconds. 
The purpose of political control over the judiciary has therefore changed. Show trials are now used in Cambodia to intimidate the population and stop them supporting the opposition. This is about as far away from proper judicial process as it is possible to imagine. In free countries, the judiciary is a means for the population to protect itself. In Cambodia, it has been weaponized against them.
Cambodia's diaspora stretching across Asia, North America, Europe and Australia means that there is no way to close the door to external examination of human rights abuses. The sheer dispersal of those who are accused in itself proves that no matter how repressive the regime becomes, it will never be able to silence its international critics. Nor will it be able to break the resolve of the party's active supporters in Cambodia, or the overwhelming support the CNRP enjoys in the country as a whole.
The CNRP before its dissolution posed the only serious electoral threat that Hun Sen has ever faced. Hun Sen responded to it by not only removing Cambodia from the international community of democratic nations but also from the pale of the rule of law.
Such a lawless kingdom presents a host of dangers to the free world in military and financial terms. Democratic countries under the rule of law must defend themselves against the danger of Chinese military expansion, with Cambodia being used as a compliant partner. Countries and multinational companies doing business with Cambodia risk exposure to the opaque financial flows for which Cambodia is currently a safe haven.
Magnitsky legislation
There is much to be done. In December, an Australian parliamentary committee recommended that Australia adopt Magnitsky style legislation to include visa and travel restrictions, blocking access to assets held in Australia, and restricting access to Australia's financial systems. As the report notes, Australia has not sanctioned any individuals from Cambodia despite its high levels of corruption.
The sub-committee received evidence that corrupt Cambodian officials have laundered money through investments in Australia and send their children to be educated there. Cambodians in Australia described threats made against them and their families by representatives of the ruling Cambodian People's Party (CPP) within Australia. The lawlessness of the Hun Sen regime extends even here.
Australia and other countries who are yet to do so should adopt Magnitsky legislation as a matter of urgency. Countries which already have such laws should make much more aggressive use of their provisions. Britain has made a start with a first wave of Magnitsky sanctions against Russian and Saudi nationals, but Cambodian human rights violators, who have committed crimes every bit as bad, need to be added. Since 2017, Canada has not added a single name to its Magnitsky list. Cambodia would be the perfect place to begin.
The truth is that there is no more due legal process in Cambodia now than under the Khmer Rouge. Soft diplomacy has little or no effect on Hun Sen, himself a former Khmer Rouge cadre. Since the CNRP was arbitrarily dissolved by court order in November 2017, hundreds of its supporters have been arbitrarily arrested or attacked by hidden assailants.
Hun Sen had the chance to remove any personal feelings about myself from the equation by allowing Mu Sochua and other defendants into the country to answer for themselves in court. He chose not to take that chance. The only thing that he will understand is sanctions that bite. The international community should urgently adopt them.
The views and opinions expressed in this article are those of the author.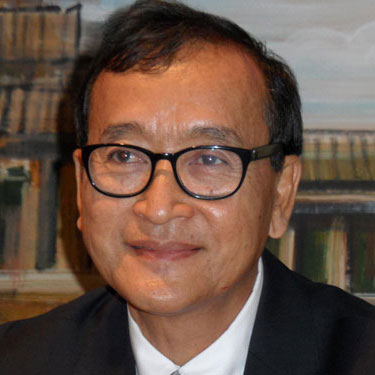 Sam Rainsy, Cambodia's finance minister from 1993 to 1994, is the co-founder and acting leader of the opposition Cambodia National Rescue Party (CNRP).